The boniatillo recipe is one of the most traditional in Cuba, being a cheap and easy-to-make dessert.
Although it has some variants, its base is sweet potatos and sugar, two ingredients that cannot be missed.
Some people add honey; others accompany it with grated coconut and some with white cheese, but always using the basic recipe that we will teach you how to prepare today.
Sweet potato, known in some Spanish-speaking countries as camote or batata dulce, is one of the most widely grown tubers on the island, which makes it easier to get it.
Did you know that it is the third most important food plant in Japan?
It has a sweet flavor, providing a certain number of essential vitamins and nutrients to the body, thus it is an important tuber we can add in a healthy diet.
One of its advantages is that it can be consumed in different ways and it will always be pleasant, whether fried, steamed, as an ingredient of a recipe or, as in this case, a delicious Cuban dessert.
Check out these kitchen utensils that we are sure will be very helpful and we recommend you to have them due to their quality
We will now show you the step-by-step instructions to prepare the traditional boniatillo recipe at home, so you can delight all of your friends and family.
Boniatillo Recipe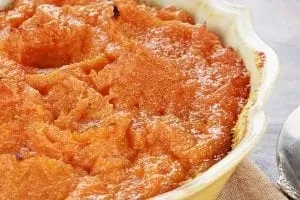 Prepare a traditional tasty Cuban boniatillo at home, one of the most-enjoyed desserts on the island for generations. Surprise all your guests with this delight of Caribbean flavor.
Prep Time

5 min

Cook Time

35 min

Total Time

40 min

Yield

1 Recipient

Serving Size

50g

Energy

268 cal
Cocina

Tipo

Método de Cocción
Ingredients
1 pound of sweet potato
1 pound of white sugar
2 egg yolks
½ liter of water
1 tablespoon of muscatel wine (you can use another sweet wine)
1 cinnamon stick
½ teaspoon of ground cinnamon
How to prepare
1
Peel and boil the sweet potatoes until they are completely soft, drain them and make them into a puree using a fork preventing it from forming lumps so its resulting texture is fine.
2
Then, make some light syrup using water, sugar and the cinnamon stick.
3
When the syrup is ready, add it immediately to the sweet potato puree, the ideal way is to go slowly and stir it so that it is well integrated.
4
If you prefer, beat the mixture using a blender and then strain it, this will leave no traces of fiber, making it more homogeneous and smooth.
5
Now, add it to a pot and place it on medium heat to cook it until it thickens, stirring constantly, preventing it from sinking.
6
Meanwhile, beat the yolks, add them the muscatel wine and then, gradually add all this to the pot containing the mixture of boniatillo.
7
A little bit of the boniatillo is poured into this mixture, mix them well and then add the rest.
8
Put it back on heat and cook for a few minutes, while stirring.
9
Remove from the stove and after cooling it, pour into a jam pot and sprinkle with cinnamon.
Video How To Make CUBAN BONIATILLO
Today I show you how to make dry boniatillo one of the most traditional Cuban desserts. The Cuban sweet potato recipe is very simple and fast, there are other versions, but I'll be sharing those ...
Nutrition Facts

6 servings per container

Serving Size

50g

Amount per serving

Calories

268

% Daily Value*

*Percent Daily Values are based on a 2,000 calorie diet. Your daily values may be higher or lower depending on your calorie needs.
Hola, soy Dailis, Chef Profesional y creadora de varios proyectos de cocina Internacional. Te doy la Bienvenida a Receta Cubana