Today we propose you to prepare the Cuban bread pudding recipe, a delicious traditional sweet that all of us should taste.
This is one of the most prepared and tasted homemade recipe in our island, from generation to generation.
Sure, at home your grandma or your mom use to delight to everybody with this delicious sweet.
---
Te Avisamos GRATIS cuando Publiquemos NUEVOS Videos y Recetas. SUSCRIBETE GRATIS aquí Abajo.
---
So that do not miss the oportunity to know how to make a delicious Cuban bread pudding and to consent to your friends, sons and the rest of the family.
There is no doubt that you will want to repeat the recipe more than one time, when you taste it you will get delighted and wishing a second portion.
We assure you that the result is amazing, delicious, with scent to vanilla and creamy texture, enddee, a delicacy.
Check the molds that we leave you below. We recommend them to prepare the pudding and other recipes.
Let us set to Work, let us go to our kitchens and prepare this typical dessert of the Cuban kitchen.
Cuban Bread Pudding Recipe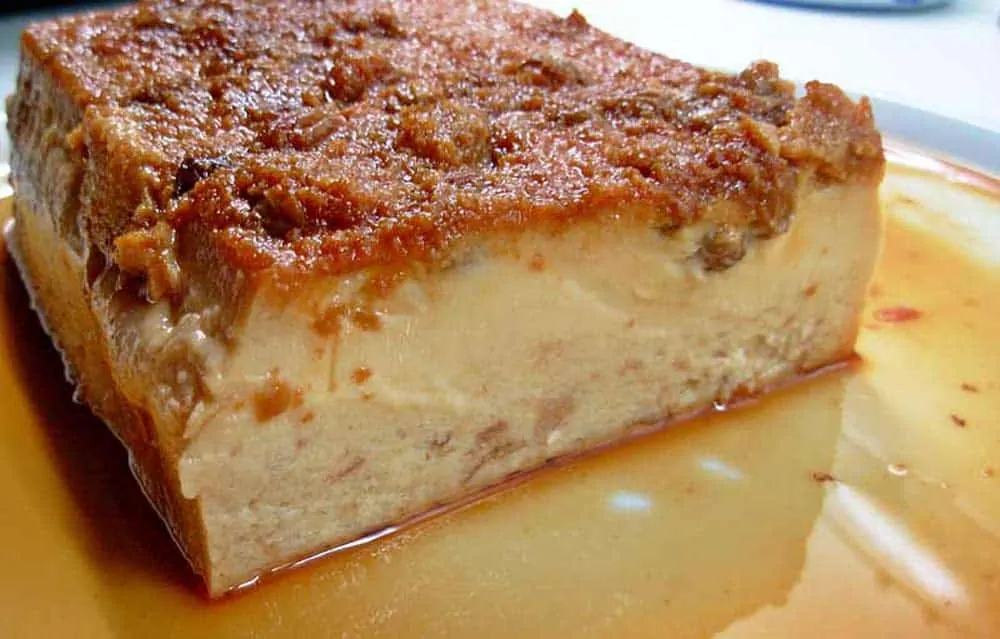 Bread pudding, a traditional and delicious sweet of the Cuban kitchen, of a simple preparation and creamy texture that we cannot miss to taste.
Prep Time

10 min

Cook Time

1 hr 30 min

Total Time

1 hr 40 min

Yield

1 Recipient

Serving Size

50g

Energy

118 cal
Ingredients
For the Pudding
200 gram of bread into pieces.
5 eggs
2 ½ cup of whole milk (600ml)
1 cucharadita de extracto o esencia de vainilla
1teaspoon of extract or vanilla essence
1 ¼ cup of White sugar ( 250 gram)
For the caramel
How to make
1
The first thing we will do is to add the vanilla to the milk and then the sugar, we mix them to integrate the ingredients.
2
We place them in a recipient for microwaves oven and heat for about 2 minutes untill it gets tempering, without getting boil. ( in the same way it can be heat in the electric stove).
3
Mix them again para dissolve the whole sugar that is in the bottom and add the entire bread into pieces. Let it rest for 5 minutes to adsorb well.
4
Meanwhile, prepare the caramel; in a recipient in the flame throw the 250 gram of sugar untill it gets melted and turn a yellow color ( 3 to 5 minutes) stir it  from time to time to avoid it gets stick.
5
Later we throw it (carefully to avoid we get burn) in the loaf tin that we were going to cook the pudding, covering the whole bottom and edges, we preserve it to room temperature.
6
When we finish, blend all the eggs in a recipient, it can be with hand rod, or in the blender, or with a fork.
7
Finally, we mix the blended eggs with the bread and mix very well, untill they get perfectly integrated and pour in the loaf tin with the caramel, we cover it with tinfoil.
8
We place the loaf tin in a platter with a bite of hot water to bake in a bain-marie. The water must cover untill the half of the loaf tin or a little less.
9
Take it to the preheating oven 180 degree C or 350 degree F, with heat up and down, in the lower  tray for 1 hour or 1 hour and half, depending on the oven.
10
You will know that the bread pudding is ready, if when you put a knife or matchsticks in the middle, this comes out enterely cleaned.
11
Remove it from the oven, take off the tinfoil that cover it and remove from the platter with hot water.
12
Let it to get cold at room temperature, when it is enterely cool, we turn out and then take it to the refrigerator.
13
If it is too stick to the loaf tin, so pass a knife to all the edge, it will come out easily, and it is already ready to taste this delicious and creamy bread pudding.
How To Make BREAD PUDDING ► QUICK AND EASY Cuban Style
This time I propose to know how to make homemade bread pudding, quick and easy with very simple ingredients. We are going to make the recipe that we traditionally prepare in Cuba, which is nothing more than e ...
Optional:
If you do not have oven, you can cook the Cuban bread pudding in a bain – marie over a low flame, in the same way place the loaf tin inside a recipient with hot water, cover it, and ready.
In this way, the time of cooking can be less, so that you must pay attention.
Nutrition Facts

6 servings per container

Serving Size

50g

Amount per serving

Calories

118

% Daily Value*

*Percent Daily Values are based on a 2,000 calorie diet. Your daily values may be higher or lower depending on your calorie needs.