Do you dare prepare a delicious and easy homemade Cuban pizza recipe? If your answer is yes, then you're lucky because that's just our proposition for you today.
Cuban pizza is categorized as a very simple recipe since the availability of other ingredients on the Island is a bit diminished.
But the truth is that the result is sensational, a spongy dough with a crunchy crust that you will not be able to resist.
---
Te Avisamos GRATIS cuando Publiquemos NUEVOS Videos y Recetas. SUSCRIBETE GRATIS aquí Abajo.
---
And if you add this to the fact that you can make it at home in the personalized way that you want, it's even more exciting.
How to make Cuban Pizza?
The dough of Cuban pizza is pretty simple, although much like other recipes it has multiple variations.
On this occasion we want you to be able to prepare it at home without any complications, so for this reason we propose a basic recipe.
Nonetheless, you can make the variants that you want adding other ingredients to the dough or on top , for example chorizo, tuna, olives, ground meat, and others.
The portions of cheese, ham, and tomato sauce are totally variable so you can add as much as you prefer.
And when you're cooking it, to make it more affordable you can make it in a frying pan, but if you have an oven and you want to use it, you can do it perfectly as well.
The portions that we are about to detail are optimal for one person, but if you want to make Cuban pizza for more people just multiply the amount of ingredients by the number of people and you're set.
The only inconvenience is the time that it takes to create the dough for the pizza, but if you want to use it at another time and you want it to be done fast, you can prepare it beforehand, giving it a round or square shape and then freeze it. Then, just cook it when the occasion comes.
Cuban Pizza Recipe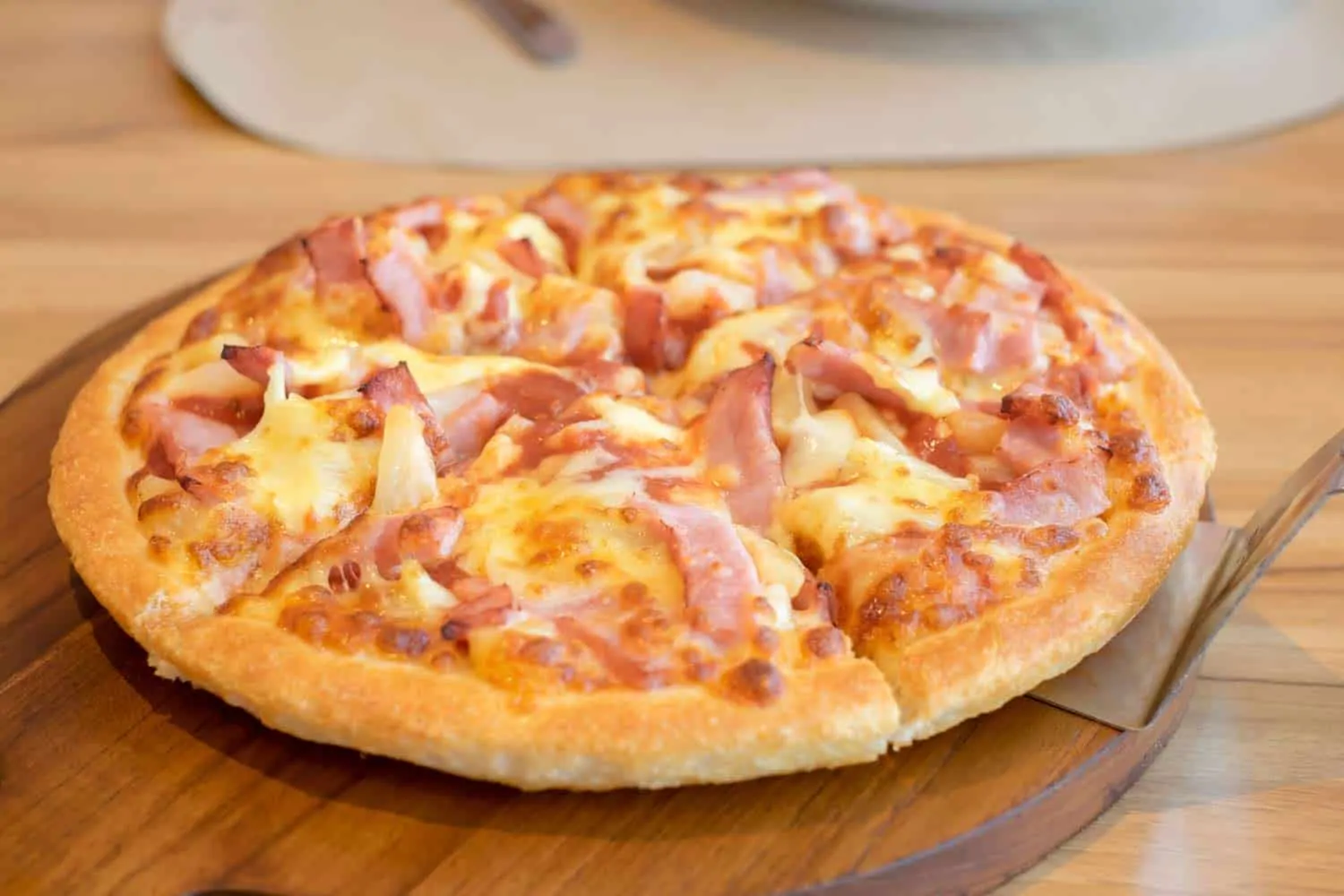 Prepare this delicious and easy homemade Cuban pizza, perfect to share with your friends and family members.
Prep Time

2 hr

Cook Time

20 min

Total Time

2 hr 20 min

Yield

1 Pizza

Serving Size

100g

Energy

287 cal
Cuban Pizza Ingredients
2 tablespoons of tomato sauce
50g of mozzarella or other grated cheese
50g of ham (your choice)
For the dough
150g of flour
5g of fresh yeast (or 2g of dry yeast)
80ml of water
1 pinch of salt
1 tablespoon of oil
Prepare homemade Cuban Pizza
1
We mix the ingredients and when they are well-integrated we knead for 10 minutes, stretching and folding the dough so that it gets enough air and gets spongy enough.
2
After 10 minutes we make a ball with the dough and we put it in a container, we cover it with a clean cloth and we let it ferment for 2 hours, until it doubles in size.
3
We grease the bottom of a frying pan with just a few drops of oil and we save it for later.
4
We remove the dough from the container and we hit it a little to eliminate any excess air.
5
We give it a round shape, a little squished, to put it on the pan. We pour the tomato sauce, the grated cheese and the ham chopped in cubes.
6
We take the frying pan to the stove, cover it, and cook it on medium heat for 20 minutes. After this time, our Cuban pizza will be ready, with a spongy texture, the bottom and the crust golden and crunchy.
Nutrition Facts

1 servings per container

Serving Size

100g

Amount per serving

Calories

287

% Daily Value*

*Percent Daily Values are based on a 2,000 calorie diet. Your daily values may be higher or lower depending on your calorie needs.