Today we'll prepare ham croquettes, a simple recipe we can enjoy on multiple occasions.
In Cuba, we have it as a starter or as a main course, as well as snacks if we're celebrating something.
The thing is that preparing them is so simple. The process is quite similar to the one of preparing chicken croquettes, which we already published on our website.
---
Te Avisamos GRATIS cuando Publiquemos NUEVOS Videos y Recetas. SUSCRIBETE GRATIS aquí Abajo.
---
You'll see you won't need too much time or to be an expert cook to prepare them deliciously.
How to make ham croquettes?
As most recipes, this one also has variants. This depends on who prepares them or what the family recipe inherited from one generation to the next.
The ham croquettes we propose you to make today have no complications at all, it's a very basic recipe from which you can add other ingredients you would like.
In this way, you can use the variety of ham you prefer, the most important thing is to follow the instructions to the letter that we'll explain bellow.
To the finish, we'll use a classic breading which will give it a crunchy texture, in our opinion, this is the perfect way of preparing it.
To avoid forming lumps in the dough, you have to add warm or hot milk, but it must never be cold.
Ham croquettes recipe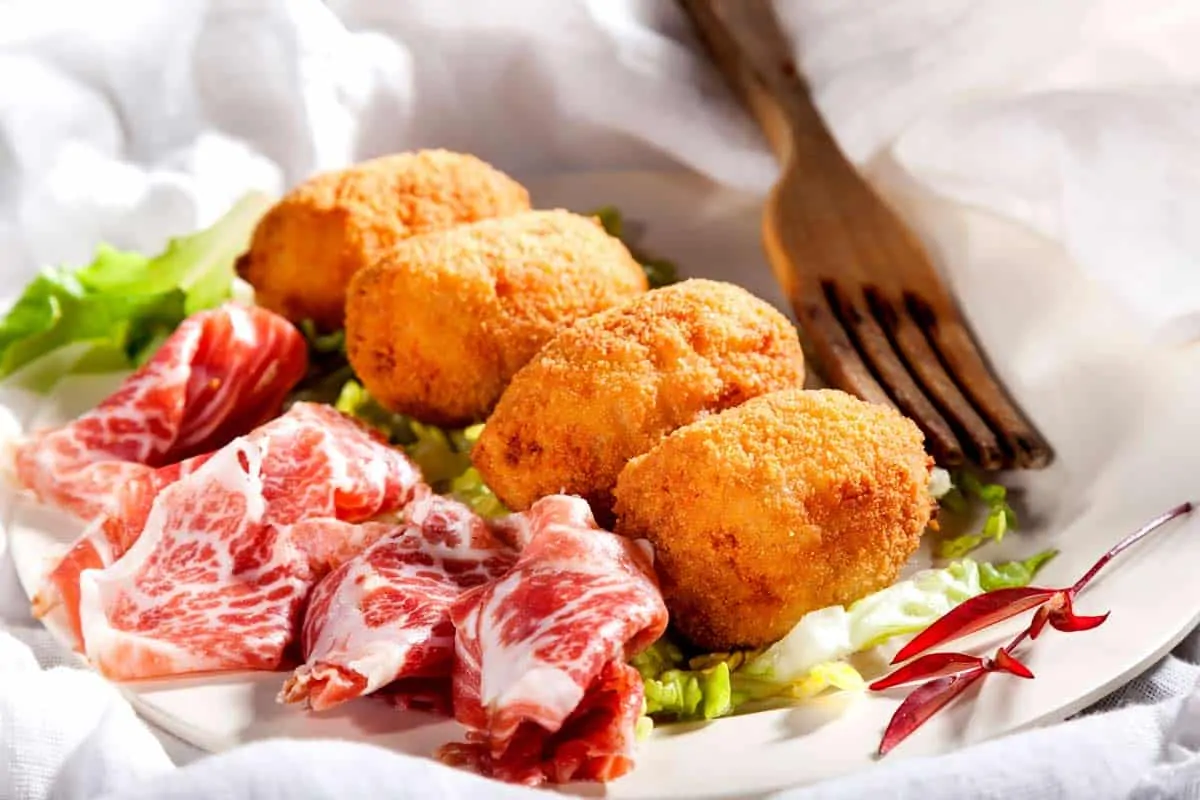 Discover how to prepare delicious homemade ham croquettes in an easy and fast way.
Prep Time

10 min

Cook Time

6 min

Total Time

16 min

Yield

1 Recipient

Serving Size

50g

Energy

149 cal
Ham croquettes Ingredients
200 grams of ham
50 grams of butter
A white onion
A garlic clove
50 grams of all-purposes flour
750 mL of whole milk
Salt and pepper as desired
A pinch of nutmeg (optional)
Abundant oil to fry
For the breading
A cup of flour
A cup of breadcrumbs
2 eggs
Prepare homemade ham croquettes
1
Put a wide frying pan or a pot on the stove, add the butter and fry it lightly until it's melted, being careful not to burn it.
2
Once the butter has melted add the onion and the garlic, which have to been previously cut or blended in a food processor. Sauté for a minute.
3
Add the flour and mix it with the butter, the onion and the garlic gradually. If you already sifted the flour, it will be better.
4
Once they're well integrated, add the milk a little at a time, and stir without stopping using a whisk to avoid forming lumps until it's finished integrating.
5
Add the nutmeg if you decide to use it, the ham cut in very small pieces or blended and stir to integrate it to the mixture.
6
While it cooks it'll start boiling and thickening. During all this time don't stop stirring to avoid the mixture from sticking.
7
Once it's quite thicke and it can be easily separated from the bottom and the walls of the frying pan or pot, turn off the heat, and let it rest at room temperature covered up by film paper or a cooking cloth until it has cooled down. Take it later to the fridge for 1 or 2 hours.
8
Once the dough is cold, start making the shape of the croquettes and once you have them ready pass them first through flour, then through the beaten egg and lastly through the breadcrumbs, eliminating the excess in the first and second steps.
9
Fry them in abundant hot oil until the ham croquettes are golden brown on all sides, drain off the extra grease on cooking paper and then they will be ready to be served.
Video of How to Make Homemade HAM CROQUETTES. Cuban Croquettes Recipe
This time I bring you a video that I have been asked a lot, I will show you how to make homemade ham croquettes with all the tricks so that they are perfect and very delicious. The ham croquettes ...
Nutrition Facts

12 servings per container

Serving Size

50g

Amount per serving

Calories

149

% Daily Value*

*Percent Daily Values are based on a 2,000 calorie diet. Your daily values may be higher or lower depending on your calorie needs.