The chicken croquettes recipe we bring you today is very delicious and easy-to-make, perfect to enjoy with the entire family.
You can have them with any dish you would like because they are perfect to have with a variety of food, and also you can have them as a snack.
Their texture is crunchy on the outside and light on the inside. Although it takes some time to prepare them, it is a very easy-to-make recipe.
How to make homemade chicken croquettes?
It is a very simple recipe, like we said before. You start with a well-shredded portion of chicken mixed with bechamel sauce in the first step.
In the second step, the shredded chicken is coated with flour, egg and breadcrumbs to fry, until it gets its characteristic golden color.
There are many variants of this recipe, like the popular saying goes: "cada cocinero es un mundo", but today we propose some very delicious croquettes that will leave you craving more.
Based on this preparation, you can add all the extra ingredients you would like and you can keep this dish in the fridge. That way, you will have it on hand any time you would like to have it; already fried or before frying it.
Preparing homemade croquettes in Cuba has been very common since the arrival of Spanish to our island, from whom we inherited this recipe. And the tradition goes on, passing on the secret of this dish from generation to generation.
Chicken Croquettes Recipe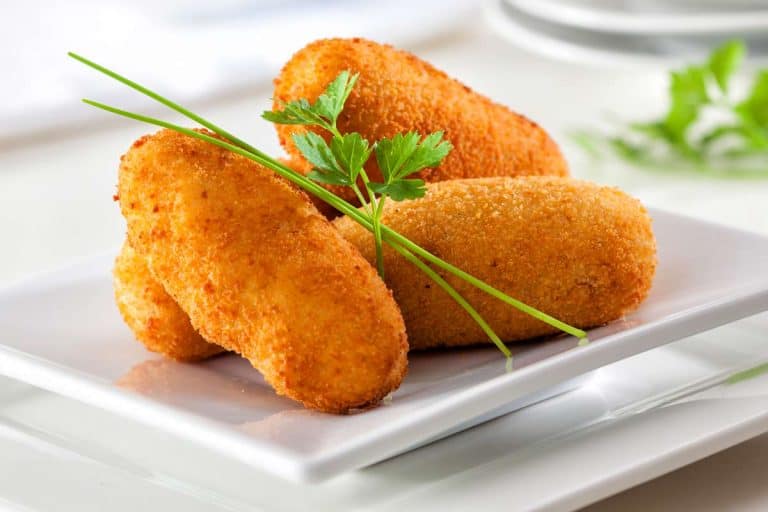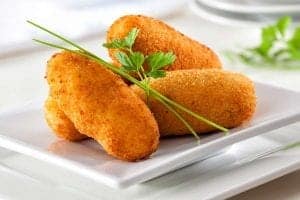 Delicious Cuban-style homemade chicken croquettes, a very easy-to-make dish with a crunchy texture and a soft and light inside.
Prep Time

3 hr

Cook Time

20 min

Total Time

3 hr 20 min

Yield

1 Recipient

Serving Size

10g

Energy

158 cal
Cocina

Tipo

Método de Cocción
Chicken Croquettes Ingredients
2 pounds of chicken breast
2 onions
2 garlic cloves
½ teaspoon of pepper
3 spoons of butter
½ cup of flour
2 cups of milk
1 teaspoon of chopped parsley
2 teaspoons of salt
2 eggs
2 cups of breadcrumbs
Light frying oil
1 cup of water for the coating
How to prepare chicken croquettes
1
The first thing to do is to boil the chicken breast. Put it in a pot covered with enough water. Add 1 teaspoon of salt, a chopped onion, one garlic clove and some pepper. Then, put the pot on the stove.
2
When the meat is soft, and starting to shred, turn off the heat and drain the meat. Let it cool to room temperature.
3
Once the meat has cooled down, finish shredding it and set it aside.
4
Put a frying pan on the stove and heat butter; add the other onion cut into squares, and sauté until it becomes clear.
5
Then, add ½ cup of flour and stir constantly to avoid the flour sticking to the walls of the frying pan.
6
When everything is well mixed, add two cups of milk, the shredded chicken, the parsley and the teaspoon of salt we had set aside earlier. Mix all the ingredients without stopping stirring until the mixture detaches from the bottom of the pot.
7
Take the pot off of the heat and put the mixture into a container to let it cool at room temperature and then put the container in the fridge for 2 hours.
8
After this, beat the eggs in one bowl; put the rest of the flour in a second one and the breadcrumbs in a third.
9
Cover your hands with flour, take a piece from the mixture and roll it in the shape of a croqueta. Keep doing this until you have used all of the mixture. Then, start submerging each one of them first in the bowl with flour, shaking to remove excess, and then in the one with the beaten eggs and lastly in the one with breadcrumbs.
10
Once you have finished doing that, heat enough oil in a pan on medium heat and fry the croquettes until they become golden.
11
Remove the oil and drain the excess onto cooking paper. Serve and enjoy them hot.
Optional:
If you would like, you may let the croquettes sit for a few hours in the fridge after they are coated in breadcrumbs, this way the breadcrumbs adhere better and give a more even texture.
Nutrition Facts

12 servings per container

Serving Size

10g

Amount per serving

Calories

158

% Daily Value*

*Percent Daily Values are based on a 2,000 calorie diet. Your daily values may be higher or lower depending on your calorie needs.
Hola, soy Dailis, Chef Profesional y creadora de varios proyectos de cocina Internacional. Te doy la Bienvenida a Receta Cubana