Do you like Baked pork tenderloin? Keep reading so you can know how to do it
Pork tenderloin is a perfect portion to be cooked in the oven, which results in a very juicy roast with an incredible flavor.
In Cuba, we usually prepare it on festive days such as birthdays, Mother's or Father's days, and especially in the final days of the year.
---
Te Avisamos GRATIS cuando Publiquemos NUEVOS Videos y Recetas. SUSCRIBETE GRATIS aquí Abajo.
---
In other entries on our website we have explained other varieties of recipes using different cuts of pork.
For this reason, today it's time to cook an irresistible and tasty roast tenderloin to enjoy it alongside family and friends.
In this way you can choose between this and other preparations using pork to enjoy on your festive days.
In advance, we say that this recipe is great, precisely because we use the loin, one of the tenderest cuts of pork.
At the same time, although it is a very familiar recipe it is also a dish for an elegant and romantic dinner. Surely, the final result will never disappoint us in terms of taste and texture.
When preparing this baked pork tenderloin, the utensils that we leave below will be very useful.
How to cook perfect roasted pork tenderloin?
As it is a very tender portion of meat, it is best to make sure not to cook it too much so the inside is juicy and the outside is golden and appetizing.
For this, the ideal thing to use is a kitchen thermometer, so we will ensure that it is at the ideal temperature.
If you do not have one of these thermometers at home do not worry, you can also enjoy this delicious dish, you just have to be very aware of the cooking time.
Of course, we cannot miss a good marinade so it can have an intense and irresistible flavor that surprises everyone.
So the other secret is precisely this, leave it marinated for at least 2 hours or from 12 to 24 hours before baking.
Today we explain in detail the step-by-step instructions for this recipe so you can prepare it at home and get a perfect result.
Do not miss the opportunity to surprise your guests by serving this delicious roast tenderloin cooked by you.
Baked pork tenderloin recipe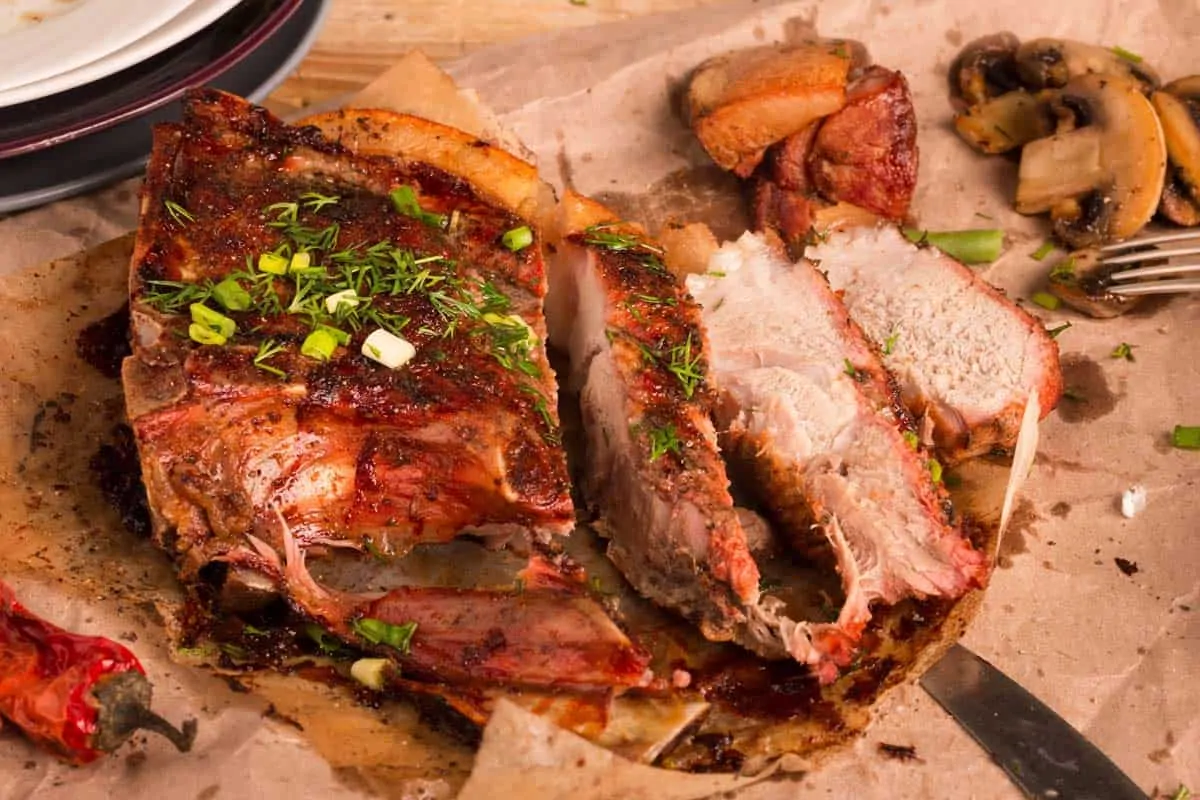 Exquisite baked pork tenderloin, a Cuban recipe that you cannot miss on holidays, especially at the end of the year.
Prep Time

10 min

Cook Time

45 min

Total Time

55 min

Yield

1 loin

Serving Size

100g

Energy

311 cal
Cuisine

Course

Cooking Method
Ingredients
1 medium or large pork tenderloin
20 garlic cloves
1 cup of bitter orange juice
1 cup of orange juice
½ cup of white wine
1 tablespoon of white peppercorns
½ tablespoon of thyme
½ tablespoon of bay leaf
1 teaspoon of cumin powder
¼ cup of olive oil
Salt as desired
How to prepare roasted pork tenderloin?
1
The first step to marinate our loin is to prepare all the ingredients, peel and place the garlic cloves in a mortar, add a pinch of salt and crush very well until obtaining a kind of paste and set aside.
2
In the same way, we also crush the pepper and then mix all the ingredients in a tray or bowl: the bitter and sweet orange juice, the wine, the thyme, the bay leaf, the cumin, the crushed garlic cloves, the salt and the olive oil.
3
Mix everything very well and pierce the loin on all sides with the tip of a knife before placing in it the marinade.
4
With the help of the tip of our fingers we can rub a little of the seasoning so that it penetrates better inside the meat. Cover the container with film paper and refrigerate until the next day or at least 30 minutes before cooking (if you do not have a lot of time).
5
Remove the meat from the refrigerator and seal it in a nonstick skillet over medium high heat until all edges are golden brown.
6
Then place it on a tray, cover it with aluminum paper and bring it to the oven, preheated at 350 ° F and bake for a period of 30 to 35 minutes, until the internal temperature is 145 ° F (to measure, insert a kitchen thermometer into the thickest portion).
7
Remove it from the oven and let it rest for at least 5 minutes before cutting. Serve with potatoes, vegetables, rice, fried food or any other side dish of your choice.
Video of BAKED PORK LOIN. How To Make Juicy ROASTED LOIN
This time I show you my version of cooking juicy baked pork tenderloin with a delicious flavor. During the video I will show you each of the tricks that I always do to achieve the best ...
Optional:
If you prefer, you can refrigerate the meat inside a plastic bag instead of putting into practice the way we explained above, so the dressing covers it better.
You can also add other species such as oregano, bay leaf, etc. Or substitute bitter orange juice with lemon or lime juice.
Nutrition Facts

5 servings per container

Serving Size

100g

Amount per serving

Calories

311

% Daily Value*

*Percent Daily Values are based on a 2,000 calorie diet. Your daily values may be higher or lower depending on your calorie needs.