The white rice is a classic, not alone of the Cuban cooking but internationally, a recipe that can never lack.
Its preparation is very simple and quick, with very few ingredients, but in spite of this it is necessary to keep in mind some tricks.
Today we show you the secret to cook a loose white rice like a professional chef.
Before going into details of how to cook the perfect white rice, we leave to your consideration these utensils that will be of great help for this and other recipes.
How to make white rice?
This recipe has several forms of being elaborated, although two of them are the most popular.
The first one, the simplest is also in rice pot and the second is to cook it to the vapor that requires of more attention for our part.
Therefore, when we speak of cooking it perfect there are several factors that alter the result and that it is necessary to keep in mind.
For example, the material of the recipient where we will make it, as well as the quantity of water required in dependence of the type of rice.
Besides the pot type that we will use since it is one with a wider surface than the normal one it needs less time to be ready.
Which is the appropriate proportion of water to cook it?
It cannot be necessary a general proportion since it varies according to each type.
For the white rice of long grain that is one of those most used 2 measures of water that should be used by each 1 measure of rice (2:1)
While in the case of the rice of short grain it is single 1 ¼ of measure of water for each 1 of this type.
However, to cook integral rice it is necessary a bigger quantity of water, 1 ¾ it should be used by each 1 of this variety.
Likewise, the ideal thing is to wash it before its cooking to eliminate sludges and excess of starch, this way will be fluffy.
Have present that while more starch contains less fuffly it will be its final texture. Wash it 2 or 3 times with cold water before cooking it.
Equally we teach you another trick so that it is fuffly and it consists on frying it lightly, once you have washed it, just before adding some water.
What ingredients does it take the white rice?
The traditional recipe takes raw rice; add some drops of oil and a pinch of salt, although some variations of the same one exist.
Some people add garlic and onion for flavoring a little, as well as they cook it accompanied by vegetables or other spices.
What time does it take in cooking the rice?
It depends on where you will cook it.  If it is in a rice pot the time average of cooking is from 10 to 20 min.
But if you cook it to the vapor, the time varies according to the variety of the grain, the rice of long grain is ready between 15 and 20 minutes.
While that round grain takes a long time about 15 minutes and the Integral rice needs between 40 and 45 minutes.
Now, we show you two methods to cook a perfect white rice using the same ingredients.
White Rice Recipe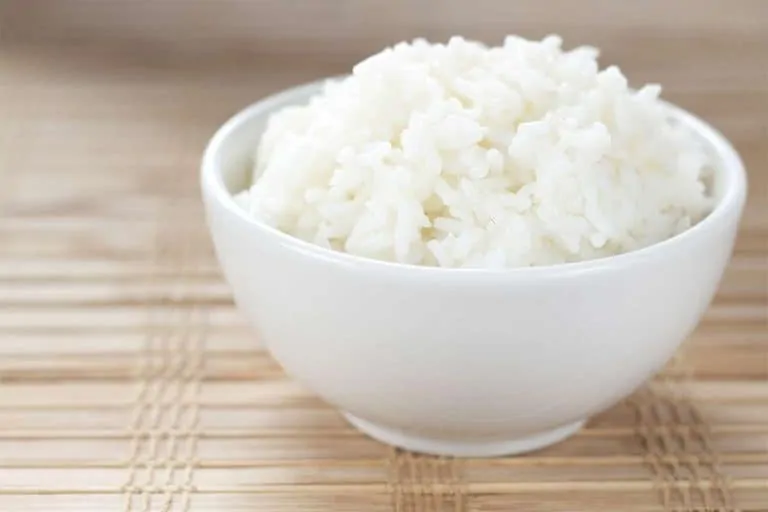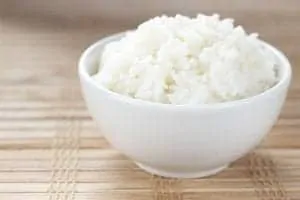 Traditional recipe of white rice, a classic of Cuban and international cuisine. The best tricks to make you look perfect
Prep Time

2 min

Cook Time

15 min

Total Time

17 min

Yield

1 Recipient

Serving Size

100g

Energy

130 cal
Cocina

Tipo

Método de Cocción
Ingredients
1 cup of white rice of long grain
2 cups of water
1 spoonful of salt
1 clove of garlic
1 spoonful of oil of soft flavor
Cooking White Rice
1
The first step is preferably to wash 2 times the rice in a deep recipient so it doesn't spill out, and we reserve.
2
Then we place a pot to half fire and add the oil and the clove of garlic. After, we fry them lightly for 1 minute.
3
We move away the clove of garlic and we add the washed rice, we fry lightly during 1 or 2 minutes constantly revolving to avoid it sticks to the pot.
4
Then we add the water to ambient temperature and we add the salt, we rectify it is in the adapted point of salt and we let to cook without removing about 12 or 15 minutes after it begins to boil.
5
Past this time, we cover it during 2 minutes and we turn off the fire. We rectify that it is totally sewn and we remove preferably with a fork so that it is fluffy.
6
We cover it to maintain it hot until the moment to serve it.
White Rice in Rice Cooker
Using the same ingredients, we will cook the rice in a rice pot; this method is simple because we don't need to be present during its cooking.
The first step is to wash the rice well, and then we fry it lightly with the oil and a clove of garlic.
Past 1 minute we move away the clove of garlic and we pour the water with the salt.
We cover the pot, we press the ignition button and we let it to cook until the button of the pot shots.
We let it to rest at about 5 minutes, without uncovering it. It stops then to remove it well, we conserve it and we serve it hot.
White Rice Nutrition Facts

2 servings per container

Serving Size

100g

Amount per serving

Calories

130

% Daily Value*

*Percent Daily Values are based on a 2,000 calorie diet. Your daily values may be higher or lower depending on your calorie needs.
Hola, soy Dailis, Chef Profesional y creadora de varios proyectos de cocina Internacional. Te doy la Bienvenida a Receta Cubana