To prepare a rich pumpkin puree is simpler than it seems, it is also a healthy recipe that we can taste in any schedule.
The pumpkin is one of the most common vegetables in Cuba and with the one we prepare a great variety of delicious recipes.
From a rich pumpkin flan until a flavorful and slight puree like the one we will make today which is perfect for all ages.
---
Te Avisamos GRATIS cuando Publiquemos NUEVOS Videos y Recetas. SUSCRIBETE GRATIS aquí Abajo.
---
In only some minutes, you will be enjoying this plate that you can accompany with meat or fish.
So, this is a very flexible recipe because you can add, as you please, more ingredients like spaces or other vegetables.
What properties does the pumpkin puree have?
The pumpkin is considered one of the most exceptional foods that exists, besides its pleasant flavor it is very beneficial for the health.
This puree has a great quantity of vitamins, especially vitamins of the group B, C and E. It contains minerals such as the potassium, iron, magnesium and others.
It is ideal to consume in our daily feeding because at the same time that it offers us their benefits it hardly contributes to give some calories to the organism.
Pumpkin Puree Recipe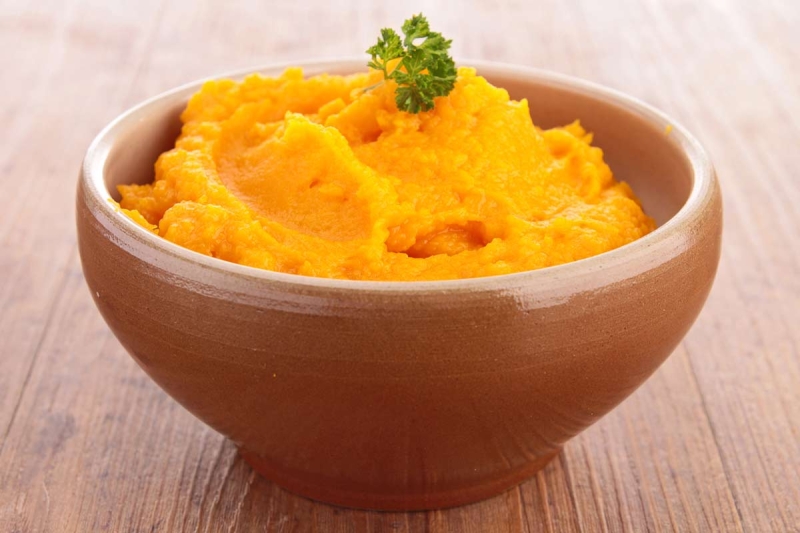 Rich and healthy pumpkin puree, a recipe very easy of making with which we can accompany our foods during the whole day.
Prep Time

10 min

Cook Time

30 min

Total Time

40 min

Yield

1 Recipient

Serving Size

100g

Energy

26 cal
Cuisine

Course

Cooking Method
Ingredients
medium pumpkin
1 white onion
1 spoonful of chopped parsley
1 spoonful of salt
1 spoonful of olive oil or another vegetable oil
water
How to make pumpkin puree?
1
We will begin preparing the ingredients, for that we peel and we itch finely in small pieces the pumpkin and the onion.
2
In a pot with enough water and 1 spoonful of salt we cook to half high fire the pumpkin pieces until they be completely soft. (the level of the water should cover all the pieces)
3
When it has cooked completely, we move away from the fire and we drain it. We reserve.
4
Then we fry lightly during 2 minutes in a pan with a spoonful of oil the whole chopped onion, until be transparent and we reserve.
5
Lastly, we unite both ingredients to the parsley and we crush with a fork, until obtaining the wanted consistency without having pieces of great size.
Optional:
If you prefer a finer and more homogeneous texture you can incorporate all the ingredients in a blender and let liquefy from 2 to 3 minutes to high speed.
If you want that it is less thick the puree, add some of the same water with which you cooked the pumpkin.
You can also add some garlic, cumin, pepper or other vegetables like potato or carrot, as you please.
Nutrition Facts

4 servings per container

Serving Size

100g

Amount per serving

Calories

26

% Daily Value*

*Percent Daily Values are based on a 2,000 calorie diet. Your daily values may be higher or lower depending on your calorie needs.