The garlic shrimp recipe, it is very easy to make.
This one is one of the dishes that we are accustomed to prepare in Cuba, although its originally from Spain.
It became popular in the island after the arrival of the Spanish where both culinary cultures were fused.
If we speak about the more popular and delicious seafood, without doubts, the garlic shrimp might not be absent.
With which to accompany the Garlic Shrimp?
The garlic shrimp are served preferably with white or yellow rice and with a good white wine.
Though you can accompany this saucer with any other one of your preference, it could be vegetable, a ripe fried banana, chatinos, etc.
How to prepare it?

It is not necessary to cook it for long time because they lose its texture and consequently its flavor will not be the suitable either.
In this occasion we propose you to make the classic recipe that we taste in Cuba, very simple and easy to make it.
To prepare this delight it is necessary of few ingredients that you can cook in a frying pan or in a casserole of mud, since traditionally it is done.
We choose the first option because it is the most common at homes in the whole island.
Are shrimps healthy?
The main ingredient of this preparation is a type of crustacean that has a high nutritional value. Among its properties is point out its content of Omega-3, Vitamins B3 and B12, besides Vitamin D and folic acid.
It also has Betacarotenos, Previtamia- A, as well as minerals like Sodium, Phosphorus and Iodine.
In spite of that the shrimp has average   / high levels of cholesterol, it is very recommended to consume in a healthy diet.
This shellfish only presents the half of the cholesterol that contains a whole egg, is high in proteins and low in calories.
Garlic Shrimp Recipe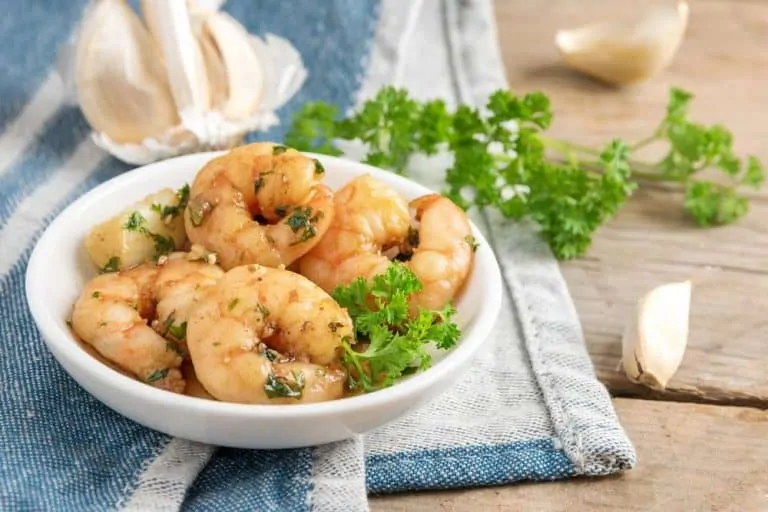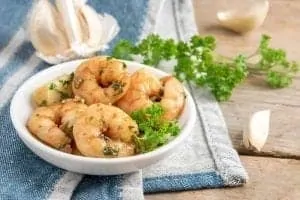 Easy and homemade Garlic shrimp recipe, one of the seafood preparations that we consume the most in the island.
Prep Time

10 min

Cook Time

6 min

Total Time

16 min

Yield

Recipient

Serving Size

100g

Energy

180 cal
Cocina

Tipo

Método de Cocción
Ingredients
2 pounds of shrimps
6 cloves of garlic
2 lemons
Salt and pepper to taste
1 spoonful of parsley or coriander( Optional )
4 spoonful of olive oil or another vegetable oil.
How to make Garlic Shrimp
1
The ideal thing is to obtain the shrimps already clean; otherwise, the first thing that we have to do is to clean it.
2
We Place the frying pan (try to use a big one to cook better) to average fire and add the oil.
3
When the oil is warm, so we add the garlic and gild it during 1 or 2 minutes.
4
Then we add the shrimps by adding salt and pepper to the taste and we only cook for 2 to 3 minutes in both side or until they change its color.
5
Finally, if you wish, add the parsley or coriander finely cut and remove from the fire.
Video Preparation SHRIMP WITH GARLIC
Step by step how to prepare garlic shrimp
Optional:
If you prefer it you can use butter instead of oil, it gives it an only flavor.
In addition, you can add it 2 spoonfuls of white wine, which also it gives an extra of surprising flavor.
Nutrition Facts

4 servings per container

Serving Size

100g

Amount per serving

Calories

180

% Daily Value*

*Percent Daily Values are based on a 2,000 calorie diet. Your daily values may be higher or lower depending on your calorie needs.
Hola, soy Dailis, Chef Profesional y creadora de varios proyectos de cocina Internacional. Te doy la Bienvenida a Receta Cubana