Fried fish is one of the simplest recipes we prepare in Cuba as well as one of the most delicious.
There are many ways to cook fish such as fillet, sliced, ceviche, grilled, steamed or baked, but there is no doubt that making it fried highlights its flavor at a high level which it is impossible to resist.
For this reason, today we invite you to prepare our homemade recipe of whole fried fish.
---
Te Avisamos GRATIS cuando Publiquemos NUEVOS Videos y Recetas. SUSCRIBETE GRATIS aquí Abajo.
---
Remember that in this case it must be a fresh and small or medium sized fish to fit in the pan in order to be able to be cooked properly.
If possible, use canola oil for frying, as it is mild in taste and more heat resistant, perfect for this recipe.
Fried fish recipe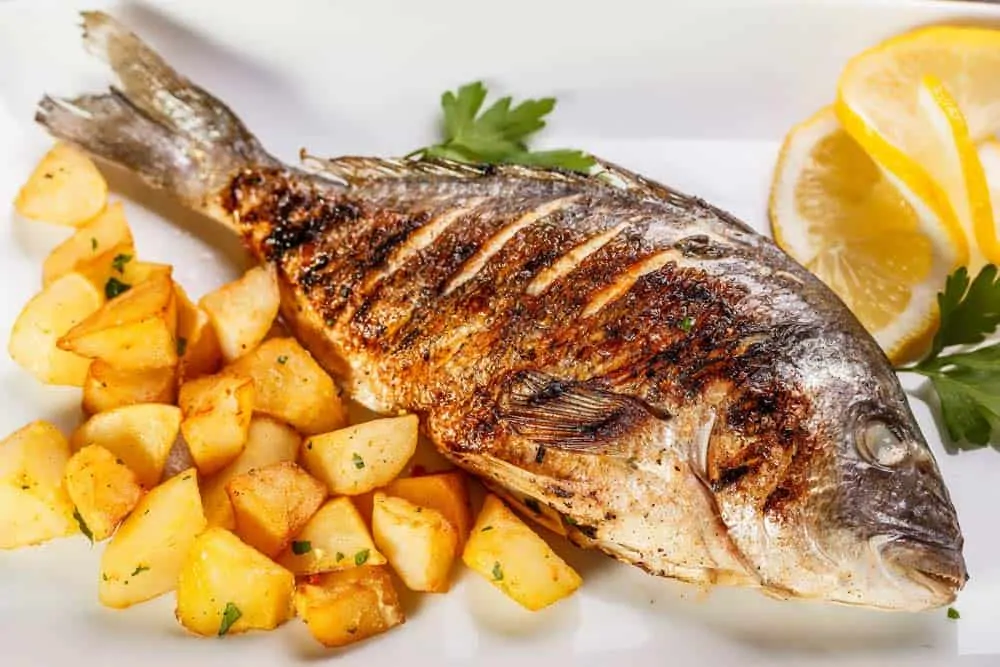 A delicious Cuban recipe of whole fried fish; very crispy and easy-to-make that will delight your guests at home.
Prep Time

5 min

Cook Time

10 min

Total Time

15 min

Yield

1 Fish

Serving Size

100g

Energy

199 cal
Cuisine

Course

Cooking Method
Ingredients
1 whole and clean fish
2 lemons
3 garlic cloves
Half teaspoon of salt
A pinch of ground white pepper
Vegetable oil for frying
How to prepare Fried fish
1
The first thing we will do is prepare and season the fish, for this we make 3 or 4 diagonal cuts on both sides.
2
Then we add the juice of the lemons, the crushed garlic cloves, the salt and pepper. Let it rest for 10 or 20 minutes so the ingredients can penetrate better and get a more delicious flavor.
3
Finally, in a pan with enough hot oil (so that it can cover the fish) we let it fry until it is brown on both sides. Take it out and place it on a dish or plate, drain the excess grease using paper towels.
How to Make WHOLE FRIED FISH. Crispy Fried Dorada Recipe with and without FLOUR
I show you how to make crispy fried fish, one of the Cuban food recipes that is easier to prepare, delicious and fast. In the video I explain the tricks to make it perfect for you and also ...
Optional:
You can add another ingredient of your choice such as thyme, bay leaf, ground oregano or others sold in specific fish markets.
If you want a healthier version of this recipe, use the oven, the result will be equally tasty.
Nutrition Facts

1 servings per container

Serving Size

100g

Amount per serving

Calories

199

% Daily Value*

*Percent Daily Values are based on a 2,000 calorie diet. Your daily values may be higher or lower depending on your calorie needs.