This recipe of Cuban Eggnog is very easy to prepare and the result is a delicious beverage to taste in all occasion.
For the most part, it is preferred by women, who opt for something more garter when it comes to celebrating.
Ya que podemos consumir este trago todo el día o la noche, según sea la ocasión. Por tanto, hoy te proponemos conocer el paso a paso de esta receta.
---
Te Avisamos GRATIS cuando Publiquemos NUEVOS Videos y Recetas. SUSCRIBETE GRATIS aquí Abajo.
---
So that we can consume this drink the whole day or night, according to the occasion, therefore, today we propose you to know every step of this recipe.
The name of Créme de Vie (Cuban Eggnog) is the result of a combination between Spanish and French, which means Cream of Life.
Despite being able to buy it in supermarkets and other stores, there is nothing compared or more satisfying than preparing this typical Cuban recipe in the traditional way.
In Cuba it is make in the houses, craftily and it is very common among who live in the island.
So that, if you still do not know how to prepare this recipe, keep reading untill the end, so we will explain every detail.
Make this deliciousness at home and surprise to your guests, and you will see that it is simple, financially and very nice.
This is how I prepare FRI CREAM with CONDENSED Milk. Recipes for CHRISTMAS
I show you How to Make Cuban Fri Cream with CONDENSED MILK. VERY Easy and in 3 Easy STEPS. The Cream of Fri or Egg Punch as it is also known in the rest of the world is one of the ba ...
Cuban Eggnog Recipe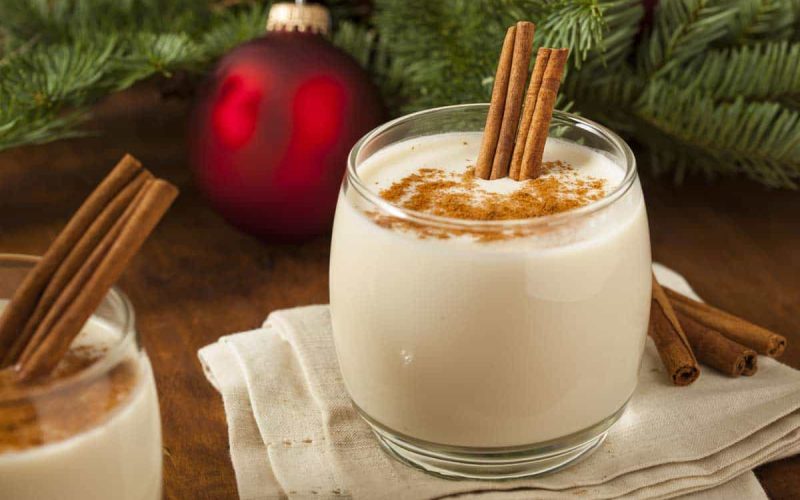 Cuban Eggnog, a typical beverage, of sweet flavor, creamy and delicious that all cuban had tasted at least once in the live
Prep Time

2 min

Cook Time

27 min

Total Time

29 min

Yield

1 Blender

Serving Size

1 Cup

Energy

100 cal
Cuban Eggnog Ingredients
1 1/2 cups of condense milk
1 cup of sugar
1 cup of water
2 eggs
2 stick cinnamon
1/2 teaspoon of salt
3/4 cup of silver dry ron
1 teaspoon of vanilla extract
How to prepare the Cuban Eggnog
1
We mix in a recipient, the sugar, the water and the cinnamon, we take it to high heat untill it is begin to boil, and then we put it to middle heat.
2
Later 20 minutes about , when the Syrup has get dense, we remove the stick cinnamon, remove it from the flame and let it to get cold to room temperature other 20 or 30 minutes
3
The next step is to beat everything; first, we put the eggs and the salt into the blender for two minutes.
4
Later, without turnning it off add the Syrup little by little, with the condense milk, the white rum and the teaspoon of vanilla. We let it mixing for two to five minutes untill it gets the creamy point, which distinguishes it.
5
Finally, we place it in a recipient, preferably of crystal and place it in the refrigerator to serve it cold.
How to make CREMA de VIE Cubana ► CHRISTMAS EGG PONCHE Recipe
Prepare a rich Cuban cream of vie or Christmas eggnog to celebrate this time of year or as many times as you prefer, with the recipe that I share with you in today's video. It's one of the dr ...
Optional:
The cinnamon can be replace by a pinch of nutmeg or anise, according to the preferences that you have.
Also, in many places in Cuba, it is a habit to add a little of crushed peanut, so that its give it a delicious flavor.
Nutrition Facts

6 servings per container

Serving Size

1 Cup

Amount per serving

Calories

100

% Daily Value*

*Percent Daily Values are based on a 2,000 calorie diet. Your daily values may be higher or lower depending on your calorie needs.