The stuffed peppers recipe is one of the most popular vegetable dishes in the world; it is also very versatile.
Its preparation has infinite adaptations, almost always corresponding to the culinary culture of the region where it is made.
Its flavor is exquisite, perfect for any occasion and time of the year, no matter what type of pepper is chosen or the filling that is put in.
---
Te Avisamos GRATIS cuando Publiquemos NUEVOS Videos y Recetas. SUSCRIBETE GRATIS aquí Abajo.
---
That is why today we bring you several options of stuffed peppers for you to choose your favorite and prepare it at home.
You will also have the perfect justification for preparing peppers on more than one occasion.
How to make stuffed peppers?
Much of the recipes with peppers are baked, but since it is a very variable preparation you can also do it without an oven.
In many occasions you will find the chopped pepper only cooked on its top and in others longitudinally.
And while it is true that using fresh vegetables is delicious you can also use the option of making this recipe with piquillo peppers, which come canned, or another type of canned pepper.
As for the stuffing, you can put whatever you want, from meat, rice, cod, tuna, cheese, prawns, and we can go on and on because the list is long.
According to this, wherever you go, you will find with certainty that the most popular recipes are peppers stuffed with tuna, minced meat, cod and rice.
For this reason, today we propose you to prepare all these variants; you will see that they are very simple and the result is delicious.
Something very important that you should always keep in mind is that when choosing peppers their appearance has a great importance.
Make sure they have smooth skin, so that when baked, they release enough juice, otherwise, if they have wrinkled skin they will be drier.
How are stuffed bell peppers prepared without an oven?
If you do not have an oven or simply want to try another variant, we advise you to cook the peppers in a pot.
This is another way of cooking that is widely used in international cuisine to make this recipe; the result is also very good.
What do you need? As it is very simple, prepare a sauce with chicken or meat broth, onion, chopped or mashed tomato, garlic, parsley and coriander.
Then cook them on medium heat for about 30 minutes, once you have filled them, until they are tender.
The recipe that we describe below is to be prepared in the oven, but you can also do it this way if you wish, as well as the variants that we mention in the optional section.
Stuffed peppers recipe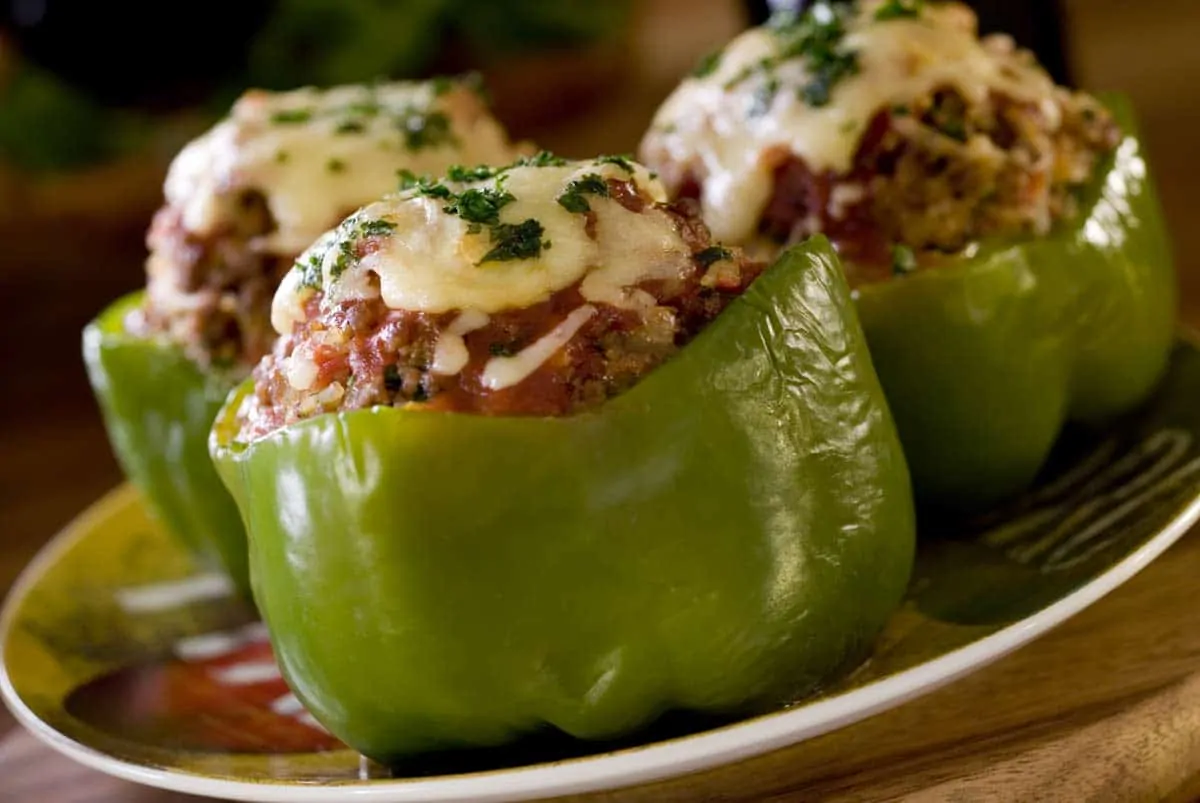 Peppers bell stuffed with meat recipe and other variants of this delicious preparation that you will surely love to prepare. Peppers stuffed with tuna, with rice and cod.
Prep Time

10 min

Cook Time

30 min

Total Time

40 min

Yield

4 Green Bell Pepper

Serving Size

100g

Energy

253 cal
Cuisine

Course

Cooking Method
Stuffed peppers Ingredients
4 green bell peppers (you can also use red or yellow ones)
400 grams of ground beef
1 onion
2 garlic cloves
2 tablespoons of tomato paste
A leaf of parsley
A pinch of pepper
Salt as desired
2 tablespoons of olive oil
½ cup of bread crumbs
Grated cheese as desired
A dash of extra olive oil
how to make stuffed bell peppers
1
First cut the top of the peppers, remove all the seeds and fibers inside. Set aside.
2
Next, we will prepare the ingredients for the filling. Finely chop the onion and crush the garlic. Also mix bread and grated cheese in a bowl.
3
Then heat the oil in a frying pan and sauté the onion and garlic for 1 minute.
4
Add the meat and cook on medium heat until not a single raw piece is left. Add the tomato purée, the parsley, the salt and the pepper as desired. Cook for 2 or 3 more minutes.
5
Now it's the time to fill the peppers, first brush them with olive oil and add a pinch of salt.
6
Begin incorporating the minced meat previously prepared inside the peppers, filling each one.
7
Finally, add the mixture of bread and grated cheese, and place them on a tray.
8
Take them to the preheated oven at 180 °C with heat from above and below for about 20 or 25 minutes or until the peppers are tender.
9
Now we have our delicious baked stuffed peppers with meat ready. Serve them right away to enjoy them hot.
PEPPERS STUFFED WITH MEAT ► How to make in the oven RECIPE CUBANA
► SUBSCRIBE 👉 http://bit.ly/RecetaCubana_YTB In this video I show you step by step how to make easy, perfect and delicious stuffed peppers with meat. Also, I give you the best tricks and some v ...
Optional:
As we said before you can fill the peppers with whatever you would like, here we leave you other options to encourage you to prepare them.
The recipe that we have explained above, can be combined and you can get peppers stuffed with meat and rice by just adding a bit of this starch.
Otherwise, you can completely replace the meat and make them only stuffed with rice.
On the other hand, to make stuffed peppers with tuna, all you have to do is replace the meat with tuna, add chopped onion and grated cheese. Fill them up, place them on a tray and bake them.
Nutrition Facts

4 servings per container

Serving Size

100g

Amount per serving

Calories

253

% Daily Value*

*Percent Daily Values are based on a 2,000 calorie diet. Your daily values may be higher or lower depending on your calorie needs.