Meatball soup is a light and very easy to make dish, so if you do not know how to prepare it, we will tell you here everything you will need to make it.
There are many versions of this recipe, some of them add vegetables, others are simpler, similar to a broth and there are some including noodles.
Precisely, today we will show you the step-by-step instructions of a basic and at the same time very delicious meatball soup, from which you can make the version you want.
---
Te Avisamos GRATIS cuando Publiquemos NUEVOS Videos y Recetas. SUSCRIBETE GRATIS aquí Abajo.
---
It is a dish that it is consumed hot, therefore, it is perfect for cold days, it is also very nutritious and aromatic thanks to the combination of its ingredients.
It can be consumed alone or accompanied by some pieces of bread, white rice or crackers, it all depends on your likes.
How to make meatball soup?
The main things about this recipe is the meatballs and the broth in which we will cook it. In another of our entries you can find the recipe for homemade meatballs and use them for this soup.
As for the broth it can be both meat and chicken and instead, if you do not have either of these available, use only water.
For the preparation of this recipe we will also be using spices that will give it an irresistibly good aroma and flavor.
Now, let's look precisely at the ingredients and the step-by-step to make homemade meatball soup, perfect and delicious.
Meatball Soup Recipe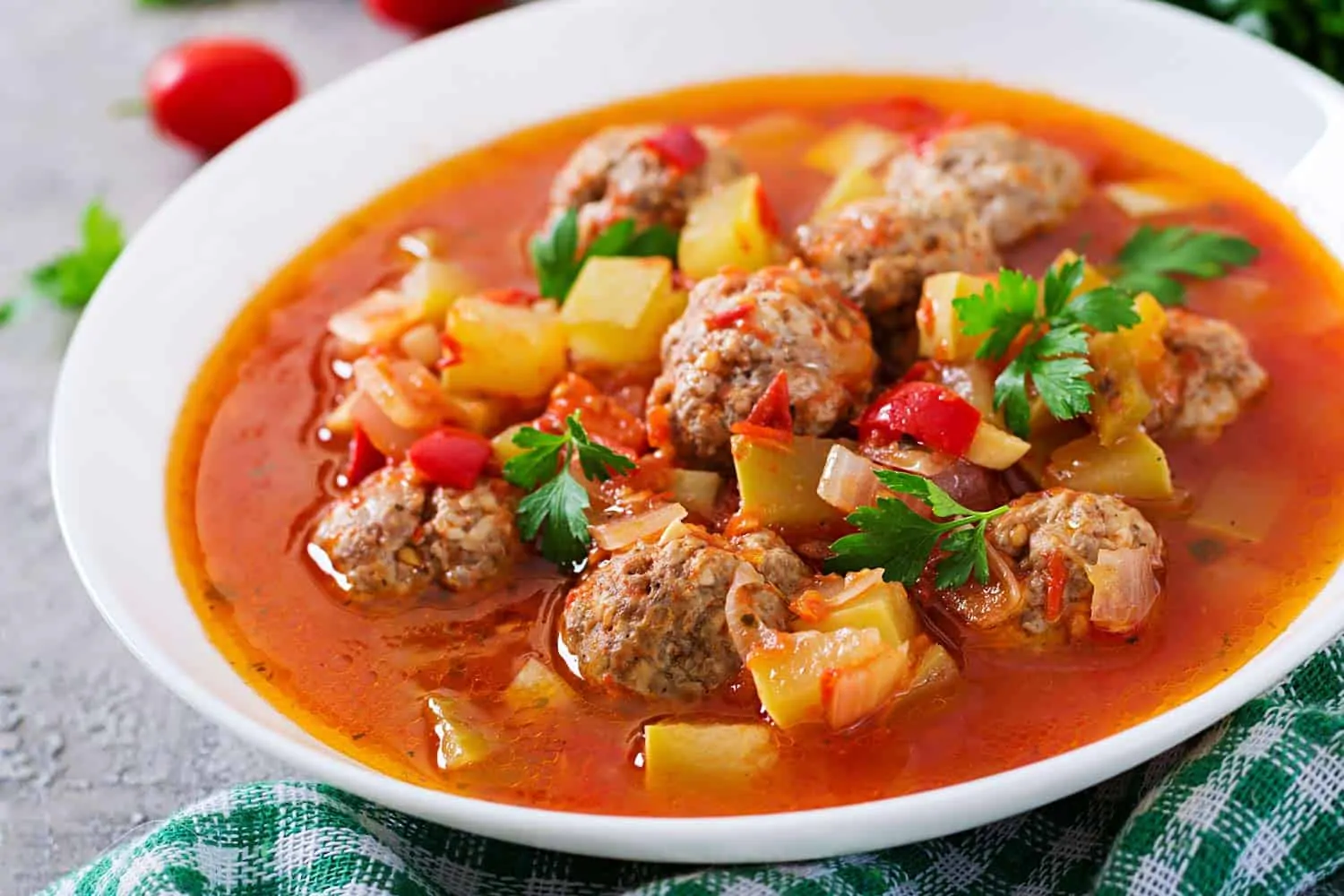 A delicious meatball soup, a very easy and quick-to-made homemade recipe. A light dish to enjoy whenever we want.
Prep Time

10 min

Cook Time

25 min

Total Time

35 min

Yield

1 Recipient

Serving Size

100g

Energy

195 cal
Cuisine

Course

Cooking Method
Ingredients
20 meatballs
6 cups of beef broth
2 ripe tomatoes
½ onion
2 garlic cloves
1 potato
½ cup of chopped cilantro
½ cup of chopped parsley
Salt and pepper as desired
How to prepare meatball soup
1
First, we remove from the tomatoes the end that has the leaf and place them in a pot with boiling water for 5 or 7 minutes.
2
After this time, we liquify them to form a very fine tomato paste or sauce, if you wish you can add a dash of water.
3
Then we cook the sauce for 5 minutes in a frying pan with a tablespoon of hot olive oil in the same pot where we will make the soup.
4
Once the sauce is cooked, we pour salt as desired and add the meat broth.
5
Meanwhile, we cut the potatoes in small cubes to add them to the broth, add the meatballs and cook for 15 or 20 minutes.
6
Finally, add the coriander and chopped parsley, and cook for another minute. Take it off from stove and serve hot.
Nutrition Facts

5 servings per container

Serving Size

100g

Amount per serving

Calories

195

% Daily Value*

*Percent Daily Values are based on a 2,000 calorie diet. Your daily values may be higher or lower depending on your calorie needs.