The creole ajiaco is a super delicious dish that all Cuban used to prepare every time we have the chance.
Specially, if we are about to prepare a family party so that it is the recipe that for excellence t cannot be missing in this type of celebrations.
Besides, because it is part of our tradition of more than 500 years, yes that's right, this exotic mixture of flavors came up from the merger of several cultures that
All who had was born in the island, sure that have had tasted the Cuban ajiaco  for more than once.
No doubt, we always keep with the long for to repeat the experience, that's why, we propose you to cook this delight.
It is not notable if you live in Cuba or overseas, because Cuban ajiaco is ideal to prepare wherever you are.
History of the Cuban Ajiaco
Since the time of the aborigine in our island a type of ajiaco was already being consuming, prepared with pepper, which it was excellent to accompany the cassava bread, another dish from that time.
With the arrival of the Spaniard, and after this one, culinary customs from Europe and Africa began to be introduced.
So that, in a few time, the cuban ajiaco  and other typical dishes began to have some adaptations, like the increment of the number of ingredients.
Resulting, deliberately, a perfect combination that delights our palates every time we taste it.
We say deliberately, because all this emerged with the need of feeding the slaves without having great   spending.
So that the Spaniard decided by that time to add to this clear soup, all the premises viands that they could find and a piece of jerked beef combined with Spanish stew.
Nitza Villapol's Cuban Ajiaco
Many years later, the famous cook, Nitza Villapol, assured that, to get rid of the chickpea, it was that began to be a real Cuban dish.
The truth is that this recipe is the result of the combination of the Spanish cooked and the Cuban viands.
And Spite of having some quantity of ingredients, its elaboration is not difficult.
It is a dish enterely characteristic of festivities and meetings, so that it is perfect for the enjoyment of everybody.
If you want to know how to make Cuban ajiaco , with a spectacular taste and that it will never disappoint you.
Every district of the country has its own version; the recipe that today we bring to you is the more traditional.
The one that combine with the mayority of the ingredients and condiments that are used, remember that you can also make your own version of ajiaco.
The common factor will always be to cook this delicacy in a big pot with a lot of viands, meat and fresh corn.
Before moving on to the recipe, review these items that we leave you below, which for their quality we recommend them for this and other recipes.
Ajiaco Recipe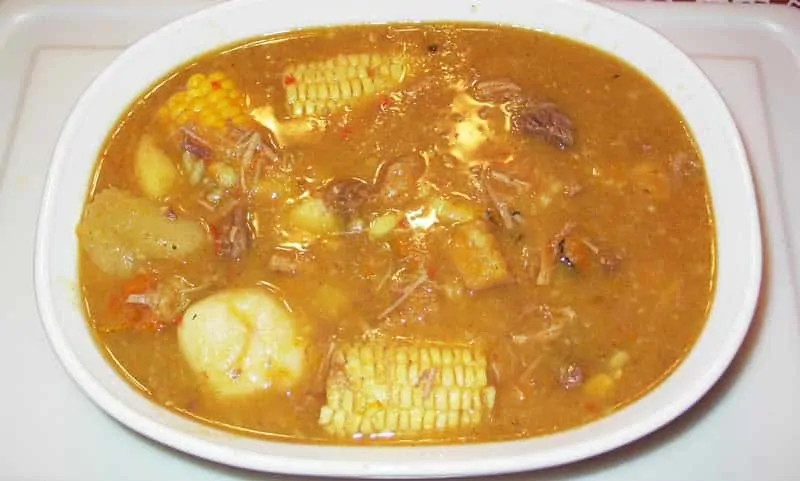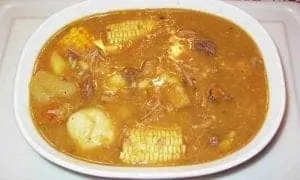 The Ajiaco is typical Cuban dish, perfect for the celebrations in group, the perfect combination of viands, spices and meats, with intensive and exotic taste.
Prep Time

15 min

Cook Time

1 hr 30 min

Total Time

1 hr 45 min

Yield

Casserole

Serving Size

100g

Energy

133 cal
Ingredients
¼ kg of jerked beef( salted meat)
1 creole small hen.
½ kg of pork
87gram of bacon.
2 corncob of fresh corn
¼ kg of yam
2 green plantains
¼ kg of taro
¼ of cassava
¼kg of sweet potato
¼kg of pumpking
1 big onion
3 cloves of garlic
2 lemons
1 cup of tomato sauce or creole sauce
5 liters of water
2 spoons of lard.
Salt to taste.
How to Make Ajiaco Cubano
1
Chop the jerked beef into pieces and place it to soak at least for 12 hours or from the previous night.
2
The following morning, drain it well and cook for 30 minutes with the hen already chopped into pieces, in a big pot with the water to medium flame.
3
After half hour, and it begins to get tender, we add the pork chopped into pieces. We cook it for other 30minutes.
4
Get the greasy and the scum out that is formed in the surface
5
Meanwhile make a lightly fried onion in a fry pan with the lard, the bacon, the cloves of garlic and the onion. Later add the national sausage and keep.
6
Wash, peel and chop all the viands, add them to the pot with the water and the meat, and we put the corncob, the lightly fried onion and the lemon juice.
7
Cook it for 45 minutes untill the clear soup gets dense. Add more salt.
8
If you want a more dense consistency, take out some piece of taro and yam, crush them and later and put them again into the pot.
Nutrition Facts

15 servings per container

Serving Size

100g

Amount per serving

Calories

133

% Daily Value*

*Percent Daily Values are based on a 2,000 calorie diet. Your daily values may be higher or lower depending on your calorie needs.
Hola, soy Dailis, Chef Profesional y creadora de varios proyectos de cocina Internacional. Te doy la Bienvenida a Receta Cubana