The mamey shake is one of the recipes that we make the most in Cuba, and it is due to that for many people is our preferable fruit.
The mamey has two classifications according to its aspect and color in its inside, keeping with two general varieties:
Red mamey: With thick crust and rough of brown color or reddish shade and pulp of salmon pink or also brown reddish.
Cartagena mamey: This one has pulp of yellowish color or orange, and the skin in its inside is of grayish brown, of rough aspect.
It can be consume in several ways, as a fruit, in juice or milkshake, the last one is one of the most famous preparations that it has.
---
Te Avisamos GRATIS cuando Publiquemos NUEVOS Videos y Recetas. SUSCRIBETE GRATIS aquí Abajo.
---
This time we will make a nice and refreshment mamey milkskake as it is used to call on the eastern of the island, that its will keep a delicate sweet flavor and creamy texture.
Properties of the Mamey Fruit.
The mamey fruit has numerous medicinal properties, besides of has a delicious sweet flavor.
Its pulp has a high content of vitamin A and fiber, as well as minerals; among them we find the potassium and the sodium helping with this last one to keep stable the blood pressure.
This fruit also provides Vitamin C, indispensable to help in the regeneration of damaged cells and, therefore, ideal for the skin care
Both combined vitamins, A and C form a necessary combo to keep the skin young and delay the aging.
It is also said that the mamey has moisturizing properties, because of , it is used in the elaboration of creams for cosmetic usage.
The mamey benefits
In that sense, due to its medicinal properties, the mamey benefits for our organism are a lot.
For example, to consume this delicious fruit, we help to keep healthy our vision and bring about the bone growth.
All these is due to its high content of vitamin A, so that we can prevent illness, such as the cataract.
Vitamin A is also an important allied in the growth and reinforcement of the hair.
As it is a fruit rich in fibre, it is important for the regulation of the bowel movement, giving support to prevent diarrhea, intestinal swelling or constipation.
On the other hand, it is a protein regenerator, so that its help to produce new proteins in the organism, due to the potassium that its contain.
It is ideal to includ it in the diet to take a healthy style life because is low in sugar and saturated fat , what its become it in our allied to not get fat.
How to make Mamey Milkshake ?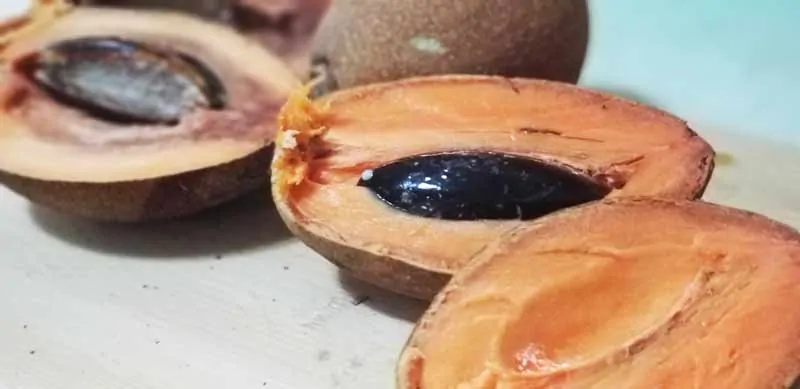 Delicious home made mamey milkshake, of the most tropical fruits known and tasted in Cuba.
Prep Time

5 min

Cook Time

5 min

Total Time

10 min

Yield

1 Blender

Serving Size

50g

Energy

160 cal
Ingredients
2 fresh mameys
2 1/2 cup of water
2 soup spoon of powdered milk
2 sugar spoons
1 cup of chopped ice
pinch of salt( very small)
Mamey milkshake preparation
1
Take out the pulp of the mamey and place it in a blender glass together with the rest of the ingredients, except the ice.
2
Blend it to high speed until there is not left pieces of fruit and everything is well integrated, then add ice and blend for a half minute untill its get crush
3
Serve it immediately or keep it in the refrigerator.
Optional:
If you don't have powdered milk, you can use two cups of liquid milk and in this case, do not add the water.
In the same way, the proportions of the ingredients can be adapted to your own taste
Nutrition Facts

4 servings per container

Serving Size

50g

Amount per serving

Calories

160

% Daily Value*

*Percent Daily Values are based on a 2,000 calorie diet. Your daily values may be higher or lower depending on your calorie needs.