No doubt, that the black beans soup is a part of our culture, and it is not a coincidence that this is one of the recipe that we make the most.
In fact, the majority of us have the delicious black beans soup within the list of our preferable foods.
It is a traditional dish and spite of its elaboration take long, is very simple to make.
---
Te Avisamos GRATIS cuando Publiquemos NUEVOS Videos y Recetas. SUSCRIBETE GRATIS aquí Abajo.
---
Its lateness is due to the period they last to get tender,
The origin of the black beans in Cuba date since the aboriginal period, even, before the discovery of our island by Christopher Columbus.
Once the spandier were settled down in the National Territory, emerged a mixture of culinary traditions together to the African gastronomic that there exist in that moment in Cuba.
Hence is that begins to create a series of recipes whose its main ingredients were the black beans.
How to cook black beans?
Depending on the elaboration, it would be the way of seasoning, the more common spices had always been, the oregano, the bay leaf, the coriander, as well as the cumin and others additional.
In that same sense, then you would be asking yourself how to prepare the black beans.
Yes, it is truth, that we placed you "depending on the elaborationʺ, because there exist many ways and recipes, for example, so. If you have time, the ideal is to leave them to soak since the night before
On the other hand, there are whom prefer to mash them a little beat, once they have had get tender to turn its texture more dense.
Always remember that before cooking them, you must remove all the impurities that they have, or as it is said in Cuba, to thresh; only choosing the one that are complete and discarding the rest.
This grain accepts several adaptations concerning to food, like we had already mentioned and where it is stand out the incomparable rice and black beans, known as Moro and Cristianos.
Well, in this occasion, we will just refer to the delicious soup and you will learn how to make Cuban black beans.
This is one of the delights of the Cuban cooking that it is serve in each home all over the world.
Do not lose the oportunity of cooking this plate at home; that it is part of the typical Cuban menu, besides, it would reach to be more delicious than in many restaurants.
Because there is nothing like the seasoning that it is prepare with our own hands and enjoy among friends and family.
Black beans and rice
You can accompany this delicious cuban black beans soup with white rice, it is the perfect combination that we usually serve on the island.
Including any other garnish of your preference, chatinos, fried plantains, vegetables, among others.
Without missing of course the main course that also accepts variants according to your taste.
The truth is that black beans and rice is one of our traditional foods more tasted and tasty.
Cuban black beans recipe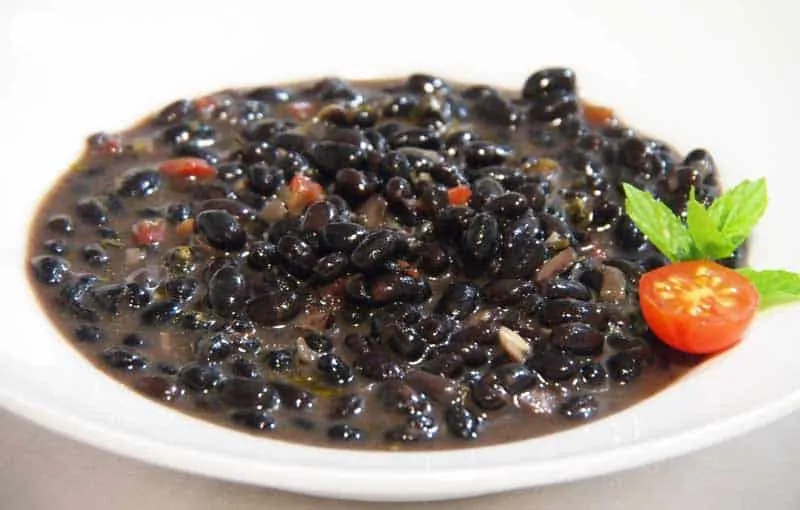 The traditional and perfect recipe for cooking a delicious black bean soup from the home, we tell you the step by step and everything you need to know to prepare it.
Prep Time

10 min

Cook Time

45 min

Total Time

55 min

Yield

1 Recipient

Serving Size

100g

Energy

341 cal
Cuisine

Course

Cooking Method
Cuban Style Black Beans Ingredients
• 450 gram of black beans
• 2400 ml of water
• 4 spoons of oil
• 1 onion
• 6 cloves of garlic
• 1medium pepper
• 1bay leaf
• 1 teaspoon of cumin
• ½ teaspoon of milled oregano
• ½ spoon of milled bay leaf
• 1 tablespoonful of dry wine
• 1 teaspoon of sugar
• 1 pinch of salt
How to make Cuban Black Beans
1
The first step is to clean and wash the beans well; we will leave them to soak since the previous night with sufficient water and bay leaf.
2
The following morning, we empty them into a pressure cooker together with the water and the bay leaf; we cook it from 30 to 45 minutes, until they get tender.
3
Meantime, we prepare the lightly Fried, for it, in a Frying pan place the oil and when it gets hot, we add mashed garlic, the onion and the pepper finely cut. Fry lightly over a low heat for some seconds
4
Once the beans tender, uncover the pressure cooker and extract one cup that we reserve to use it later.
5
We add the lightly Fried and continue Cooking without cover it, then we add the dry wine, the sugar, the salt to taste and the rest of the ingredients.
6
Finally, we take the cup we had preserve before and blend it well or crush until its turn as a puree that we will empty to the black beans soup to has a dense texture.
7
We stir it well, check the point of salt and remove from the flame.
8
It is serve with White rice, preferably accompany of fried plantain and roasted pork.
How To Make Cuban BLACK BEANS ► Stew Recipe
Prepare with me some delicious Cuban Black Beans that will make you show off to everyone as an expert @ in the kitchen. So if you want to learn how to make the best Cuban black beans recipe ...
Optional:
If you are lack of time and has forgot to leave the beans to soack, do not worry you can cook them in the same way, but they will take more time to get blender.
To leave them to stock over the night is used to have them stuff the whole night and be faster at the time of cooking them.
In the same way, you can add them some piece of bacon or cured pork sausage. We did not include it withing the ingredients in this article, because the original recipe does not include it.
Nutrition Facts

5 servings per container

Serving Size

100g

Amount per serving

Calories

341

% Daily Value*

Total Fat

1.4 g

1.79%

Saturated Fat

0.4 g

2%

Polyunsaturated Fat

0.6 g

Monounsaturated Fat

0.1 g

Cholesterol

0 mg

0%

Sodium

5 mg

0.22%

Total Carbohydrate

62 g

22.55%

Dietary Fiber

16 g

57.14%

Total Sugars

2.1 g

Protein

22 g

44%

Vitamin D (Cholecalciferol)

0 IU

0%

Calcium

109 mg

8.38%

Iron

5 mg

27.78%

Vitamin A

17 mcg

1.89%

Vitamin C (Ascorbic Acid)

1 mg

1.11%

Vitamin B6 (Pyridoxine)

0.3 mg

17.65%

Magnesium

171 mg

40.71%

*Percent Daily Values are based on a 2,000 calorie diet. Your daily values may be higher or lower depending on your calorie needs.