One of the most delicious recipe that we used to prepare in Cuba, is the chicken fricassee.
It is a simple and inexpensive preparation, which no doubt, we can enjoy at any day of the week.
So that , if you still don't know how to make chicken fricassee to the Cuban style, here we bring you all the explanation of the whole recipe  for you to cook it and taste at home.
---
Te Avisamos GRATIS cuando Publiquemos NUEVOS Videos y Recetas. SUSCRIBETE GRATIS aquí Abajo.
---
If you are about to receive wests, this is an excellent option that will never disappoint you, although is perfect for any moment.
Your children, husband, parents, all who live with you will taste their palate at the time of tasting the delight that you will prepare.
Remember that whenever the recipe permits it, as if it is the case, you can add to taste any other ingredient.
The Cuban fricassee chicken must be serve hot, preferable accompany with white rice, some salad, fried plantain chip.
Take a look at these pots that we recommend for this and other recipes. They are among the best in the market.
chicken fricassee recipe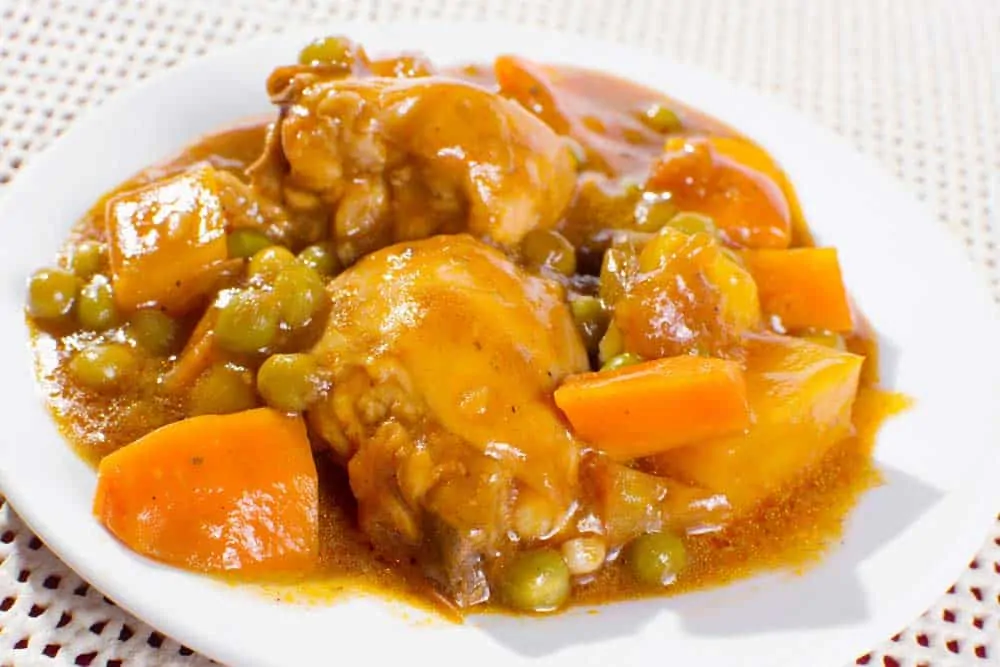 Appetizing and simple chicken fricassee recipe to the Cuban style, perfect to taste at any occasion , to enjoy in a diner party with friends and family.
Prep Time

10 min

Cook Time

30 min

Total Time

40 min

Yield

1 Recipient

Serving Size

100g

Energy

220 cal
Cuisine

Course

Cooking Method
Ingredients
• 1 whole chicken( it can be used only chicken thighs and
• 2 medium potatoes
• 1sour orange
• 2 medium onions
• 4 cloves of garlic
• 1 red or green pepper
• 210 g of Tomatoe paste
• 1 bay leaf
• 1 cup of dry wine.
• 1/3 cup of vegetable or olive oil
• ½ cup of water.
• 1pinch of salt and pepper
How to make cuban chicken fricassee
1
Cut the kitchen into pieces or portions and seasoning with salt to taste, pepper, sour orange and garlic.
2
Later in a big Frying pan or casserole with hot oil, saute all the chicken pieces untill they get well cover and brown.
3
If you are cooking it in a Casserole, right there, add the onion and the pepper cut in slides stir it and cook it for one more minute.
4
Add, then the Tomatoe paste, the bay leaf, the dry wine, the water. We check that has the point of salt and pepper to our taste.
5
Cover it and cook for 15 minutes over low heat, untill the sauce gets dense a little.
6
Meantime, wash, peel and cut the potatoes into pieces or medium dice (1 y ½ inches or 4 cm approximately).
7
After the first 15 minutes, then add the cut potato to the casserole with the chicken. Cook it during another 10 or 15 minutes.
Optional
You can add to this delicious fricassee, some olives, its provide it a traditional touch without comparison.
Morover, you can serve it with a little fresh parsley cut into small pieces, you put them on the fricassee already ready. Besides a nice aroma its serve as a dish decoration.
In the same way, you can prepare this recipe in a pressure cooker, but the cooking time in this case will be lesser to avoid that the chicken and the potato are not crumbled.
Nutrition Facts

6 servings per container

Serving Size

100g

Amount per serving

Calories

220

% Daily Value*

*Percent Daily Values are based on a 2,000 calorie diet. Your daily values may be higher or lower depending on your calorie needs.