Withing the wide list of Cuban traditional recipes, the chicken and rice cannot be missing; its flavor and weave are irresistible to the palatal.
The majority of the Cuban Population love this delicacy that is why who have had the chance to taste it, want to do it again as many time as we can.
This is the perfect reason for you to get excited if you even do not enjoy this delicious recipe, and if you already has done it in other occasions, sure, you would like to repeat the experience.
There is nothing better than to taste a traditional dish, of intensive flavor and with exotic aroma that it can be feel in each corner of our kitchen.
Take a look at these kitchen utensils that we recommend for their quality, 100% guaranteed.
If you wish to prepare the Best Cuban chicken and rice recipe with your own hands, we explain you all you need to do it.
May be it happens to you like us, that we love to prepare household recipes and enjoy them double when everybody savors what with a lot of love we had cook.
You can make to this dish the adaptations that you prefer, so that each of us has different tastes and we can differ the mayority of the times respect to the consistency, the flavor etc.
Now, we let you with the step by step of how to make Cuban chicken and rice and all the ingredients that you need to prepare this deliciousness.
cuban chicken and rice recipe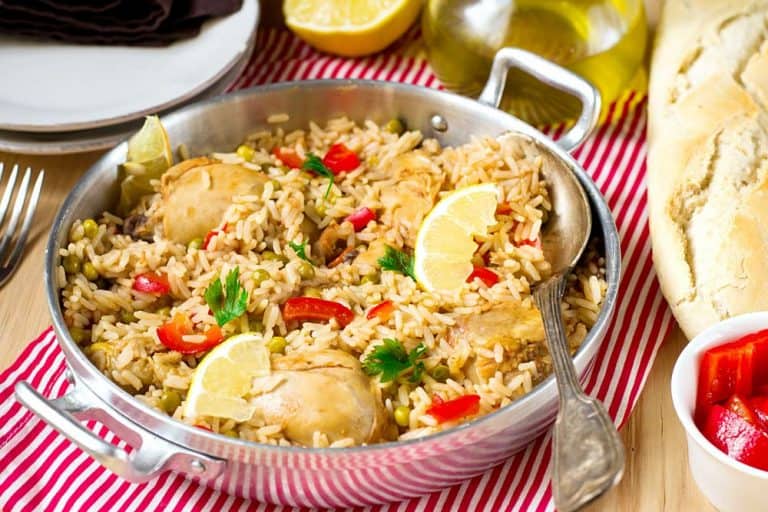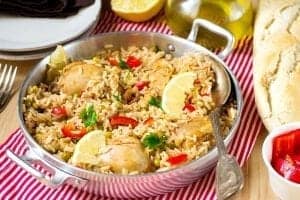 Traditional Cuban chicken and rice recipe, a delight that cannot be missing in our menu, no matter if we live in the island or abroad.
Prep Time

10 min

Cook Time

40 min

Total Time

50 min

Yield

Casserole

Serving Size

100g

Energy

144 cal
Ingredients
• 1 whole chicken( 4 pounds approximately )
• 2 cups of rice( 300 gram)
• 2 cups of chicken clear soup( 300 milliliter)
• ½ cup of 75 milliliter of olive oil
• 1 big White onion
• 1 red pepper
• 1 small can of pea
• ½ teaspoon of black pepper
• 2 teaspoon of cumin in powder
• 4 cloves of garlic
• 1 can of tomato sausage
• ½ teaspoon of Bijoul
• 1 bay leaf
• 2 teaspoon of oregano in powder
• 1 ½ teaspoon of salt.
How to make chicken and rice
1
Cut it into pieces and season the chicken with 2 cloves of garlic, one pinch of pepper, cumin and salt to taste.
2
Pour the oil in a big fry pan or pol, and fry all the pieces untill they get brown; we remove them from the flame and drain in a dish.
3
In the pot where we will cook the rice (that it can be where we saute the chicken), we throw the 2 remainder cloves of garlic, the onion and the pepper refine cut and saute untill the onion gets transparent.
4
Then, add all the spices, the cumin, the bijou, the oregano and the bay leaf, stir them well and fry lightly for one more minute.
5
Later, add the chicken, the tomato sausage, the chicken and the rice, we mix them very well to integrate the ingredients and season it to taste
6
When it begins to boil, remove it from the flame ( place it to a low heat), we cover the pot and cook it from 30 to 40 minutes, untill the rice gets cook.
7
In the final minutes of Cooking, uncover the rice and the peas (without the liquid)
Video How To Make RICE WITH CHICKEN a la Chorrera
Would you like to make Cuban rice with chicken? Especially the arroz con pollo a la chorrera, yes, that famous one that we make with beer, a true delight. Well, if you dare, that is the recipe that ...
Optional:
If you like the texture of the rice more drench, you can add it more clear soup.
In the same way, you can substitute the bijou for Goya seasoning or saffron.
Nutrition Facts

4 servings per container

Serving Size

100g

Amount per serving

Calories

144

% Daily Value*

*Percent Daily Values are based on a 2,000 calorie diet. Your daily values may be higher or lower depending on your calorie needs.
Hola, soy Dailis, Chef Profesional y creadora de varios proyectos de cocina Internacional. Te doy la Bienvenida a Receta Cubana