Moros y cristianos es another culinary tradition that hails from the influence of the Spanish in Cuba.
Oftentimes it is confused with arroz congrí, since the names of these recipes change based on regions, but this is incorrect.
The fact that it is called moros y cristianos or congrí doesn't have anything to do with if you live in the east or west, but rather with the type of beans used to make it.
---
Te Avisamos GRATIS cuando Publiquemos NUEVOS Videos y Recetas. SUSCRIBETE GRATIS aquí Abajo.
---
Congrí is made using colored beans while moros y cristianos is made with black beans and due to that in many parts of the world it is known as ¨black beans and rice¨.
Although it hails from the Spanish, it is known worldwide as being associate with Cuban food.
The name is due to the influence of the battles between the moros (Moors; blacks or Arabs) and cristianos (Christians, whites) when Spain was occupied by Arabs.
How to make Cuban moros y cristianos?
To make the arroz moro, another name used to call this recipe, we need ingredients that are very much used in Cuban gastronomy and common all over the world.
The cooking is very simple, we just soften the beans and then make a sauté to mix both with the raw white rice.
As a measurement for the portions, use a 6oz cup, you can use a bigger one if you need to make more; for this reason, the proportions will be put in amounts, just keep in mind the relations between the proportions and you won't have problems.
It can be cooked in a pressure cooker as well as a regular pot, the only thing that changes is the cook time.
The result is rice with a super delicious taste tat combines well with almost any main dish, especially pork.
It can also be accompanied by fried vegetables, like plantains, in a salad, yuca with mojo or yams.
In Cuba we make this recipe whenever we get the chance, and along with its similar variation the congrí rice, they are essential when we celebrate a special day.
Moros y Cristianos Recipe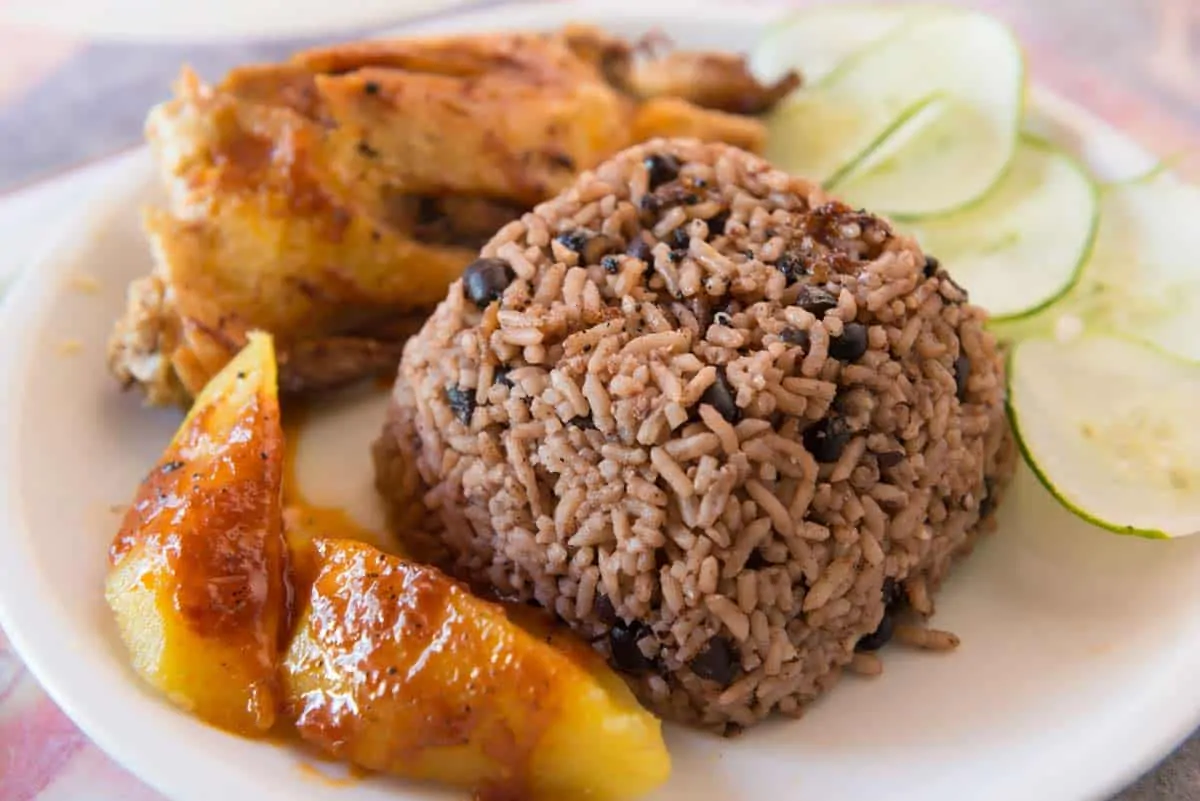 Prepare a delicious moros y cristianos rice recipe to enjoy all the times you want to, Cuban rice with black beans that can´t be left out of a celebration.
Prep Time

10 min

Cook Time

40 min

Total Time

50 min

Yield

1 Recipient

Serving Size

100g

Energy

232 cal
Cuisine

Course

Cooking Method
Ingredients
1 cup (one measurement) of black beans
5 cups (5 measurements) of white rice
10 cups (10 measurements) of water
3 garlic cloves
½ an onion
¼ of a teaspoon of oregano
¼ of a teaspoon of cumin
½ a Laurel leaf
½ a pepper
½ a pound of bacon or chicharrones
4 tablespoons of oil or pork butter
Salt as you like
Water to soak the beans
Prepare cuban moros y cristianos
1
First wash the beans and let them soak for at least four hours or the whole night so that they hydrate (if you don't have time you can skip this step, but time to soften them is better).
2
Next, we drain the water because it has grain impurities, and we add the beans and the 10 cups of water to the pressure cooker.
3
We cook for some minutes so that the water heats up and can be dyed by the rice, this could take some time.
4
Once the water is dark, put the lid on and cook it with pressure for 20 minutes, they should be soft but firm so that they don't fall apart. After cooking them, we put them aside for later.
5
Meanwhile, we prepare a sauté putting the oil in a pan on the stove or in the same pan that we will make the arroz moro, later we add the bacon if we have it and we sauté it until it is golden.
6
If we won't use bacon, we add first the hot oil and the crushed garlic, the onion and the pepper which have been finely chopped. We sauté for a minute or two.
7
Now, we add the cumin, the oregano, the laurel and the white rice (washed if needed), we sauté until the rice is transparent.
8
We put the sautéed rice in the pot, we add seven cups of water from the cooked beans and one cup of the grains, as well as the chicharrones if we didn't use bacon as well as the salt as we like.
9
We close the lid and cook it until it is ready in a pressure cooker. (If it isn't a pressure cooker, we cook it on low heat for 20 to 25 minutes until the water is used up and it is well-cooked, you should be vigilant).
10
At the end, let it rest with the pot closed for 10 minutes, then stir it and it will be ready to be served with the garnish and the main dish of your choice.
Nutrition Facts

8 servings per container

Serving Size

100g

Amount per serving

Calories

232

% Daily Value*

*Percent Daily Values are based on a 2,000 calorie diet. Your daily values may be higher or lower depending on your calorie needs.