Fried rice is a recipe that will never let you down if you want to surprise everyone with a delicious and quick-to-make meal.
The advantage of this dish is that you can prepare it using a vast variety of ingredients, in small amounts and you can always do without one or more of them; and, at the same time that you can even add some if that's your wish.
The fried rice recipe arrived in Cuba with the arrival of Chinese emigrants and since then we have prepared it an endless amount of times.
---
Te Avisamos GRATIS cuando Publiquemos NUEVOS Videos y Recetas. SUSCRIBETE GRATIS aquí Abajo.
---
How to make fried rice?
Fried rice is prepared with a base of cooked white rice mixed with various kinds of meats, seafood, vegetables, scrambled eggs and soy sauce.
So we can get a perfect fried rice, the white rice we are going to use must be prepared from the previous day so it will be looser, but it is convenient to cook it without any salt and oil.
In this way, when integrating it with the rest of the ingredients, the flavor will not be altered. Remember that the other main ingredient is the soy sauce which is salty itself.
In another article on our website we explain in detail how to prepare super-easy white rice.
If you do not have enough time to prepare this recipe and you want it for the day you are having it, just cook the white rice a few hours before and let it cool on a tray so that it becomes looser for when you integrate it with the rest of the ingredients.
As for the rest of the ingredients to make Cuban-styled fried rice, each one of them must be previously prepared to finish the recipe by sautéing everything.
At this point you can include or exclude any of them, depending on your preferences or their availability; at the end we will tell you some options that you can use.
Let's start with the list of ingredients and then the step-by-step instructions to make Cuban fried rice
Fried Rice Recipe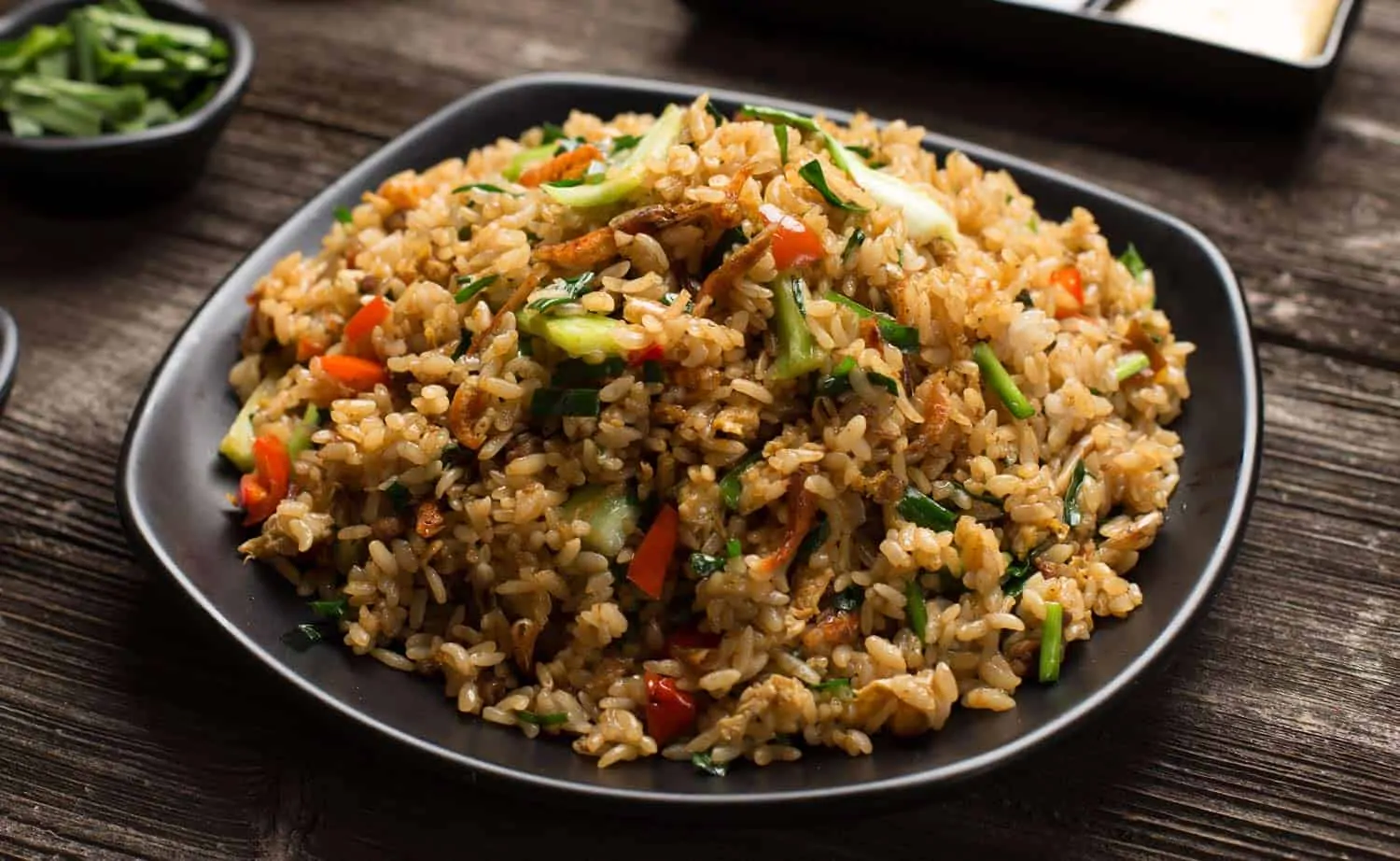 Super-easy, fast and delicious fried rice, a recipe that you should always have at fingertips to surprise everyone without too much effort.
Prep Time

15 min

Cook Time

20 min

Total Time

35 min

Yield

1 Recipient

Serving Size

100g

Energy

163 cal
Cuisine

Course

Cooking Method
Fried rice Ingredients
2 cups of cooked white rice (without salt or oil)
100 grams of ham or pork
200 grams of clean shrimp
2 garlic cloves
½ cup of peas
1 large onion
½ cup of sweet corn
3 eggs
3 tablespoons of soy sauce
2 tablespoons of olive oil
How to prepare Cuban Fried Rice
1
The first thing we will do is get all the ingredients ready, so we will crush the garlic cloves and chop the onion.
2
We are also going to fry the shrimp for only 3 minutes after peppering them and cut the ham into small cubes.
3
If we are going to use pork, we cut it into small pieces, season it with salt and pepper and fry it.
4
Beat the eggs and prepare them in a pan as scrambled eggs with a pinch of salt. Now we set aside everything for the next step.
5
It is time to integrate everything; we will add the 2 tablespoons of olive oil in a wide pan so that all the fried rice fits. Heat up the oil on medium heat.
6
When it is hot, add the crushed garlic and chopped onion, sauté for 1 minute.
7
Then we add half of the rest of the ingredients except the eggs, starting with the ham or the fried pork, in addition to half of the shrimp, the white rice, the corn and the peas, sauté so that they all mix and add 1 tablespoon of soy sauce; keep stirring everything to prevent it from sticking.
8
The moment they change color, we add the rest of the ingredients in the same order and finally the soy sauce that we had left over. We stir to integrate everything so that the rice has a loose consistency.
9
Finally, add the scrambled eggs, sauté once more, turn off the heat and let stand for a few minutes before serving.
Cuban Fried Rice VIDEO
Cuban fried Rice. Easy recipe
Optional:
To this fried rice recipe you can add many other ingredients if you wish, such as Chinese beans, peppers, chicken and beef.
Nutrition Facts

4 servings per container

Serving Size

100g

Amount per serving

Calories

163

% Daily Value*

*Percent Daily Values are based on a 2,000 calorie diet. Your daily values may be higher or lower depending on your calorie needs.