The tatianoff cake is a very popular dessert in Cuba that we're sure you've tried on many occasions if you were born on the island.
It's almost certain that you'll like it because it's a chocolate-flavored sweet delicacy.
This is why we have decided to invite you to learn how to prepare this Cuban recipe, so you'll be able to enjoy it every time you'd like, we are sure that you and everyone who tries it will love it.
---
Te Avisamos GRATIS cuando Publiquemos NUEVOS Videos y Recetas. SUSCRIBETE GRATIS aquí Abajo.
---
It is said that the tatianoff cake was created at a bakery in Havana named Lucerna, but its origin is not 100% Cuban, since it was created under the supervision of a Swiss master cakemaker, and its name derives from him.
How to make tatianoff cake?
In Cuba, we can find this tatianoff cake at bakeries run by the government as well as in some private businesses, but nonethless, it has happened to me that I wonder how I can make it myself, thus I'll be able to enjoy it any time I'd like without needing to go out in order to get it.
The most relevant thing about this cake is its soft texture, as well as the chocolate cream which is a delicacy.
But we're not taking about any kind of chocolate but pure cocoa without sugar, otherwise, it'll change the flavor of the cake.
Another characteristic of the tatianoff, which is shared with other recipes of Cuban cakes, is the use of a syrup so the panatela is moist, thus keeping its soft consistency for a longer time.
Although, if what you'd like to get is a lighter cake, you can skip this step and it won't be a big deal.
On the other hand, we have the cooking and the decoration and luckily these steps have no further complications.
The cooking time for the portions I used was a maximum of 20 minutes and the decoration is quite simple since the tatianoff cake is not covered by cream.
When you're going to cook the chocolate panatela I suggest that you cover the mold with wax paper, and not cover it with grease as we are used to doing, because the grease, in this case, will prevent the dough from rising, getting a shorter and less spongy panatela.
There are many variants to make the panatela and the chocolate for this recipe, but today we'll use the most traditional one, that, by the way, is quite simple to prepare. Let's start then.
Tatianoff cake recipe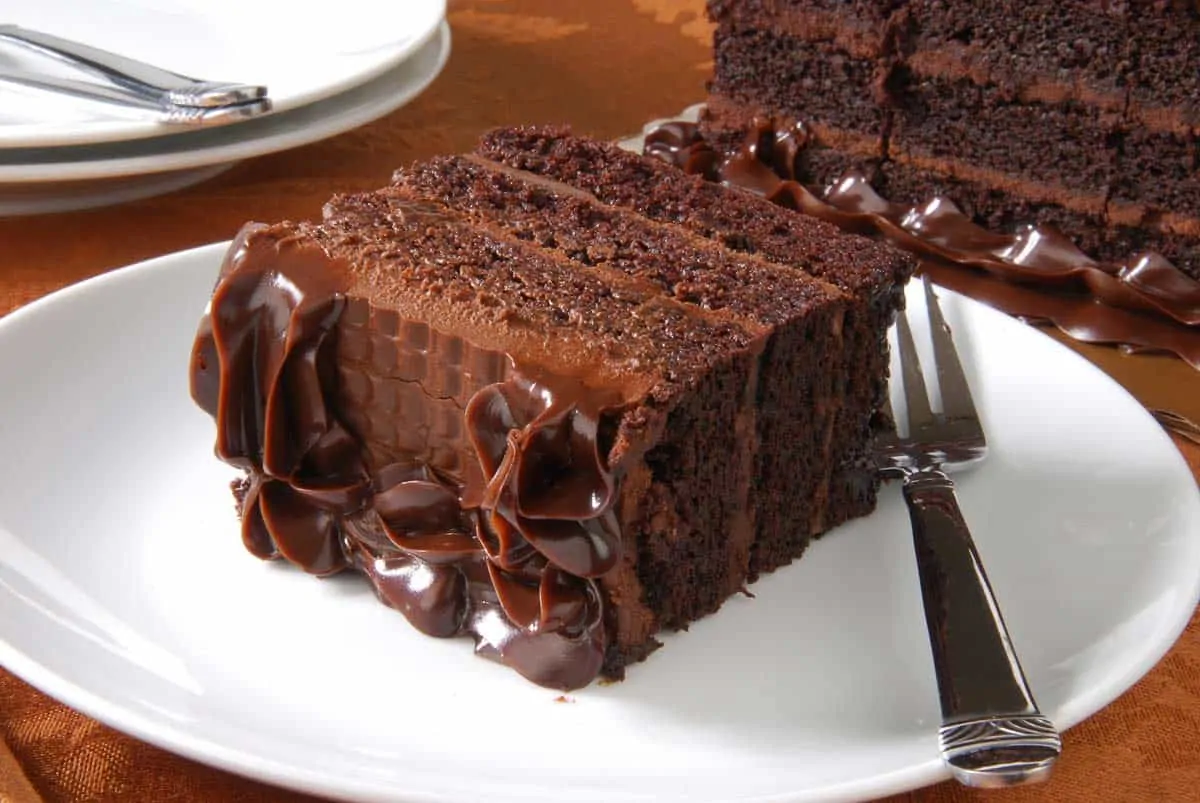 A delicious tatianoff cake recipe, a dessert we consume a lot in Cuba. Learn how to make it in the easiest way.
Prep Time

45 min

Cook Time

18 min

Total Time

1 hr 3 min

Yield

1 Cake

Serving Size

100g

Energy

371 cal
Ingredients
8 egg yolks
5 egg whites
1 cup or 180 grams of white sugar
2 cups or 260 grams of flour
2 tablespoons of pure cocoa without sugar
1 teaspoon of baking powder or sodium bicarbonate
A pinch of salt
1 teaspoon of vanilla essence
For the chocolate cream
1 cup of egg whites (6 or 7)
2 cups of sugar
A pinch of salt
2 tablespoons of pure cocoa
250 grams of unsalted butter
For the syrup (optional)
100 grams of white sugar
100 ml of water
1 teaspoon of vanilla essence
Prepare Tatianoff Cake
1
Start by preparing the chocolate panatela and to do so start by beating the egg whites at maximum speed until they have doubled their volume.
2
Add the sugar bit by bit and keep beating for one more minute before adding one by one the egg yolks. Keep beating for another minute after adding the last yolk and then add the vanilla.
3
Next, sift the flour, the baking powder and the cocoa. Add them to the previous mixture at three times with sweeping movements so the bubbles don't break and the panatela is spongy. Also, add the pinch of sugar.
4
Once you're done with this, cover the mold with the wax paper and pour the mixture. Take it to the oven preheated at 180 degrees with heat on the top and the bottom and no fan for 15 or 20 minutes.
5
We'll know the panatela is ready if when pricking the middle of it with a knife or something pointy, once the cooking time has finished, the knife will come out clean.
6
Let it rest inside the mold for 10 minutes before unmolding it onto a rack, and then let it rest at room temperature to cool down.
7
In the meantime, prepare the syrup by putting all the ingredients inside a small pot and cook for a minute at high heat. Remove and let it cool.
8
Now it's the time to prepare the chocolate cream. Put the sugar with 2 tablespoons of water in a container on the stove and let it boil for 5 minutes or until you notice the bubbles thicken. We'll know it's at the right point if when we take a portion between two of our fingers it forms a thread that it doesn't break when we put out fingers together and separate them.
9
Turn off the stove, and proceed to beat the egg whites until stiff, add the salt and the thick and thread-shaped syrup and keep beating without stopping at maximum speed until the container is cold, approximately 30 minutes.
10
After this time, add the unsalted butter in medium portions and keep beating to then add the cocoa. Beat for some more seconds until integrating them completely.
11
Now it's the most fun part, filling and decorating the tatianoff cake as we desire. Remember it's not covered completely, just divide the panatela in two or three layers, add the syrup and then the filling. On the top layer you can make the decoration according to your style and it's done! Now, you're able to enjoy this sweet delicacy with chocolate flavor.
Nutrition Facts

4 servings per container

Serving Size

100g

Amount per serving

Calories

371

% Daily Value*

*Percent Daily Values are based on a 2,000 calorie diet. Your daily values may be higher or lower depending on your calorie needs.