This rice with pork recipe cannot be missed in your cookbook, because it's perfect to enjoy a simple and fast but quite delicious meal.
There is no possible way you can fail when preparing this recipe. The combination of the rice with the pork is simply an explosion of flavor and texture.
In Cuba and in the rest of the world, it's very common to prepare this recipe, that besides being economical, it's also traditional.
---
Te Avisamos GRATIS cuando Publiquemos NUEVOS Videos y Recetas. SUSCRIBETE GRATIS aquí Abajo.
---
We're used to preparing it more frequently during festive days, but the truth is that every time we have the opportunity, without thinking twice, we end up making rice with pork.
How to make rice with pork?
Preparing this recipe of rice with pork is easier than what you think. It consists of preparing a common rice but with some extra ingredients.
Regarding the ingredients, the ones we're using today are not strange at all in Cuban or international kitchens, but are needed to give a lot of flavor to the rice.
In this way, here is a trick we're sure you'll find very useful and it's to use vegetable broth instead of water so it'll be tastier; although if you don't have it, it'll be okay to use just water.
On the other hand, regarding the second most important ingredient: the pork, we must be sure it has the lowest amount of fat possible so it doesn't alter the texture of the rice.
You can have this dish with salad, yucca with mojo or yam since they match perfectly; as well as fried malanga and some fried or baked potatoes.
Let's move on to see the step-by-step instructions of this popular dish of Cuban gastronomy.
Rice with pork recipe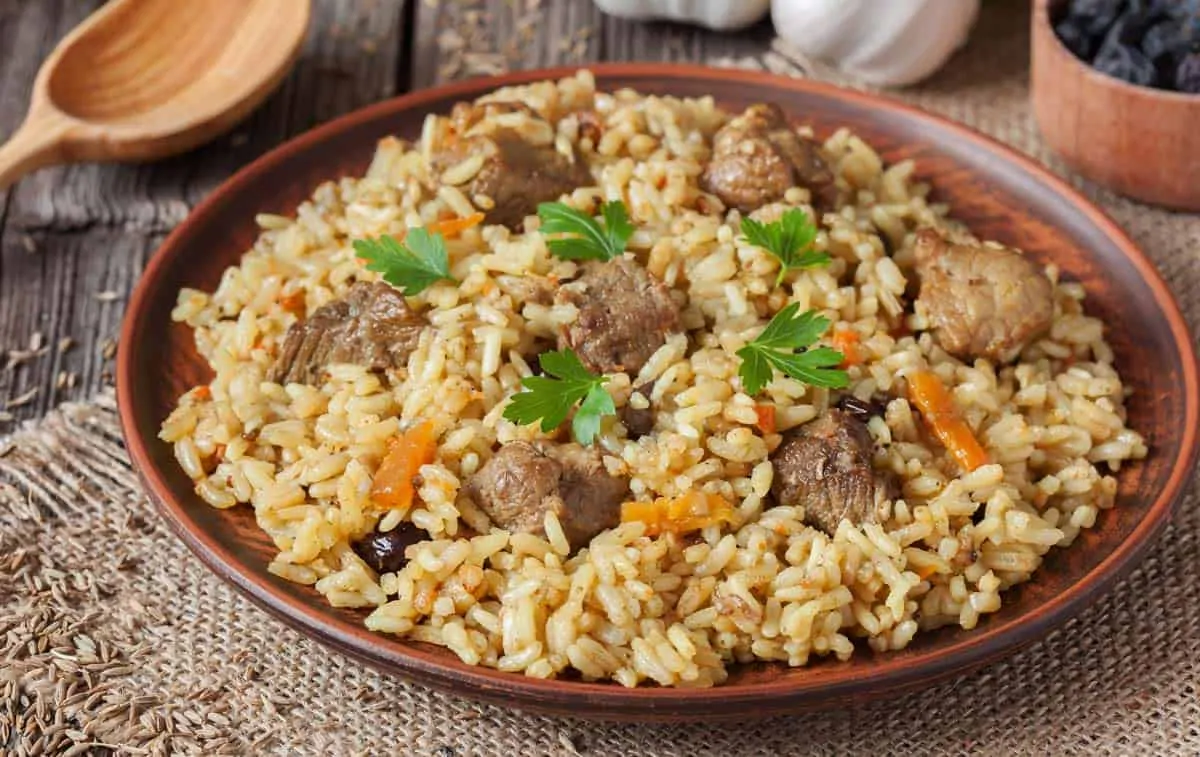 Don't miss this rice with pork recipe, a traditional Cuban preparation we enjoy frequently.
Prep Time

10 min

Cook Time

20 min

Total Time

30 min

Yield

1 Recipient

Serving Size

100g

Energy

351 cal
Cuisine

Course

Cooking Method
Ingredients
500 grams of rice
½ a pound of pork
1 L of water or vegetable broth
1 tablespoon of tomato puree
1 teaspoon of bijol, annato or saffron
3 garlic cloves
½ an onion
A bay leaf
1 bell pepper
A teaspoon of cut parsley
30 mL of fat or oil
Salt as desired
Prepare Cuban rice with pork
1
Start by cutting the pork into cubes of medium size; approximately 4or 5 cm.
2
Then crush the garlic and add them alongside the salt to the cut meat and let it rest for a couple of minutes before sealing it in the fat or hot oil in a pot on high heat until the meat has browned on all its sides. You must be aware of not getting the garlic burnt, if this happens take them out and set them aside to be used later.
3
Once the meat has been sealed, remove it from the grease and set it aside to fry the rice lightly (once you have washed it if needed) until it's transparent.
4
At this point add the tomato puree, the bijol, the bay leaf, the onion and the cut pepper. Mix everything for a few seconds so they integrate and then pour the broth.
5
Add the meat, a pinch of salt and let it cool until it starts boiling.
6
When it starts boiling, cover up the pot, lower the heat, and cook from 15 to 18 minutes until the rice is completely cooked.
7
At last, turn off the fire, let it rest for 10 minutes before stirring and add the cut parsley.
Nutrition Facts

4 servings per container

Serving Size

100g

Amount per serving

Calories

351

% Daily Value*

*Percent Daily Values are based on a 2,000 calorie diet. Your daily values may be higher or lower depending on your calorie needs.