If you are somebody who doesn't like lentils, after you try this recipe you will surely change your mind.
Lentils are vegetables rich in iron, very nutritious, perfect to include with frequency in the diets of children and adults.
Its preparation is very easy, so it won't be bothersome for you to prepare them at home and enjoy them in a matter of minutes.
How to make lentils?
The best trick for cooking lentils stew from whether or not they are washed before cooking, what ingredients to use, what is the recommended cooing time or the adequate amount of water that we should use.
How to know if they should be soaked or not? Well, it's very easy, it depends on the type of lentils.
For example, if we choose small lentils like pardina lentils it's better to not soak them because they are very delicate, so wash them well to remove all impurities.
Nevertheless, if they are large lentils it is recommended to soak them for half an hour beforehand so that way, they get hydrated and cook in less time.
How long does it take to cook lentils?
Well, to know how much time you need to boil the lentils, it depends on the type and number of lentils that we will use.
We recommend cooking for one hour on low heat for the smallest lentils, if they are larger, they will need more time to cook.
But you should always keep the temperature low since cooking at low heat avoids the lentils breaking or falling apart.
How much water do lentils need?
On the other hand, the amount of recommended water for cooking is three times the number of lentils, in other words, the water should be 3 or 5 centimeters higher.
This way the flavor will be more concentrated, although of course the success of irresistible lentils is in their sauté, depending on the recipe.
When you add the water, it is recommended to add all of the water at once, on the other hand, if you add more water when its halfway cooked, it will detach the skin and the lentils will all apart.
The way to prepare lentils varies according to the recipe that you will prepare since there are many forms, such as soups, stew, salads, among others.
On this occasion, we will prepare a lentil stew, a very delicious and nutritious Cuban recipe.    
This stew is super easy to make and the result is a dish full of flavor and extraordinary flavor.
How to make a Cuban lentil stew?
To make Cuban-style lentil stew we will use some very simple techniques which will give us a perfect result.
And since you already know the tricks for cooking lentils, without a doubt our stew will turn out delicious.
The Cuban lentil stew recipe is made very similarly to that of other countries, with a stir fry as a base for spices, meats, and sausages that will give it an extraordinary taste.
As you like, other ingredients can be added that aren't in the original recipe, but in any event peppers, potatoes, or smoked ribs will give it a delicious flavor and texture.
It is also valid if you want to skip over or substitute some condiments.
To bring about its color, we add tomato paste or puree, don't stir the lentils too much when they boil, just what's necessary so they don't stick because if we do it too much, we run the risk that they will break apart.
Now that we know all of the tricks to make lentils, we will prepare a delicious stew that we are sure will fascinate everyone.
Lentil Stew Recipe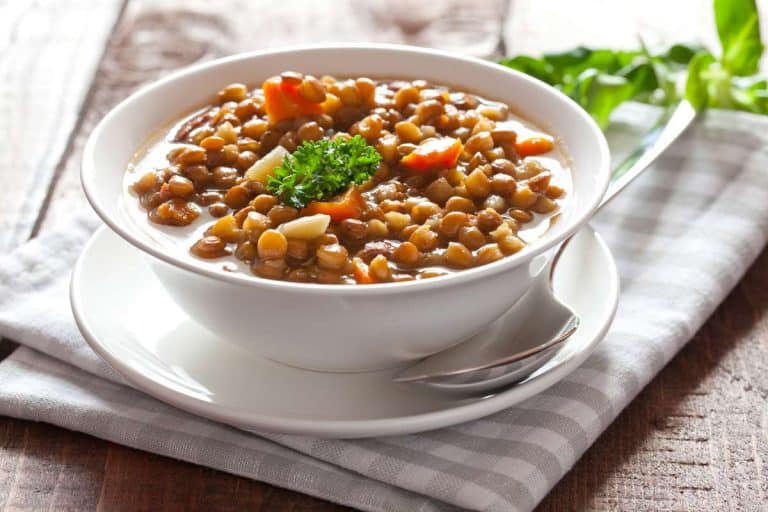 Discover how to make lentils, how long you need to boil them, how much water you need to use, and many other tricks with this easy-to-make recipe that is perfect for all ages.
Prep Time

10 min

Cook Time

1 hr

Total Time

1 hr 10 min

Yield

1 Recipient

Serving Size

100g

Energy

350 cal
Cocina

Tipo

Método de Cocción
Lentils Ingredients
350g of pardina lentils
1 Laurel leaf
1 onion
120g of chorizo
50g of blood sausage or bacon
1 carrot
1 teaspoon of paprika or pepper
4 garlic cloves
1 tomato or one tablespoon of tomato paste
Olive Oil
1 liter of water
Salt as you desire
Prepare Cuban Lentil Stew
1
The first step is to prepare all of the ingredients and cut the onion, the carrot, the chorizo, the blood sausage or the bacon, and the tomato into small cubes. Crush the garlic well.
2
Wash the lentils well to eliminate impurities, dump out the water and save them.
3
Put the oil in a pot that we will use to cook. When it is hot, add the onion, the garlic, the carrot, and sauté them until the onion is transparent.
4
Next, add the chorizo, the blood sausage, and the tomato and continue sautéing for a minute or two more.
5
Add the pepper, the cumin and the lentils to sauté them well for some seconds so that they integrate better with the flavor of all the ingredients.
6
Pour in the water, add the salt and the laurel leaf. Cover and cook on low heat for an hour. If you do it in a pressure cooker, 15 or 20 minutes is enough.
7
If you want the stew to be more liquid, add a splash of more water; on the other hand, if you want it to be a bit more solid just take some out and mash, later adding the puree to the stew and continue cooking it.
8
To finish, take it off the stove and let it rest for 15 minutes before serving it.
Video Cómo Hacer POTAJE DE LENTEJAS con Chorizo Receta de Guiso de Lentejas Fácil
Hoy les explico mi versión de cómo hacer potaje de lentejas con chorizo una receta fácil, rápida y deliciosa que no se pueden perder. Esta receta de guiso de lentejas así no sea originaria de la coci...
Nutrition Facts

4 servings per container

Serving Size

100g

Amount per serving

Calories

350

% Daily Value*

*Percent Daily Values are based on a 2,000 calorie diet. Your daily values may be higher or lower depending on your calorie needs.
Hola, soy Dailis, Chef Profesional y creadora de varios proyectos de cocina Internacional. Te doy la Bienvenida a Receta Cubana