If there is a mandatory-to-cook recipe for Cuban festivities, it must be roast pork leg.
Its intense and delicious flavor, along with its crunchy texture transport us to the paradise of gastronomy, not only Cuban but from all over the world.
SUGGESTING
Take a look at these kitchen utensils that we leave below, we recommend them for their quality.
This recipe is quite simple to prepare, but it does require some time to get it perfect and juicy.
---
Te Avisamos GRATIS cuando Publiquemos NUEVOS Videos y Recetas. SUSCRIBETE GRATIS aquí Abajo.
---
Here we'll give you all you need to know to make a roast pork leg that will make everyone want another portion.
Pork is delicious by itself, that's why we bet on this recipe and we're sure it won't make you look bad in front of your guests.
Remember that the quality of what you're going to cook is essential, choose a rear pork leg with not too much fat and as fresh as possible.
And now we'll leave you the recipe. Bon appetite!
How to make roast pork leg?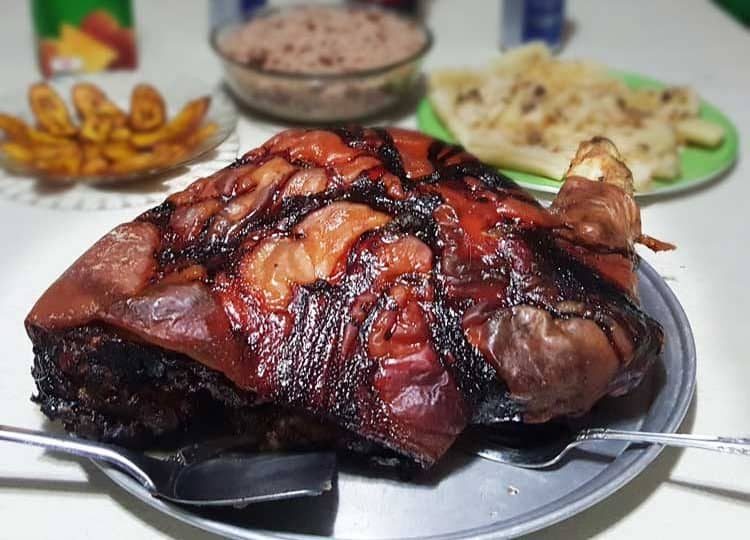 Make in only 5 steps a delicious roast pork leg recipe, the preferred dish for all Cuban festivities.
Prep Time

20 min

Cook Time

4 hr

Total Time

4 hr 20 min

Yield

1 Pork Leg

Serving Size

100g

Energy

201 cal
Cuisine

Course

Cooking Method
Ingredients
1 pork leg
1 head of garlic
1 ½ teaspoon of dry oregano
1 ½ teaspoon of ground cumin
¼ of a teaspoon of ground bay
½ a teaspoon of pepper
1 cup of bitter orange juice
¼ of a cup of dry wine
1 tablespoon of salt
1 tablespoon of oil
How to prepare cuban roast pork leg
1
First, prepare the pork leg by removing all the excess fat it might have using a knife and just leaving a thin layer so it's tastier.
2
On the other hand, prepare the seasoning by mixing all the ingredients: the well-crushed garlic, the oregano, the bay, the cumin, the salt, the pepper, the bitter orange juice and the dry wine.
3
Once you have the seasoning ready it'll be time to add it to the leg. To do so, prick the meat using a knife so you can make holes where you'll add the seasoning and this way the spices can penetrate the inside of the meat giving it a greater flavor.
4
Put the seasoned meat to the fridge for the whole night. The next day, drain it well, place it on a tray and take it to the oven which must be pre-heated. Roast at a temperature of 250ºF during the first hour.
5
Then increase the temperature up to 350ºF and let it roast for two more hours (the time will depend on the size of the leg).
6
You'll know it's ready if, when pricking it with a fork, it doesn't release any liquid from its inside and when its skin is brown and crunchy. You can turn it over in the last minutes so it can brown on the bottom as well.
Video Recipe of ROASTED PORK Leg
Today I show you how to make baked pork leg with all the tricks so that it is crispy on the outside and tender on the inside. Throughout the video I will tell you in detail what to do ...
Optional:
You may find in other recipes posted on the web that the temperature is first put at 375ºF and then it is lowered, but we prefer doing it in the same way we explained to you because doing it this way the meat is softer and more tender and it melts in your mouth.
We also like to add some grated ginger that, although it doesn't appear in the original recipe, it gives it a wonderful flavor.
If your oven is small, we suggest that you to wrap up the pork leg in aluminum foil while it roasts and remove it at the end so it can brown properly. Doing so you'll avoid the meat from cooking on the outside but not on the inside.
Nutrition Facts

10 servings per container

Serving Size

100g

Amount per serving

Calories

201

% Daily Value*

*Percent Daily Values are based on a 2,000 calorie diet. Your daily values may be higher or lower depending on your calorie needs.