Today we are showing you a juicy baked stuffed turkey recipe; an exquisite dish you cannot miss out on.
In Cuba, different from other places around the world we usually cook turkey for Christmas instead of doing it during Thanksgiving, since this tradition isn't precisely something that we celebrate on the Island.
Nevertheless, while waiting for Christmas, we Cubans get creative in the kitchen to make the best turkey and enjoy it with the family.
---
Te Avisamos GRATIS cuando Publiquemos NUEVOS Videos y Recetas. SUSCRIBETE GRATIS aquí Abajo.
---
Stuffed turkey is one of the irresistible ways to enjoy this dish; the combination of the meat with the stuffing is really surprising.
And even if we aren't in the Christmas season, we can still prepare it to enjoy at home anytime we want to.
How is stuffed turkey made?
Making a stuffed turkey, truly is easier than what you imagine, although it requires quite a few steps and it takes time, you just need to keep in mind some little tricks so that it turns out perfect.
Previously, we've published the baked turkey recipe, if you want to employ this same recipe and just add the stuffing that you like, you totally can. We will explain to you later on the different stuffing options.
On the other hand, you can make the following recipe from scratch and we will explain to you how to make it perfect.
The ingredients for the stuffed turkey are really simple, the majority can be obtained easily if we live in Cuba, although in this case you can exclude others that you won't be able to find and the result will be stupendous.
We recommend that you marinade it the day before so that it absorbs the flavor better, but without adding salt since the meat is already dehydrated and that can make it drier than you want.
But if you're running short on time, you can marinade it without any problems right before taking it to the oven.
A useful tip you might like is marinating it with a special syringe so that the marinade goes deeper into the meat and the flavor will be more even and intense.
But if you don't have one, don't worry you can do it perfectly fine in a more traditional way.
When we are going to cook the turkey, we have to be careful not to burn the wings and the feet because they cook rapidly.
In the same way, we should but it in an adequate temperature (at least 325 F) to avoid it goldening too fast without cooking well on the inside.
Stuffed turkey utensils
From here below we leave you a list of the best utensils you may need to prepare a delicious stuffed turkey.
Turkey Stuffing
Turkey stuffing is really versatile, it always depends on what we have at hand and of course the tastes of every person who will eat it.
For example, you can put in ground or minced meat (picadillo), as well as potato puree and a bit of rice which make a perfect combination.
On certain occasions we can also include some apple slices, grapes, almonds, and it will give it a distinct flavor.
It is also very common to add a bit of grated cheese, olives, vegetables, bread crumbs and dried fruits.
In the end, you can make the combination you like the most, but today we will prepare a stuffed turkey with a traditional minced meat filling.
Stuffed Turkey Recipe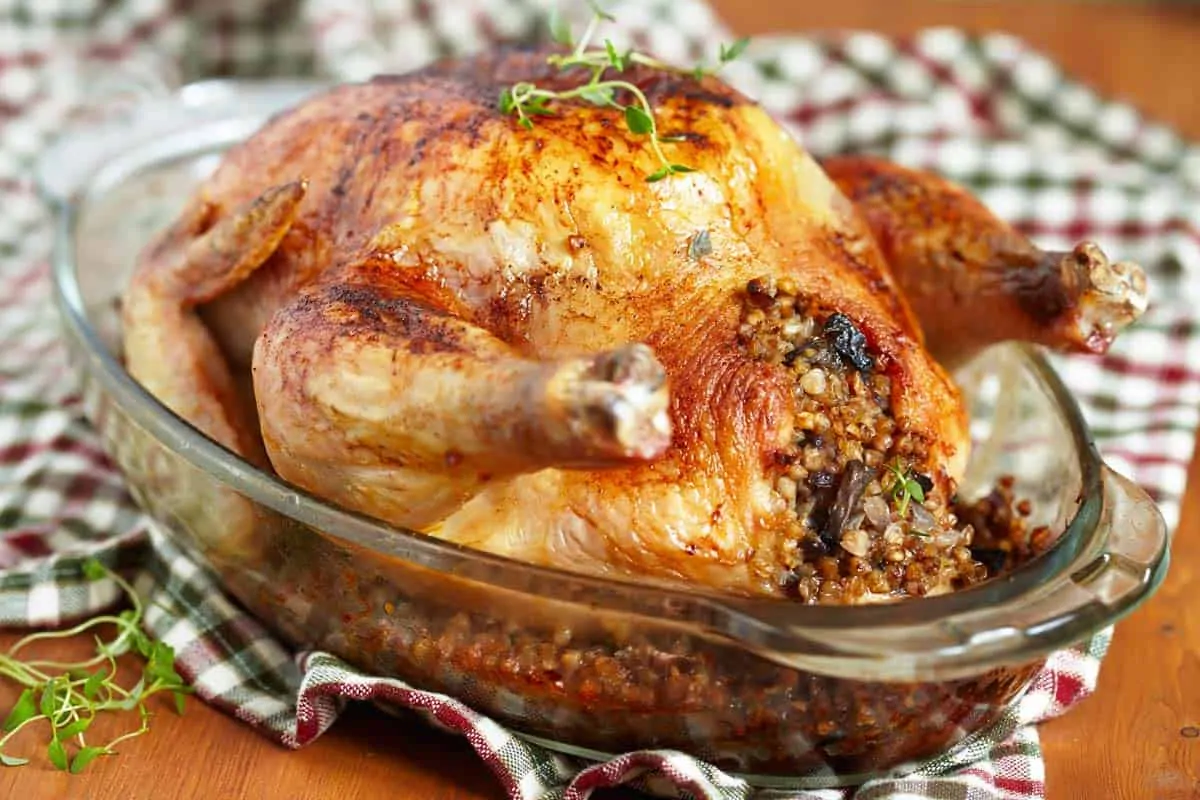 Prepare a delicious stuffed turkey recipe, super juicy, full of flavor and very easy to make. Don't miss the opportunity to surprise everyone!
Prep Time

20 min

Cook Time

4 hr

Total Time

4 hr 20 min

Yield

1 Turkey

Serving Size

100g

Energy

228 cal
Cuisine

Course

Cooking Method
Stuffed Turkey Ingredients
1 turkey
5 garlic cloves
½ an onion
25g of chicken broth
200g of butter
500ml of white wine
Salt and pepper as you like
For the stuffing
600g of picadillo (minced meat) or ground meat (either pork or beef)
1 onion
2 garlic cloves
1 parsley sprig
150g of almonds (optional)
1 cup of raisins
2 apples (optional)
½ a cup of tomato puree
4 tablespoons of olive oil
Salt and pepper as you like
Prepare Christmas Stuffed Turkey
1
We begin preparing the marinade, peeling and crushing the garlic cloves well, and we chop the half an onion.
2
In a container, we mix the garlic, the onion, the white wine, the chicken broth, the melted butter, and the pepper as we like. We beat them very well if we are going to use the syringe, and still so if not.
3
We marinade the turkey injecting the parts that have the most meat, along the whole turkey, and we also spread a bit of the marinade under the turkey and over its skin, which will make it turn out amazing.
4
We put it in a container, cover it, and refrigerate it until the following day.
5
The following day, we take it out of the refrigerator, we add salt to our liking, and we let it rest while it reaches room temperature; meanwhile we will prepare the stuffing.
6
In a frying pan on medium high heat we heat the olive oil, we add the crushed garlic cloves and the chopped onion. Sautee for one minute.
7
Later, we add the minced meat, the salt, the pepper, and we cook it until you don't see any raw parts.
8
We add the raisins and the chopped almonds and the apples which have been diced into tiny pieces, if we would like to. We mix it very well so that it cooks evenly with the rest of the ingredients.
9
We also add the tomato puree and the parsley; we cook it for three more minutes.
10
The next step is to put the turkey in an oven tray and stuff it with all of the stuffing.
11
We cover the wings and the feet with aluminum foil. We take it to the oven which has been preheated to 180C, and cook it for an hour and a half for every kilogram of turkey and during the last hour we remove the aluminum foil so that the wings and the feet become golden.
12
We remove the turkey and serve it accompanied with rice, boiled potatoes, fries or mashed potatoes, salad, and a good wine.
Nutrition Facts

6 servings per container

Serving Size

100g

Amount per serving

Calories

228

% Daily Value*

*Percent Daily Values are based on a 2,000 calorie diet. Your daily values may be higher or lower depending on your calorie needs.