Pork chops are an excellent dish to enjoy for dinner; they have a delicious taste and the preparation is very simple.
If you are a lover of Cuban food, you cannot miss tasting this delicious dish which does not require too much effort to be prepared.
In very few minutes, you and your guests will be enjoying a mouthwatering Cuban-style dish.
---
Te Avisamos GRATIS cuando Publiquemos NUEVOS Videos y Recetas. SUSCRIBETE GRATIS aquí Abajo.
---
A pork chop is obtained by cutting the meat of the back of the pig, so it generally includes bones from the ribs and the vertebra.
It is a very generous cut that is easy enough to be served as a main course dish.
In Cuba we tend to eat a lot of pork, whether it's sautéed Cuban pork, the undeniably-delicious steak, roast pork or pork loin.
The truth is that they are very traditional dishes which are usually enjoyed with creole mojo to intensify their flavor.
This is a kind of meat that does not need many ingredients to give it a delicious and mouthwatering taste.
How are the pork chops prepared?
There are many ways to prepare pork chops, which is ideal if we want to make the menu different each day.
This is the reason why having pork chops in our fridge is great, because we can prepare them baked, glazed or breaded.
In the same way, we can prepare stews using some types of sauces and there is also the option of having them smoked.
But all these recipes will be left for another occasion, because today we bring you an irresistible and very easy-to-make proposal.
We will cook fried pork chops today, an excellent option when you do not have too much time but still want to enjoy a delicious meal.
How to make fried pork chops?
This kind of preparation is very basic; it needs a few ingredients and a short cooking time.
The first trick to cook them well is to get the frying pan to a very hot temperature.
The cooking time must not be too long; this recipe only needs around 4 to 5 minutes to cook each side of the chop, depending on its size.
If you have a cooking thermometer at hand, you can verify the right inner temperature so you know when the chops are ready, which is from 145º F to 160º F.
We recommend you cover the frying pan, so they can keep their juice and do not get too dry, because if you do not do this, you risk getting a dry meat.
In the same way, if you have enough time, there is another way to keep the chops juicy that we will explain to you at the end in the optional preparations.
On this occasion, we will marinade them and let them rest for some hours before frying them in order to give them a better taste. We assure you that they will be just perfect.
Before we start with this recipe, we recommend you take a look at these kitchen utensils which may be very helpful for this and other recipes.
pork chops recipe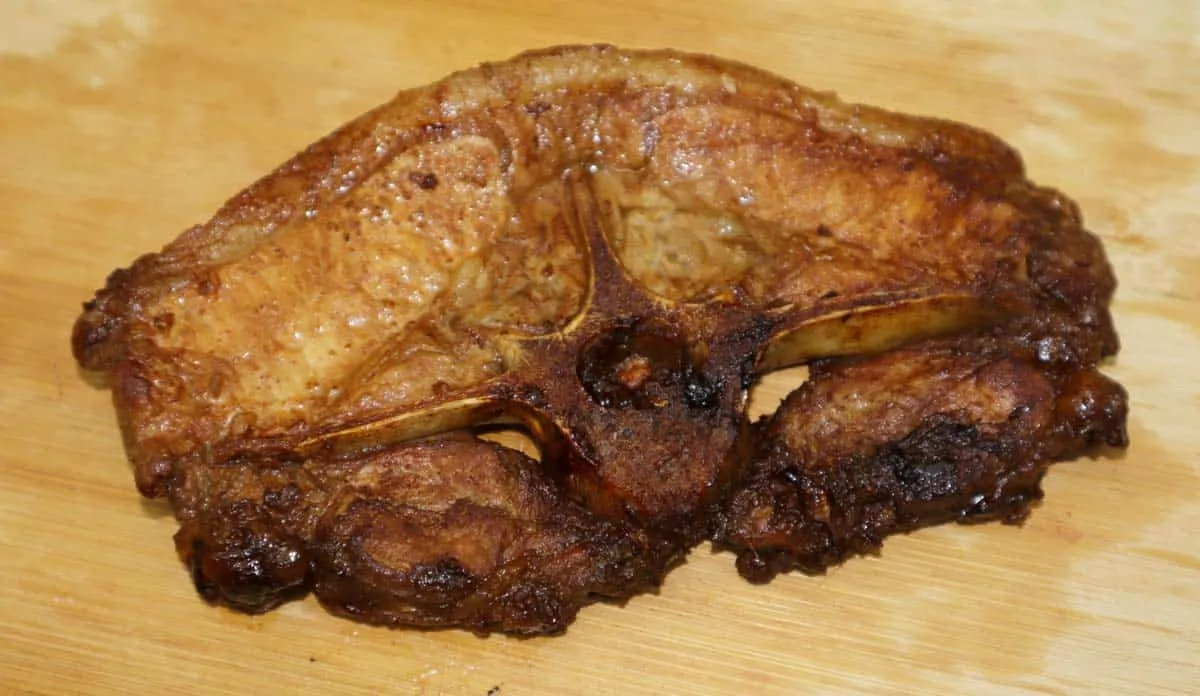 Irresistible pork chop recipe, very easy to make, using just a few ingredients and getting an exceptionally great taste.
Prep Time

5 min

Cook Time

15 min

Total Time

20 min

Yield

1 Recipient

Serving Size

100g

Energy

352 cal
Cuisine

Course

Cooking Method
Ingredients
5 pork chops (with bones)
½ cup of bitter orange juice or vinegar
5 chopped garlic cloves
½ teaspoon of pepper
1 teaspoon of cumin
1 teaspoon of paprika
Salt as desired
6 tablespoons of light flavored oil
Prepare pan fried pork chops
1
Start by seasoning the chops, put them in a container and add the chopped garlic cloves, the pepper, the paprika, the cumin and the bitter orange juice. Mix everything well.
2
Cover up and then put it in the fridge at least for 2 hours (around 2 to 4 hours) so the flavor of the ingredients gets stronger. If you do not have too much time you can skip this step.
3
Take the container out of the fridge and put a frying pan on medium-high heat and add the oil.
4
When the oil is hot, take the chops out of the container and, without removing the seasoning, put them in the frying pan and cook them for 4 or 5 minutes on each side. Add salt as desired.
5
When they are brown and completely cooked, take them off the stove and put them on a plate. Serve them hot.
Optional:
If you do not have bitter orange juice, you can mix sweet orange juice with lemon or lime juice and get a similar flavor.
If you want to keep them damp, you can pickle them in brine. For this, use 6 cups of water, 1/3 of kosher salt (pure salt), 1/3 of granulated sugar, ½ teaspoon of black pepper and 2 chopped garlic cloves.
Add all the ingredients except the chops in pot on medium heat and cook until they dissolve. Take the pot off the stove and let it cool completely.
Then, put the chops in a container, add the brine and cover it up with aluminum foil and put it in the fridge for 4 hours.
Finally, take the chops out of the brine, soak them in cold water, and dry them with absorbent paper for 30 minutes before cooking them in oil. Let them rest at room temperature.
The brine is a preparation of water and salt which it is used to conserve certain kinds of food and sometimes it is added to some spices to make them tastier.
Nutrition Facts

5 servings per container

Serving Size

100g

Amount per serving

Calories

352

% Daily Value*

*Percent Daily Values are based on a 2,000 calorie diet. Your daily values may be higher or lower depending on your calorie needs.