Who doesn't like pork rinds? This is one of the recipes we prepare the most in Cuba and enjoy at any time of the year.
Pork rinds is a very versatile preparation; we have used it on the Island to accompany other preparations such as rice and black beans and bean stews.
But we also have just like that, just made while they are still hot and crunchy, and of course delicious.
---
Te Avisamos GRATIS cuando Publiquemos NUEVOS Videos y Recetas. SUSCRIBETE GRATIS aquí Abajo.
---
And being honest, who can resist the temptation of not eating a pork rind when it´s in front of you calling you to be wolfed down.
The only problem here is that we can't always get them crunchy, but the solution is easier than what you can imagine.
Using the tricks and advice we will give you here you will be able to make them any time you want and getting the same result.
How to make pork rinds?
The pork rinds recipe prepared in Cuba is somehow different than the one prepared in the rest of the world.
In some regions, the pork rind is made using only the pork skin and they add sodium bicarbonate, baking powder, pepper and even some bitter orange juice.
But we Cubans make them in an easier way, by only frying cubes of pork meat covered in its skin.
We have done it like this since we inherited the recipe from the Spaniards during the colonization, even though in Spain itself it is made differently depending on the region.
It is truth that each cook has their own version of this pork rind recipe, inside or out the Island some Cubans make them by putting them inside the oven and waiting for hours until they are ready, but there are also those who prefer the easiest way.
In the way we explain here, you will get them crunchy as well, and the best part of all is that you can have them sooner.
Today we will show you the ingredients you will use and the step-by-step instructions so you can make delicious and Cuban-styled pork rinds.
Pork rinds recipe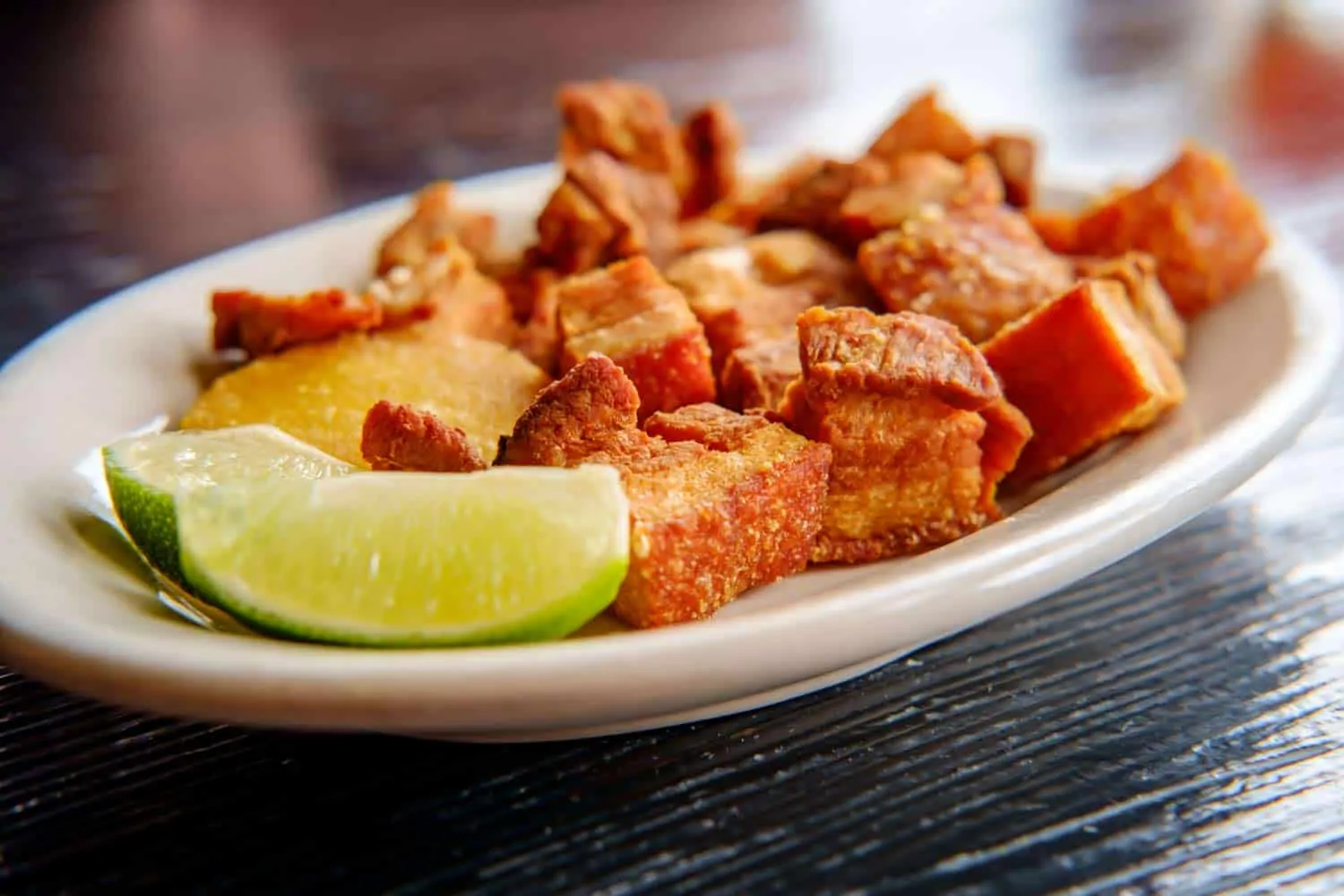 Delicious, authentic and crunchy Cuban-style pork rinds, a very easy-to-make recipe and perfect to have as snack.
Prep Time

5 min

Cook Time

20 min

Total Time

25 min

Yield

1 Recipient

Serving Size

100g

Energy

601 cal
Cuisine

Course

Cooking Method
Ingredients
1 kilogram of pig skin with some meat
Salt as desired
A bit of water
How to make Cuban-styled pork rinds
1
Start by cutting the pig skin into cubes. Then make some interspersed lines on the top of the skin so you get 2-centimeter squares.
2
Add some salt to the cubes, put them in a wide frying pan so the oil they release is not spilled while they are cooking, and add some water before covering them.
3
Cook on high heat until the water starts boiling and then reduce the heat to low letting the water evaporate.
4
When there is no more water, increase the heat to medium-high; the pieces of meat will be releasing their own oil and they will be cooked this way.
5
When they turn brown, try one to check if they've got the desired texture, if they do not have it, cook for some more minutes.
6
When they're finished take them off of the fire, drain the extra grease and place them on cooking paper so they release all the extra grease they still have.
7
And now our delicious Cuban pork rinds are ready. A delicacy to enjoy anytime you wish.   
3 Ways to Make Pork PIGS Crispy. PIG CHICHARRON recipe
3 Ways to Make Crispy Pork Rinds As I was sharing several days ago, today's video is something different. I'm going to show you how to make very crispy pork rinds, ...
Pork Rinds Nutrition Facts

5 servings per container

Serving Size

100g

Amount per serving

Calories

601

% Daily Value*

*Percent Daily Values are based on a 2,000 calorie diet. Your daily values may be higher or lower depending on your calorie needs.