Enjoying a delicious and juicy grilled fish fillet is something that we should do more than just once in a blue moon.
Not only is it so easy to make fish fillets, but it is also a low-calorie and nutritious dish.
The recipe that we bring you today is very simple and quick, perfect for you to effortlessly delight your guests.
---
Te Avisamos GRATIS cuando Publiquemos NUEVOS Videos y Recetas. SUSCRIBETE GRATIS aquí Abajo.
---
You will obtain a gourmet-style recipe without even leaving your house every time you follow the advice we bring you so that you can make a perfect grilled fish fillet.
For this dish, you can use fillets of salmon, tuna, cod, sea bream, hake, sea bass or any other type of fish you desire.
 How to make a fish fillet?
Like we said before, making a fish fillet is very easy, regardless of what recipe you choose to follow. You can make breaded fish fillets, fillets in sauce, in garlic sauce, grilled, baked, and an endless number of other recipes.
One of the most popular preparations is a grilled fish fillet, and because of this, we have chosen the grilled fish to be the recipe that we will show you today.
It is a very healthy recipe, full of flavor that will give us an exquisite and quick-to-prepare dish.
In other entries on our website you can find the other ways of preparing fish fillets.
Nevertheless, the tricks that we will show you are infallible for making any of these recipes and you should keep them in mind so you don't mess up while you try.
The first trick is to choose a fish that you prefer, if it is fresh that is even better. Keep in mind that a variety of different fish can make a good fillet.
If the fish you will use to make the fillet is frozen, then you should defrost it and dry it very well so that all the water is absorbed before you prepare the recipe.
Since we are preparing fillets, it is very important that you know that the cook-time is key; you should always be aware of it so that you don't cook it for too long or burn it.
Here we provide you with an indispensable technique for when you cook your fillets: cooking for 5 minutes on each side for a portion that is 2.5cm is sufficient.
It will take a total of 10 minutes to get our fillet ready, if it has skin its best that you put it first skin down and then after 5 minutes flip it over.
Leaving the skin on is a good step to ensure that the fillet doesn't fall apart while we cook it and is important so that we don't cook it for too long.
We should also make little cuts because the skin tends to shrink while we cook it and this would give us a rubbery texture.
So that it doesn't stick you should use these following tricks: use a nonstick pan and then only put the fillet in the pan after it is already pretty hot so that it doesn't become stuck to it.
If you don't have a nonstick pan, and if for some reason your fillet has got stuck and you can't get it unstuck, turn off the stove, remove the pan, wait a couple of seconds, and try again.
Another trick to ensure your fillet doesn't stick to the pan if it isn't a nonstick one is to put some baking paper in the pan and spread some oil or butter on top of it; then proceed to cook the fillet exactly how the recipe indicates.
Last, but certainly not least, it's best to avoid adding oil to the pan because the surface that doesn't have the fillet on it will burn, emitting smells that we don't want in our house.
The best thing to do is to brush the entire surface of the fillet with butter or oil.
Recommended utensils to make grilled fish fillet
Grilled Fish Fillet Recipe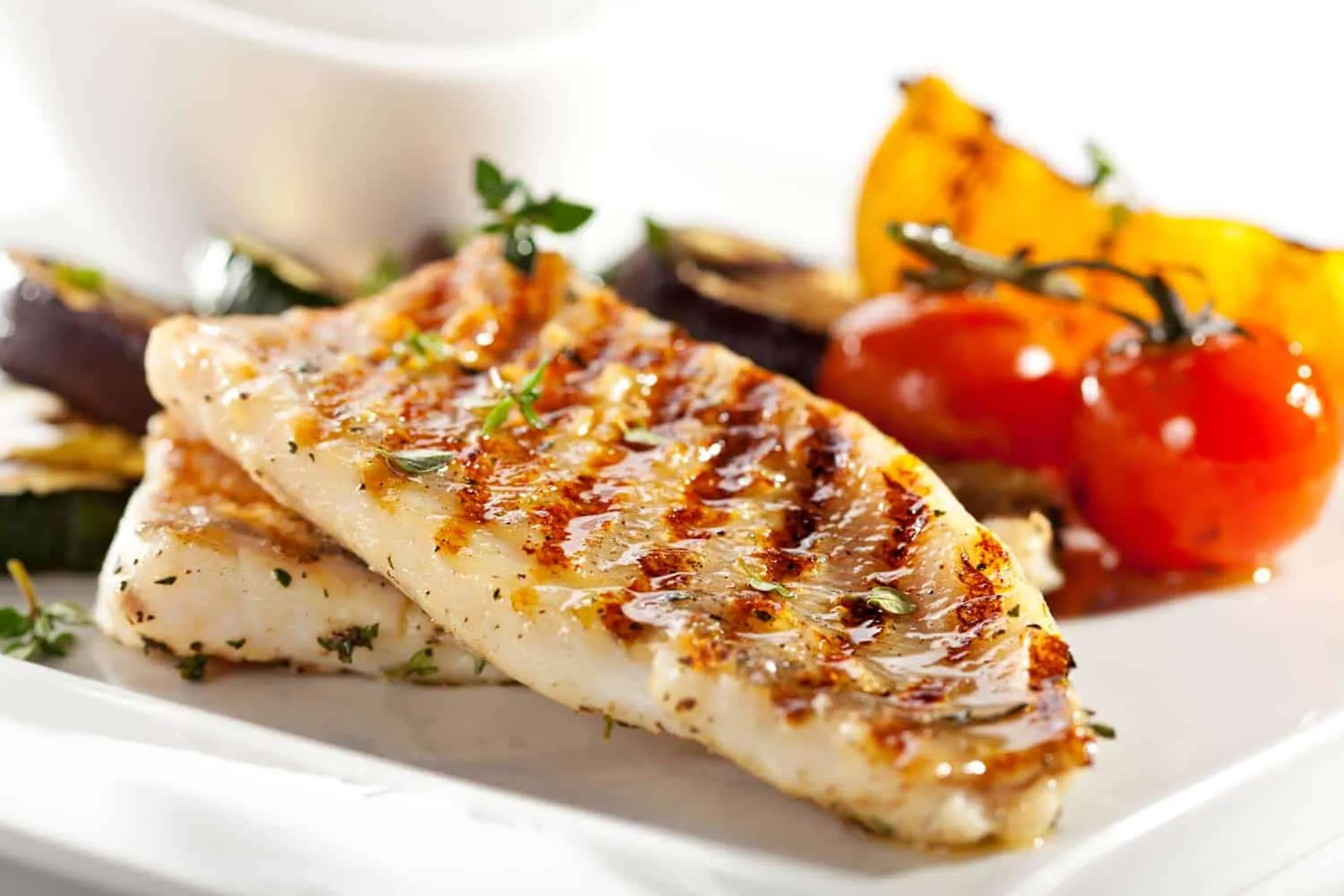 A delicious, juicy, homemade fish fillet recipe; very easy to prepare and perfect to add a flare of 5-star cuisine to your dinner without even leaving the house.
Prep Time

5 min

Cook Time

10 min

Total Time

15 min

Yield

1 Recipient

Serving Size

100g

Energy

110 cal
Cuisine

Course

Cooking Method
Ingredients
2 fish fillets
2 garlic cloves
1 lemon
1 tablespoon of fresh parsley
4 tablespoons of olive oil
Salt and pepper as desired
How to prepare the grilled fish fillet
1
The first step is to make a marinade with all of the ingredients so that later we can add it to the fish fillet. To do this, grind the garlic and in a dish add the lemon juice, parsley, salt, pepper, and olive oil.
2
Mix the concoction well so that all of the ingredients become well-integrated and our fillets will be more flavorful.
3
Spread the marinade that we made over the fillets with the help of a brush. Remember to cut some lines in your fillet if it has skin. Let it rest for 10 or 15 minutes.
4
The next step is to put the frying pan on a high temperature And once it is hot add both fillets, first skin down if they have skin.
5
Cook for 5 minutes, flip, and cook for 5 more minutes. In all, 10 minutes is required to cook these 2.5cm fillets, but if they are larger then you should cook them for longer- until you see them become golden.
6
Lastly, remove them from the pan and serve them accompanied with a fresh salad, roasted potatoes, and rice, which all combine very well.
Nutrition Facts

2 servings per container

Serving Size

100g

Amount per serving

Calories

110

% Daily Value*

*Percent Daily Values are based on a 2,000 calorie diet. Your daily values may be higher or lower depending on your calorie needs.