Shrimp and Rice is a perfect dish to enjoy an easy and delicious recipe.
It's always good to have recipes like this on hand to be able to mix things up a bit and get out of the weekly routine, surprising your family in the process.
In Cuba, like in all Latin American and Caribbean countries, we are used to always bringing food to the table that includes rice, regardless of the rest of the ingredients.
---
Te Avisamos GRATIS cuando Publiquemos NUEVOS Videos y Recetas. SUSCRIBETE GRATIS aquí Abajo.
---
Due to this, today we propose that you make this extremely delicious recipe that combines two ingredients that we love: rice and shrimp.
How to make shrimp and rice?
Shrimp and rice is much easier to make than you imagine and in just a few minutes you will have a dish ready that everyone will enjoy.
In order to do this, we will use the rice that you have on hand, although we prefer long-grain rice in particular.
Aside from that we will use some other ingredients to make the flavor more intense and of course, we will also use the ingredient that we can't forget: the shrimp.
You can also add other ingredients to this recipe as you like, since it is such a versatile preparation.
In the same way, you can also do without some of the ingredients in case you or your guests do not like them.
Let's get familiar with all of the ingredients and the step-by-step instructions to make the delicious shrimp and rice recipe.
Shrimp and Rice Recipe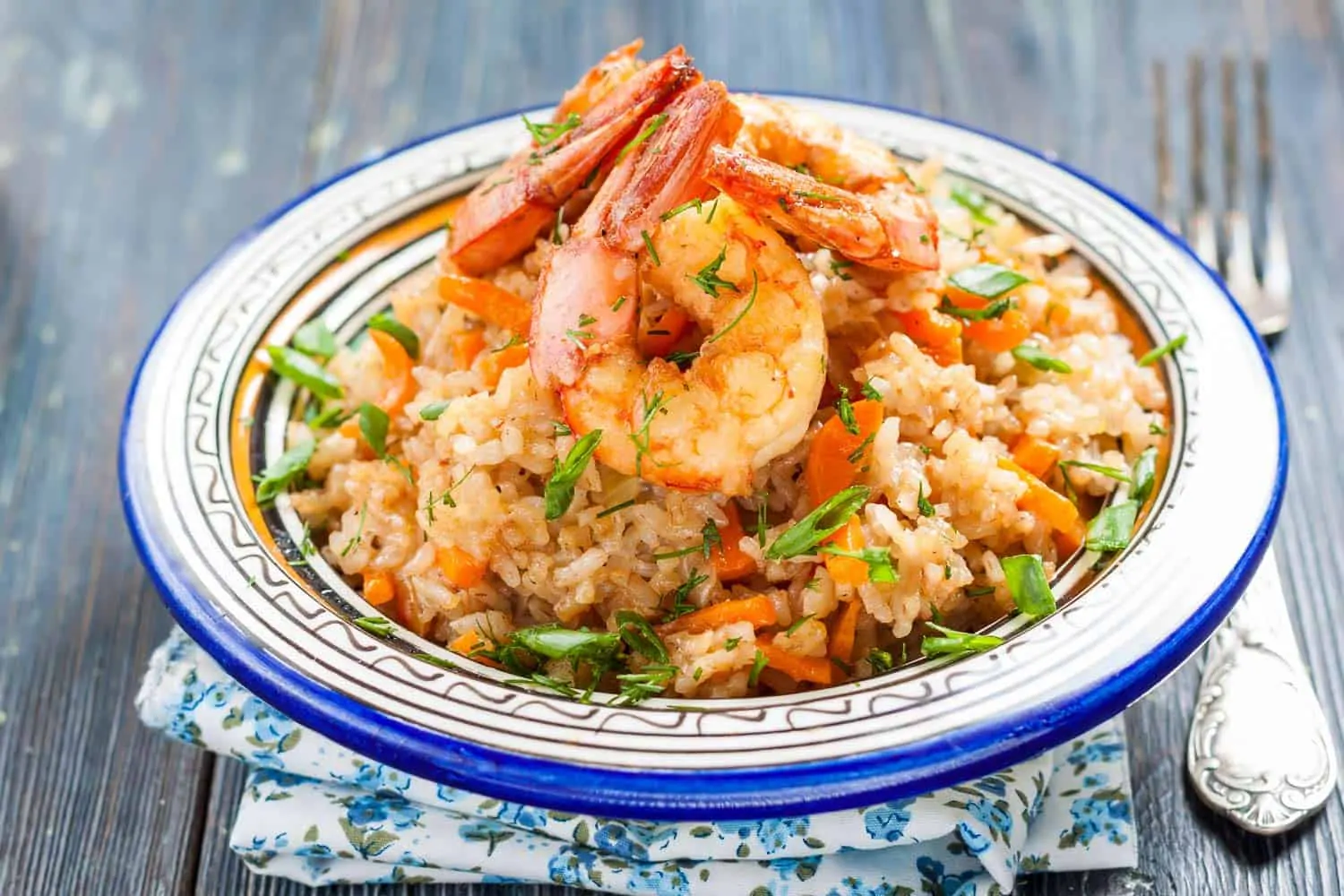 Delicious and easy to make shrimp and rice, a recipe you cannot miss if you want to get out of the weekly mundane routine and enjoy an exquisite dish.
Prep Time

20 min

Cook Time

30 min

Total Time

50 min

Yield

1 Recipient

Serving Size

100g

Energy

156 cal
Cuisine

Course

Cooking Method
Shrimp and Rice Ingredients
1kg of uncleaned shrimp
2 cups of rice
5 garlic cloves
1 onion
1 pepper
2 ripe tomatoes
Parsley as desired
½ a cup of white wine
1 tablespoon of ground achiote (you can use paprika)
2 tablespoons of oil
3 tablespoons of butter
Salt and pepper as desired
How to prepare Cuban Shrimp and Rice
1
We begin by preparing all of the ingredients to facilitate the following steps. We slice the onion, the pepper, and the parsley, we grind the garlic and we cut up both of the tomatoes, removing their seeds.
2
Next, we clean the shrimp, keeping the heads and the shells to make the broth. We season the cleaned shrimp with 3 garlic cloves, salt and pepper as we desire. We let them rest in the refrigerator.
3
Next, we put three and a half cups of water in a pot and we add the heads and shells that we had and we let it simmer for 5 to 10 minutes.
4
In the end, we get the broth, removing the heads and the shells, keeping the broth for later.
5
The next step is to fry in hot oil for 2 to 3 minutes, the remaining garlic, pepper, and the tomatoes in a pot where we will add the rice.
6
After those 2 or 3 minutes we incorporate the ground achiote, the parsley, and the rice. We fry for 5 more minutes.
7
Get the shrimp broth, the white wine and a pinch of salt; cover and let it cook on low heat for 15 to 20 minutes until the rice is ready. (You should be watching so that it doesn't stick and burn)
8
White the rice is cooking, we put butter in a pan and when it's hot we add the shrimp that we had seasoned and we cook for a minute and a half on each side and we keep it aside.
9
When the rice is ready, we remove it and we add it to the shrimp, we mix it well and, in the end, add the shredded parsley. Serve hot.
Optional:
If you only have cleaned shrimp and you can't make the broth from the heads, use a shrimp-flavored broth instead.
In the same way, you can cook the rice in a rice cooker; here the cook time will depend on the pot that you use; usually it is a shorter amount of time, between 10 to 12 minutes.
Nutrition Facts

2 servings per container

Serving Size

100g

Amount per serving

Calories

156

% Daily Value*

*Percent Daily Values are based on a 2,000 calorie diet. Your daily values may be higher or lower depending on your calorie needs.