Today we show you the homemade recipe to make delicious and crispy churros in a very short time.
In many countries, they are part of a traditional breakfast; their sweet taste with hot chocolate is the perfect combination to start a good day.
But you can also eat them as a snack or stuff them with as many flavors as you want: dulce de leche, chocolate, condensed milk, and more.
---
Te Avisamos GRATIS cuando Publiquemos NUEVOS Videos y Recetas. SUSCRIBETE GRATIS aquí Abajo.
---
How to make churros
You will see that this recipe that we propose to you today is very simple and the result is extremely tasty and crispy churros.
There are many ways to make them, we chose this one that is the most basic, from which you can make the variants you prefer.
For example, if you add milk and butter it further enhances its flavor and texture, although it is preferable to eat them just done because their crunchy appearance lasts less time.
However, as in the step-by-step that we describe below is the simplest way, we will also leave you the version of this recipe using the extra ingredients that we have mentioned.
Either version is perfect to taste at the time you want with the complement of your choice.
But, since everything is a matter of likes, only you can choose, and in 15 minutes you will be enjoying the best churros in the world.
Churros Recipe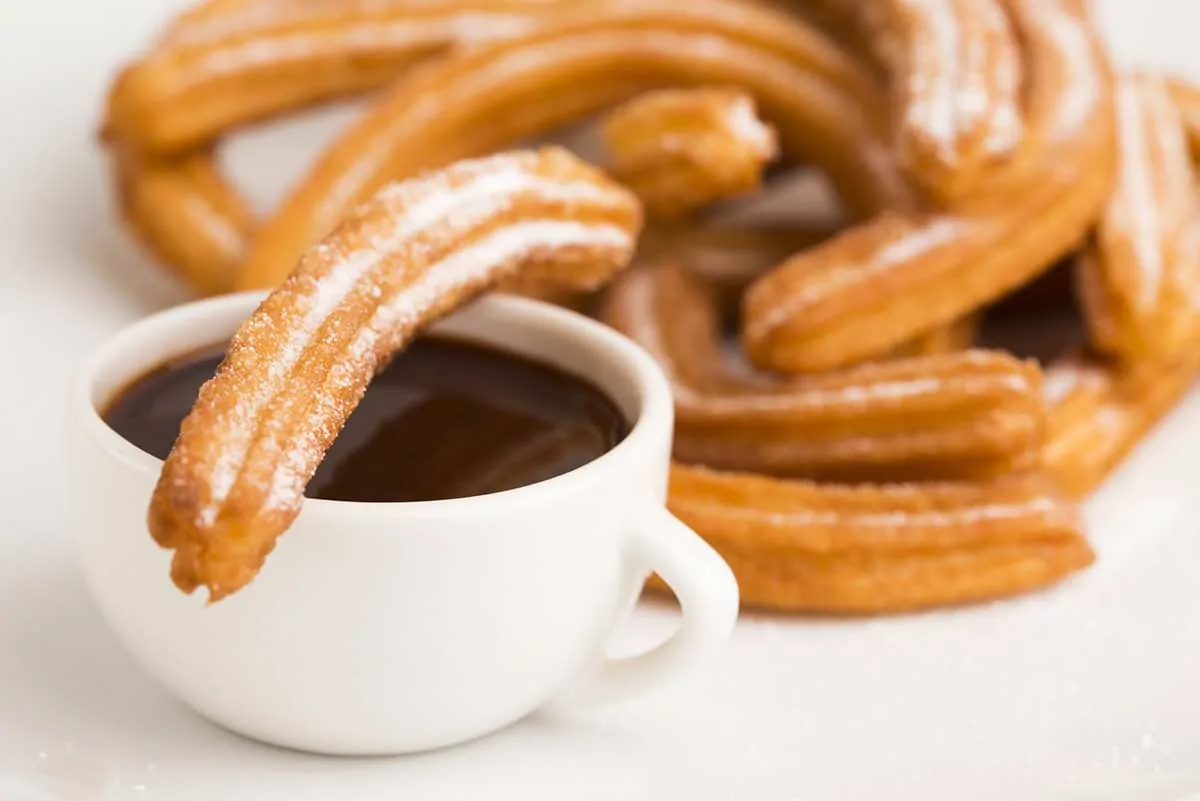 Delicious and crispy, you can have them with a delicious hot chocolate, the best breakfast to start the day; you can also enjoy them as a snack or dessert.
Prep Time

10 min

Cook Time

5 min

Total Time

15 min

Yield

1 Recipient

Serving Size

50g

Energy

308 cal
Cuisine

Course

Cooking Method
Churros Ingredients
250 milliliter of water
125 grams of flour
A pinch of salt
Vegetable oil for frying
White sugar to sprinkle
How to Prepare Homemade Churros
1
Place the water and the pinch of salt in a medium-sized pot on medium heat and let it boil.
2
When it starts boiling, reduce the heat to low, add all the flour and using a spatula or wooden spoon stir to integrate well the ingredients.
3
When the dough is formed and no longer sinks from the edges of the pot it is a sign that it is ready, turn off the heat and let it cool a bit at room temperature.
4
With the dough still warm, place it in a pastry bag or churrera, which must always have a star-shaped mouthpiece.
5
On a tray or baking paper, give the churros the shape you desire, either elongated, heart-shaped, or however you like, you will have a total of about 8 medium-sized churros.
6
Put enough oil to heat in a pan on high heat; when it is hot add the churros and fry them until they brown. Be careful not to overdo them so they don't burn.
7
When they are completely brown, remove them from the oil and let them drain on a tray or plate with paper towels, and in this way the excess grease will be removed.
8
Finally, sprinkle them with enough white sugar and they are ready.
9
Remember that you can fill them with the flavor you prefer, so you get different types from the same recipe.
Video Easy Churros Recipe
Easy churros recipe with 3 ingredients
Optional:
To prepare the recipe of churros with butter and milk you will need:
250 grams of milk
30 grams butter (preferably without salt)
1 egg yolk
250 milliliters of water
125 grams of flour
A pinch of salt
Vegetable oil for frying
White sugar for sprinkling
In a pot, boil the milk on medium heat; add 5 grams of sugar, butter and a pinch of salt (if it is salted butter you do not need to add the pinch of salt).
When the butter melts we add the flour and mix well with a wooden spoon since the dough is a bit heavy.
We turn off the heat when the dough is formed; keep mixing until it comes off the pot.
We add the egg yolk and keep stirring until it integrates well.
Once the egg yolk is integrated, let it rest so that it cools a little; during this time the pot should remain hot, but with the heat off.
We knead the warm dough for 5 minutes to prevent bubbles from forming when frying.
We put it in a pastry bag with a wide and star-shaped tip.
We squeeze out the dough and put them in hot oil, fry until they get brown.
Drain on a napkin or paper towel and sprinkle with enough white sugar.
Nutrition Facts

8 servings per container

Serving Size

50g

Amount per serving

Calories

308

% Daily Value*

*Percent Daily Values are based on a 2,000 calorie diet. Your daily values may be higher or lower depending on your calorie needs.