If you want to prepare a simple appetizer to share with your guests, without thinking twice homemade onion rings should be on top of your list of options.
This is not a typical Cuban recipe, but we still prepare it and enjoy it with friends and family.
Those who like onions will love this recipe, which although it is prepared in the blink of an eye, is super delicious.
---
Te Avisamos GRATIS cuando Publiquemos NUEVOS Videos y Recetas. SUSCRIBETE GRATIS aquí Abajo.
---
Onion rings are a very popular fast food in the United States and Canada, where a great number of Cubans have emigrated.
How to make crispy onion rings?
Like all recipes, onion rings also have multiple versions; some more complicated than others, but certainly all of them are delicious.
The variant usually found is breaded, because there are those who add other ingredients, and in some cases it complicates the recipe a bit more.
Other versions include a cheese filling between two slices of onion before coating them in breadcrumbs.
To make them crispy we make a breading based on flour, egg and breadcrumbs, although sometimes a dash of milk, yeast and even beer is also added.
Today we will teach you how to prepare crispy and perfect onion rings with a very easy homemade recipe that you will surely want to make frequently.
In the same way we leave you a variant below for you to have fun preparing two styles of this recipe to make onion rings easy and fast.
Onion Rings Recipe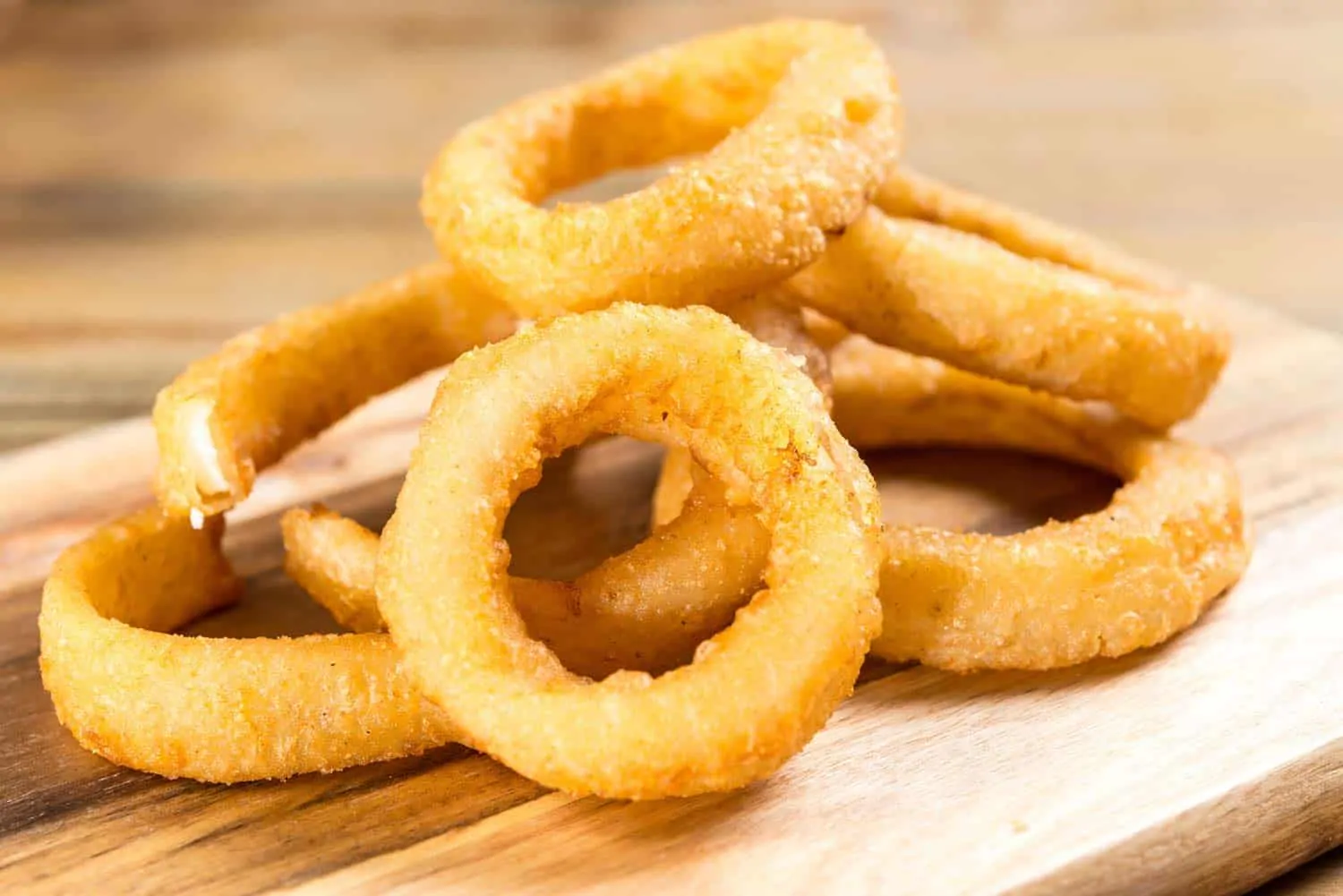 Prepare the best super crispy onion rings, a very easy-and-quick-to-make homemade recipe.
Prep Time

10 min

Cook Time

2 min

Total Time

12 min

Yield

1 Recipient

Serving Size

50g

Energy

411 cal
Cuisine

Course

Cooking Method
Onion Rings Ingredients
1 large white onion
1 egg
½ cup of flour
Bread crumbs
Salt as desired
Oil
Prepare homemade onion rings
1
 We start by peeling the onion and cutting off both ends; then cut it into slices of approximately 1 cm.
2
The next step is to separate the rings one by one, separating the largest ones which are the ones we are going to use, and the smallest ones which can be saved for other preparations.
3
Add salt as desired to all the onion rings and pass them all one by one, first through flour. (You can add salt to the flour instead of the onion).
4
In another bowl we place the egg and beat it, to pass all the rings, draining the excess to finally pass them through breadcrumbs.
5
Now it's time to fry them in hot oil on medium heat. Don't put too much in at the same time in the frying pan to prevent the oil from cooling. (You can also use a fryer).
6
When they are brown on one side, flip them to brown them on the other. Take them off of the heat and place them on a paper towel to remove excess grease.
7
And in this way our delicious onion rings are super ready. You can enjoy them just like this or pair them with the sauce that you'd like the most.
Optional:
In a bowl place 175 grams of wheat flour along with a teaspoon of Royal yeast and 1 teaspoon of salt. Pass each of the rings through this mixture.
Then, in another bowl, beat 1 egg, pour 185 milliliters of whole milk, and add the flour mixture that we prepared; stir using hand rods until you get a homogeneous mixture without lumps.
Pass the floured onion rings through this last mixture and let the excess drain on a rack.
Finally, pass the rings through breadcrumbs and fry them in abundant oil on medium heat.
Nutrition Facts

2 servings per container

Serving Size

50g

Amount per serving

Calories

411

% Daily Value*

*Percent Daily Values are based on a 2,000 calorie diet. Your daily values may be higher or lower depending on your calorie needs.