Cuban corn fritters are without any doubt a perfect snack for any occasion, their sweet taste and crunchy texture makes them irresistible.
But we must tell you that, despite being very easy to make, it is necessary to take into consideration some tricks to get the result we expect.
We assure you that once you prepare them, they won´t last long, because they are delicious, so keep the ingredients on hand in case you need to make them again.
Corn is a very versatile food, from which we get an endless number of tasty traditional recipes such as the famous tamales in leaves, or the unmistakable Cuban mazamorra, the tamale in a casserole, the corn stew and many others.
How to prepare perfect corn fritters?
The first and probably the most important secret is the quality of the corn, because the flavor and texture of the fritters will depend on it.
The corn must be tender, to find this out, you just have to squeeze a grain and if a milky substance comes out, is in perfect condition.
Another very useful secret is that the dough we make should not be too liquid to get a better consistency.
If you get corn grains, our recommendation is that you process them in a blender, so the dough is finer without many bagasse remains.
When frying the corn fritters, the oil should be very hot, about 180 degrees, but without getting smoked so that they are super crispy on the outside and juicy on the inside.
In Cuba we love to combine the taste of sweet corn with something else to intensify the final flavor of the fritters.
Always keep in mind that all ingredients must be at room temperature so that they are better integrated.
Also, be very careful with the dough because the warm climate of the island makes it easy to ferment very fast, so we advise you to make it at the moment of cooking to keep the fritters fresh.
Once you have them ready, drain the excess of grease on absorbent paper, so they will keep their texture longer.
Corn Fritters Recipe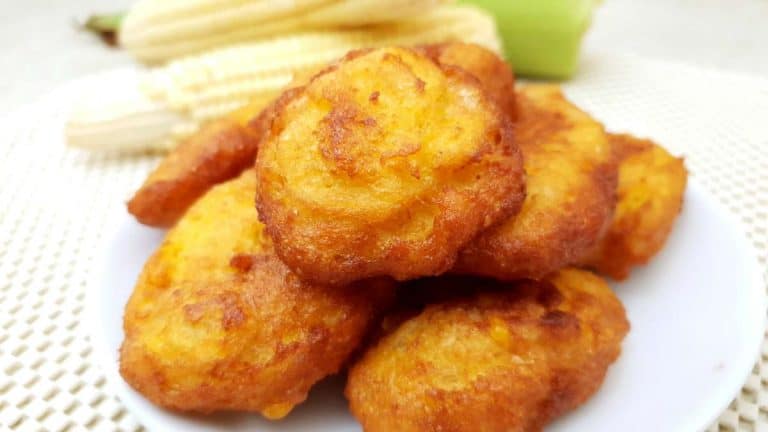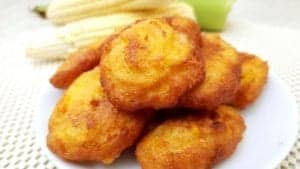 Traditional corn fritters recipe, one of the most delicious snacks we prepare in Cuba, very easy to make and using very few ingredients.
Prep Time

5 min

Cook Time

5 min

Total Time

10 min

Yield

1 Recipient

Serving Size

50g

Energy

518 cal
Cocina

Tipo

Método de Cocción
Corn Fritters Ingredients
½ libra de maíz tierno molido
1 huevo
2 dientes de ajo
½ cebolla
1 cucharada de azúcar
Sal al gusto
Aceite para freír
Prepare Cuban Corn Fritters
1
The first thing we will do is crush the garlic cloves very well and finely chop the onion.
2
Then, we mix the egg and the ground corn until they integrate very well.
3
Next, we add the garlic, the onion, the sugar and the salt; we keep mixing and set it aside for the next step.
4
Put a frying pan on the stove with enough oil and when it is hot, we are going to fry the fritters, use a spoon to add them one at a time.
5
When they are golden brown, turn them over and brown the other side, remove and place them on absorbent paper to remove excess grease.
Video How To Make CUBAN CORN FRYING
Today I bring you the recipe for Cuban corn fritters that are very easy and quick to make and that everyone who tries it will surely love it. Their sweet corn flavor and texture make them irresistible, yes ...
Optional:
If you prefer, you can do it without the garlic and the onion, so you keep a more neutral and natural corn flavor.
On the other hand, if you'd like, you can add other spices such as parsley or pepper; it all depends on your preferences and your guests.
Nutrition Facts

8 servings per container

Serving Size

50g

Amount per serving

Calories

518

% Daily Value*

*Percent Daily Values are based on a 2,000 calorie diet. Your daily values may be higher or lower depending on your calorie needs.
Hola, soy Dailis, Chef Profesional y creadora de varios proyectos de cocina Internacional. Te doy la Bienvenida a Receta Cubana