The homemade meatball recipe we propose to you to prepare today is very easy and quick-to-make.
This is a traditional dish we can prepare in minutes and, at the same time, we can enjoy it in different ways.
In Cuba, we've liked making homemade meatballs for as long we can remember; the memories of our grandmothers preparing them in the kitchen are within living memory.
---
Te Avisamos GRATIS cuando Publiquemos NUEVOS Videos y Recetas. SUSCRIBETE GRATIS aquí Abajo.
---
In fact, this recipe goes from one generation to the next, and although there may be some variants, how we prepare it and the ingredients we use are nearly the same.
They have been very popular on the Island since colonial times, due to the presence of the Spanish, who were the ones who introduced them to our gastronomy.
But they are not from Spain, because the Arabs taught the Europeans how to prepare them.
What is a meatballs?
Meatball is a term used to refer a kind of dish made of ground meat mixed with several spices and seasonings.
It has a small spherical form and can be made in multiple ways; some of them can be completely vegan.
How to prepare meatballs?
We can prepare meatballs in our homes very easily and with our own hands because it is a very simple recipe.
The meat used for it is usually beef or pork, although chicken and fish can also be used.
Egg, breadcrumbs or flour are also used to give it a strong consistency so it can maintain its spherical shape while it cooks.
What recipes can be prepared with homemade meatballs?
The best thing about meatballs is that they are versatile and we can prepare many delicious recipes with them.
Among the most popular we can find meatballs in sauce, meatballs soup or simply fry them in oil. We assure you all of these recipes are delicious and simple.
You can also prepare spaghetti or any other pasta with them, have them as a snack or even use them in recipes when you bake something.
Let's learn how to prepare these easy, homemade and Cuban-style meatballs.
Meatball Recipe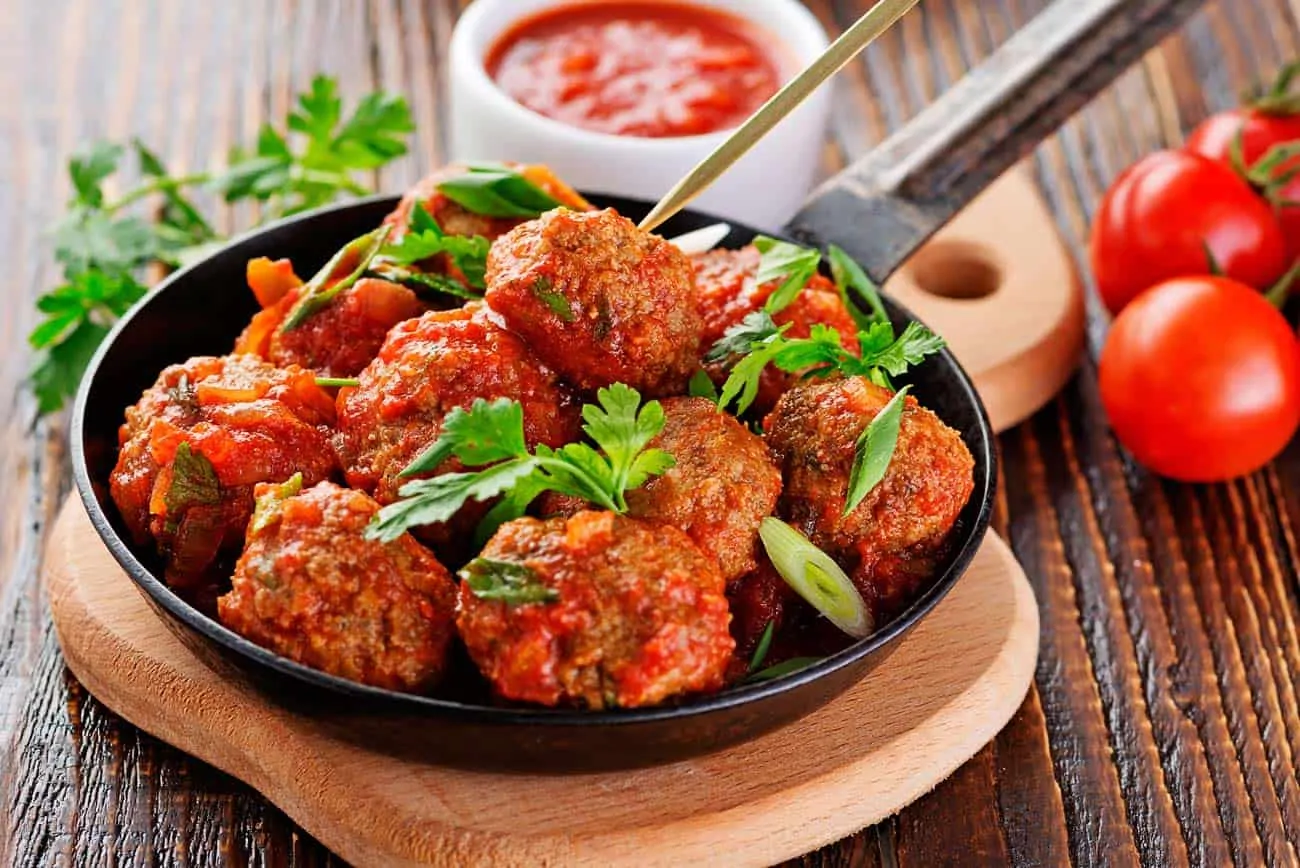 An easy, quick-to-make, Cuban-style and homemade meatballs recipe, which you can use in many delicious meals.
Prep Time

15 min

Total Time

15 min

Yield

1 Recipient

Serving Size

10g

Energy

57 cal
Cuisine

Course

Cooking Method
Ingredients
1 pound of ground meat (beef, pork or both)
1 onion
1 pepper
2 tablespoons of tomato purée
¼ teaspoon of pepper
¼ teaspoon of oregano
¼ teaspoon of cumin powder
1 cup of breadcrumbs
1 ½ cup of flour
Salt as desired
How to prepare homemade meatballs
1
Chop the onion and the pepper in very small pieces, as small as possible. You can also grind them to give them a finer texture.
2
Put the ground meat in a bowl to mix it with the rest of the ingredients, except the flour.
3
Add the onion, the pepper, the teaspoon of pepper, oregano, salt, the breadcrumbs and the tomato purée.
4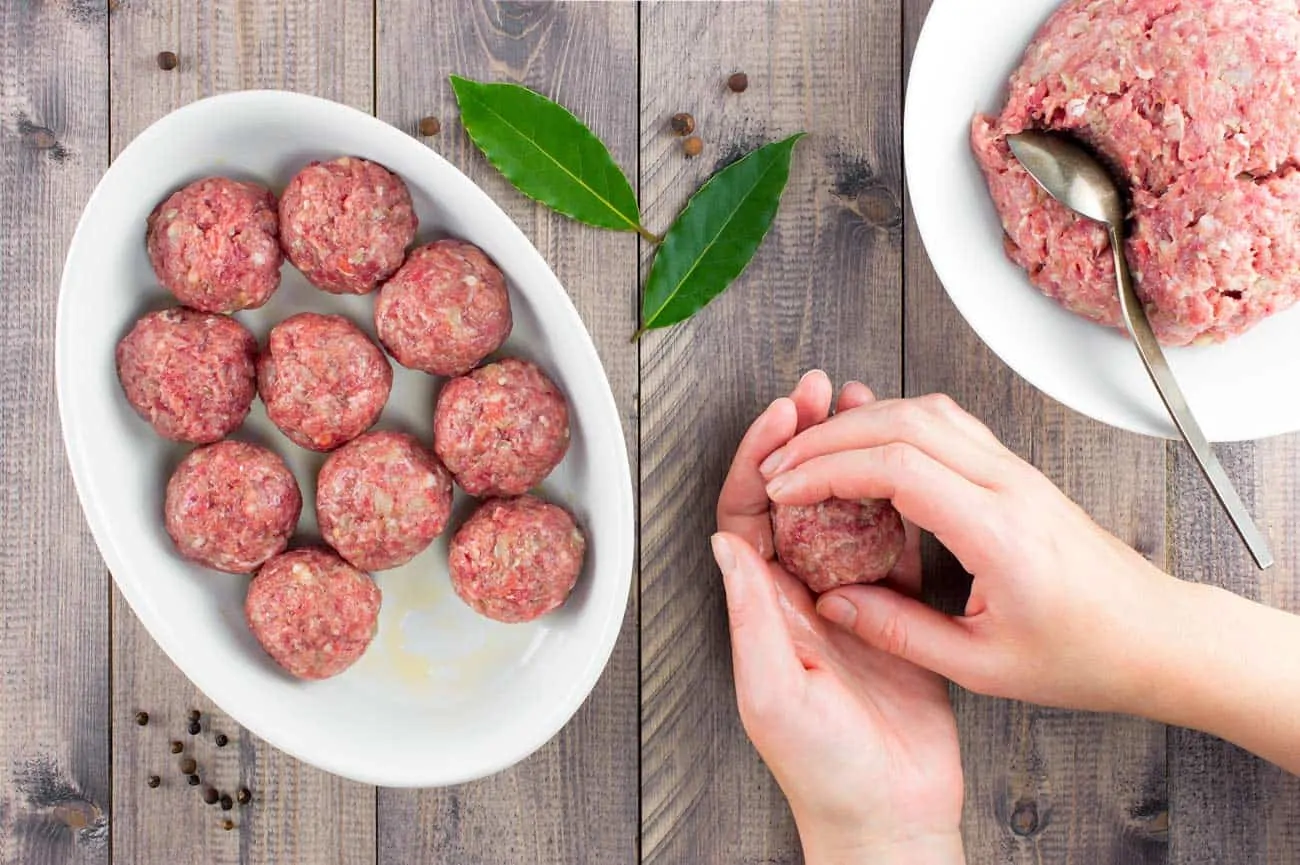 With clean hands knead the mixture a bit, so all the ingredients get mixed together and it becomes more compacted. Let it rest for 10 minutes.
5
After this time, make little balls of the mixture, and then cover them with flour.
6
In this way, our homemade meatballs are ready to be used immediately as you wish or can be frozen for use at a later date.
How To Make Homemade GROUND MEAT MEATBALLS. Easy Recipe
Today we show you how to make very easy, juicy and tasty homemade meatballs that you can enjoy at home whenever you want and in a matter of minutes. We also explain all the tricks to ...
Nutrition Facts

15 servings per container

Serving Size

10g

Amount per serving

Calories

57

% Daily Value*

*Percent Daily Values are based on a 2,000 calorie diet. Your daily values may be higher or lower depending on your calorie needs.