If you love desserts, certainly you will love this Cuban pumpkin flan recipe.
This is another one of the crème caramels we traditionally prepare here on the Island, and it is delicious and very easy to make.
Take a look at these kitchen utensils which may be very helpful for this and other recipes.
---
Te Avisamos GRATIS cuando Publiquemos NUEVOS Videos y Recetas. SUSCRIBETE GRATIS aquí Abajo.
---
The pumpkin is a vegetable very rich in natural fiber and carotene. It's also rich in vitamins such as A, B1 and B2 from the B vitamin complex, C and E.
It's a food with a high vitamin D content; it is very low in calories, and 90% of it is water.
For this reason, it's an excellent part of our daily nutrition; and the best thing of all is that we can consume it in many different ways.
And what more perfect way to make it part of our diet than enjoying a delicious dessert made of it such as the crème caramel we propose to you today.
There are many variants of this recipe, depending on the particular tradition of every Cuban family or the region of the country where it is prepared.
If you like crème caramel you should look for this recipe: coconut flan.
Each one of these recipes is delicious, this is why today we will be cooking one of the most popular pumpkin flan recipes on the Island. And we'll let you know about other options at the end of the recipe so you can choose the one you'd prefer the most.
Pumpkin flan Recipe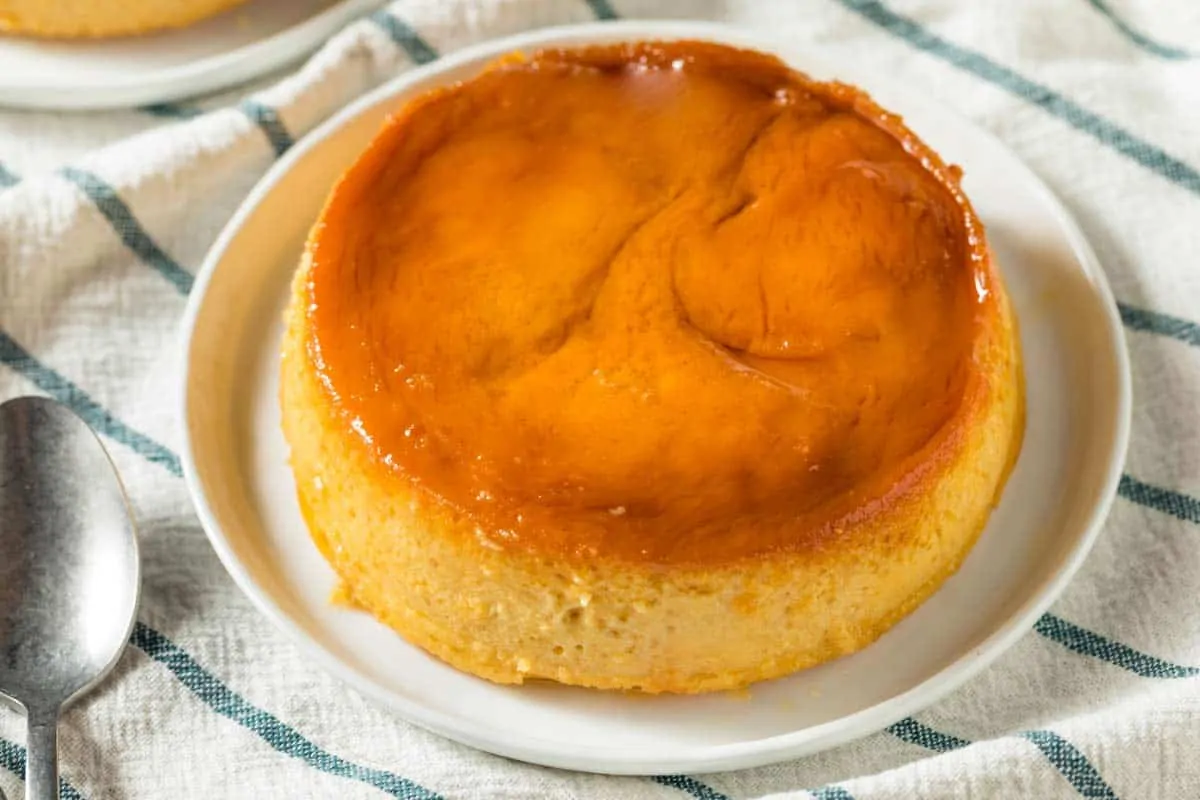 A tasty homemade pumpkin flan recipe, one of the desserts we traditionally prepare in Cuba, delicious and easy to make.
Prep Time

10 min

Cook Time

30 min

Total Time

40 min

Yield

1 Recipient

Serving Size

20g

Energy

240 cal
Cuisine

Course

Cooking Method
Pumpkin Flan Ingredients
230 grams of pumpkin
1 liter of milk
60 grams or 4 tablespoons of cornstarch
350 grams or 1 ¾ cup of sugar
15 milliliter or 1 tablespoon of vanilla
How to Prepare Cuban Pumpkin Flan
1
The first thing is to cook the pumpkin, and in order to do that we cut it in medium or small- sized pieces. Then, put them in a pot with enough water.
2
Cook at medium-high heat for 15 or 20 minutes until it is completely cooked.
3
After this time, take the pot off the stove, drain the pumpkin pieces and set them aside at room temperature.
4
When the pumpkin pieces have cooled, mash them using a fork and set aside.
5
In the meantime, pour ¾ liters of milk (3 cups or 720 milliliters) in another pot and put it on the stove until the milk starts boiling. Take it off and let it cool at room temperature.
6
When the milk is warm, add the pumpkin mash we prepared earlier.
7
To avoid forming lumps, drain the mash once or twice using a colander.
8
Add just a cup and a half of sugar and save the rest to prepare the caramel.
9
Later, in another container, pour the cornstarch and the rest of the milk and mix them well until they are completely dissolved.
10
Cook for a couple of minutes on low heat until it gets a thick consistency.
11
With the sugar we have left, we will prepare the caramel. To do that, pour it in a pot on the stove until it dissolves, being careful not to burn the sugar, because that can make the crème caramel bitter.
12
Pour the caramel we are going to use in a mold and cover all the walls of the mold with the caramel so that later we can add the mixture we prepared.
13
Let the mold cool at room temperature and then take it to the fridge so the crème caramel can set completely.
14
The best thing is to leave it in the fridge for one day. Then, you can take them out of the molds and they will be ready to serve.
Video Ovenless PUMPKIN FLAN with Condensed Milk
Today I finally bring you the recipe for pumpkin flan without oven, homemade, in the Cuban style that you have asked me so much and I guarantee that it is delicious. Its preparation is very simple, and what I like the most ...
Optional:
Another way to prepare a pumpkin flan is in a bain-marie. In this case, the ingredients used are 4 eggs, 1 can of condensed milk, 1 can of evaporated milk, 1 cup of pumpkin mash and vanilla. Mix everything in a blender, and then pour it in a mold with caramel and cook it for 45 minutes to 1 hour. It will be ready when you introduce a knife in the middle of the crème and it comes out clean.
Nutrition Facts

8 servings per container

Serving Size

20g

Amount per serving

Calories

240

% Daily Value*

*Percent Daily Values are based on a 2,000 calorie diet. Your daily values may be higher or lower depending on your calorie needs.