The Eggplant Stew recipe, or berenjena compuesta like we popularly call it in Cuba, is a dish we love.
Its flavor is delicious, its consistency is quite soft, and the best of all is that it is very easy to make.
Although some ingredients may vary, this is a very simple recipe, so you will enjoy a very creole and delicious dish in the blink of an eye.
---
Te Avisamos GRATIS cuando Publiquemos NUEVOS Videos y Recetas. SUSCRIBETE GRATIS aquí Abajo.
---
The species and seasonings we use strengthen the flavor to an exceptional level, and also give it a more appetizing appearance.
How to make Eggplant Stew?
This dish is steam-cooked, with all the ingredients well mixed and hardly any water.
It is cooked on low heat until it the sauce evaporates a bit and we get the amount we prefer.
About the ingredients, there are some who add tomato purée or paste, but for this recipe we suggest to prepare this dish using fresh tomatoes because we can do it perfectly without the purée.
We prefer cooking it this way because not only is it a lighter dish, but also the combination of the rest of the ingredients with the natural flavor of the tomato makes it perfect.
About the water, it is not necessary to add it because the eggplant already contains a lot, and while it is being cooked it will release that water and we will use it for the sauce.
Other variants of this Eggplant Stew recipe contain some bits of ham, sausages or any other kind of meat that you can perfectly add if you'd like.
You can have it with toast, white rice, chatinos or fried plantain, or any other dish of your liking.
We invite you now to prepare this delight without missing the step-by-step instructions we detail next.
Eggplant Stew Recipe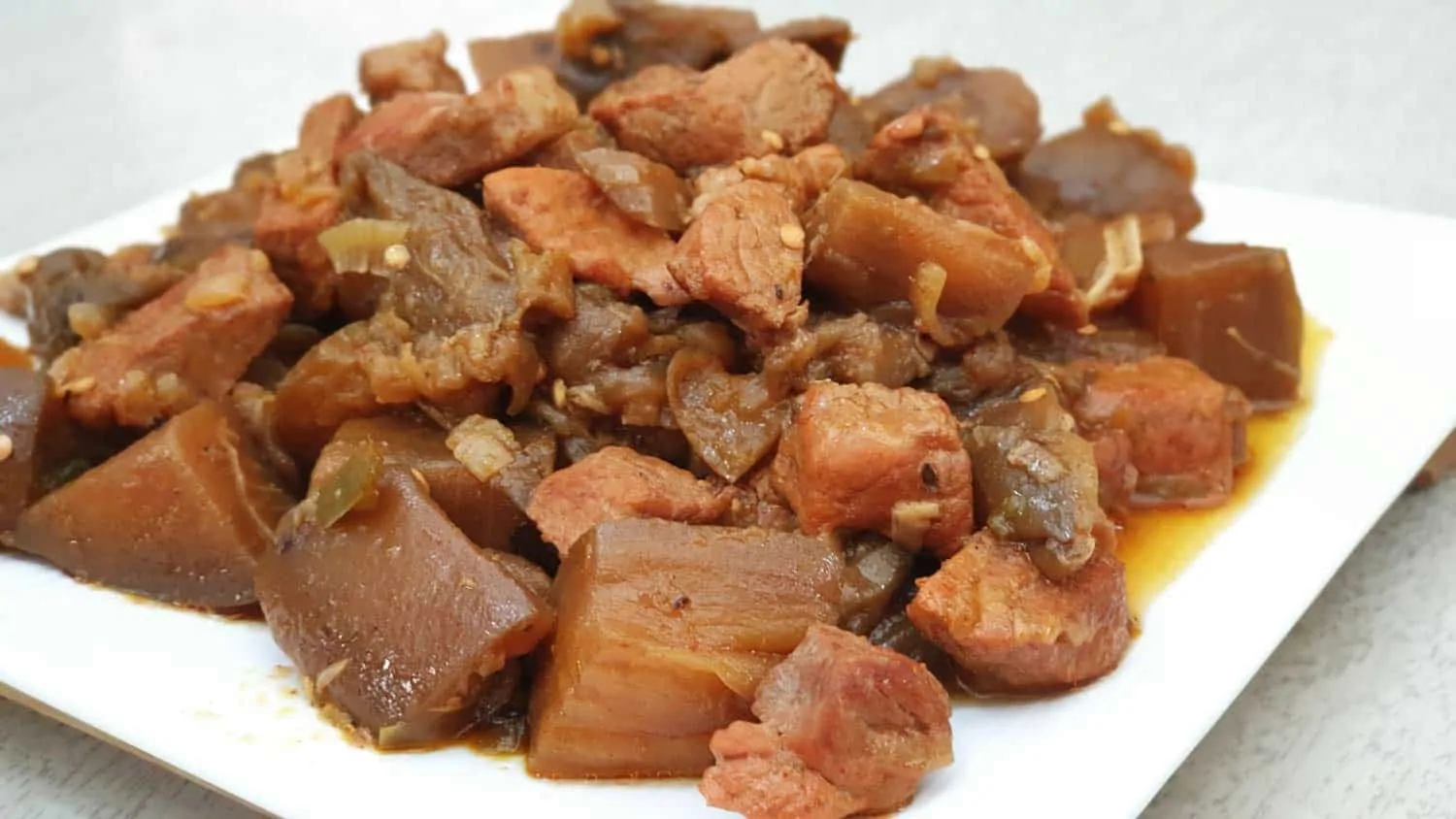 A delicious homemade Eggplant Stew recipe or berenjena compuesta like it is popularly known in Cuba.
Prep Time

15 min

Cook Time

50 min

Total Time

1 hr 5 min

Yield

1 Recipient

Serving Size

100g

Energy

190 cal
Cuisine

Course

Cooking Method
Eggplant Stew Ingredients
1 large eggplant
½ pound of pork
4 garlic cloves
1 onion
2 ripe tomatoes
1 pepper
1 bay leaf
½ teaspoon of cumin
1 teaspoon of parsley
½ tablespoon of oregano
1 little bag of Goya seasoning
1 teaspoon of paprika
Salt as desired
Pepper as desired
4 tablespoons of olive oil or any other vegetable oil
How to prepare Cuban Eggplant Stew
1
The first step is to prepare the ingredients. Peel and dice the eggplant; cut the meat in small pieces; slice the onion and the pepper; dice the tomato and chop the garlic.
2
Put the cut eggplant in a bowl with water and salt; let it rest for 15 minutes to remove its bitter flavor and its seeds.
3
After this time, drain the eggplant cubes and wash them well to remove remaining salt and seeds. Drain well and set aside.
4
Put a frying pan on medium heat, add the oil and when it is hot, sauté the pieces of meat until they get brown.
5
Then add the garlic, the onion, the tomatoes and the pepper and cook for 3 minutes.
6
Next, add the cumin, the bay leaf, the oregano and the parsley, keep sautéing for 2 more minutes.
7
Next, add all the eggplant cubes, the Goya seasoning, the paprika, the salt and the pepper as desired. Mix everything well, cover the pan and reduce the heat.
8
Cook on low heat for 40 to 45 minutes, stirring once in a while to prevent the ingredients from sticking to the pan, but doing it carefully because we don't want to break the eggplant cubes.
9
When we have noticed that the amount of sauce has decreased, take it off of the fire and serve hot.
🍆 STEWED EGGPLANTS ► How to make Eggplant STEW with MEAT
Today we show you how to make stewed aubergines, a very tasty recipe that you will surely love. So if you are a lover of meals with aubergine you cannot miss the explanation of the step ...
Optional:
If you want the Eggplant Stew with more sauce, add some water while it is still being cooked.
You can use basil if you want it to be more aromatic, and you can replace the tomatoes with 2 tablespoons of tomato purée.
In the same way, you can add ¼ of cup of dry wine or white wine to get a stronger flavor.
Nutrition Facts

4 servings per container

Serving Size

100g

Amount per serving

Calories

190

% Daily Value*

*Percent Daily Values are based on a 2,000 calorie diet. Your daily values may be higher or lower depending on your calorie needs.