The stuffed potatoes is a recipe we love preparing; its flavor is divine, so it's impossible to resist the temptation to taste it.
In Cuba, if all the needed ingredients are at hand, it will surely be prepared by anyone so that this dish can be enjoyed in the company of family.
How to prepare Cuban stuffed potatoes?
Although it takes a few steps, the elaboration of this particular recipe is quite simple.
---
Te Avisamos GRATIS cuando Publiquemos NUEVOS Videos y Recetas. SUSCRIBETE GRATIS aquí Abajo.
---
The potatoes just need to be cooked and prepared in a kind of puree in the first part to prepare the stuffing.
In the last step everything comes together: it's coated in breadcrumbs, and there are two ways to finish cooking it.
We will use one of these methods today, which is, in fact, the most used on the Island, and it is to fry the potatoes in hot oil.
The other method of cooking is to bake the potatoes, and in this way, most of the fat is removed, so it becomes a recipe with less calories.
Of course, you can choose the way you would prefer, either option you choose will produce a marvelous and mouthwatering result.
In the same way, the stuffing can change depending on what you like; the most common thing is to use ground meat (picadillo, like we popularly say in Cuba).
But if you prefer to stuff them with fish, ham or any other ingredient, feel free to do so.
It will surely be as delicious as the recipe we propose you to prepare today, which is simple, quick to make and scrumptious.
You can have this with salads, rice, beans, chatinos or fried plantain. They all go very well with the stuffed potatoes.
Stuffed potatoes Recipe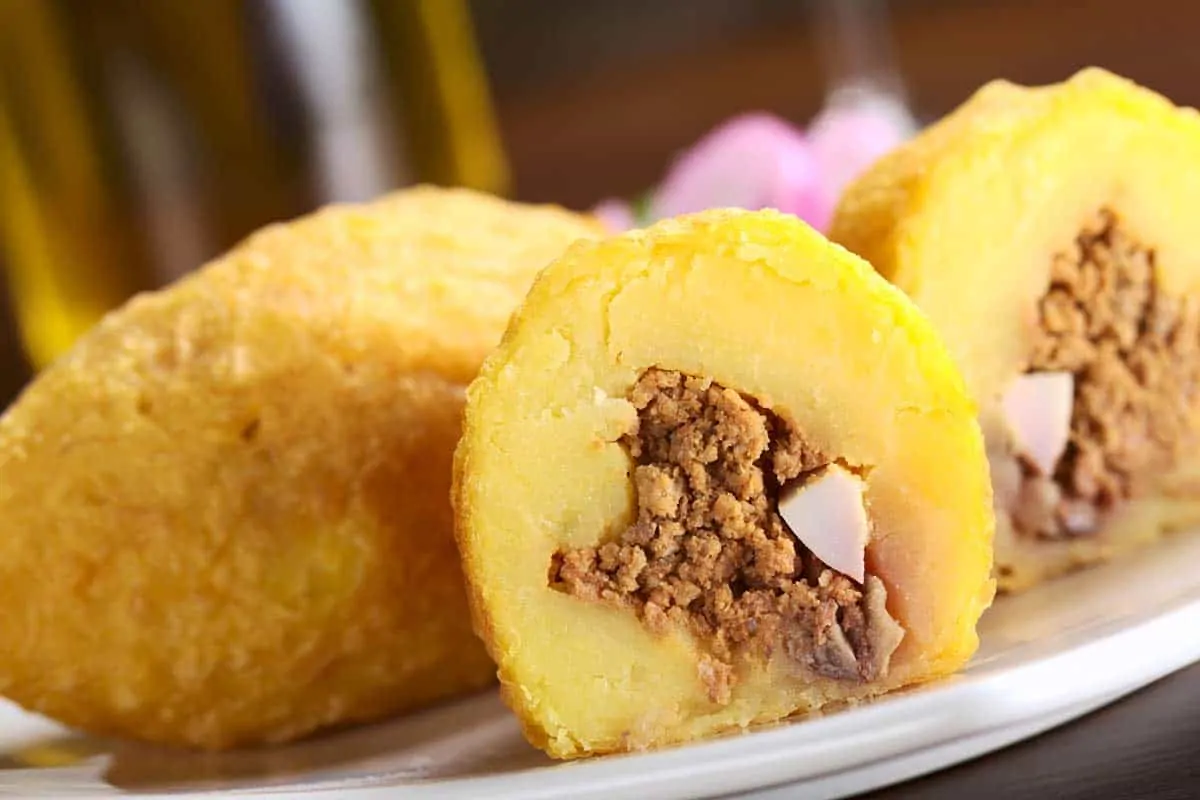 Delicious homemade stuffed potatoes recipe, a mouthwatering delight we can have with any other typical Cuban dish.
Prep Time

10 min

Cook Time

25 min

Total Time

35 min

Yield

1 Recipients

Serving Size

100g

Energy

261 cal
Cuisine

Course

Cooking Method
Stuffed potatoes Ingredients
5 potatoes
250 grams of ground beef
1 onion
2 garlic cloves
½ teaspoon of parsley
½ teaspoon of paprika
2 tablespoons of tomato puree
2 tablespoons of light flavor oil
A pinch of pepper
A pinch of salt
1 cup of flour
2 eggs
1 cup of breadcrumbs
1 liter of oil (to fry)
How to Prepare Cuban Stuffed potatoes
1
We will start by cooking the potatoes, to do this, peel them and cut them in medium pieces, then put them in a pot with boiling water and a pinch of salt, for 10 or 12 minutes on medium-high heat (the cooking time depends on the size of the potatoes).
2
Once they are well cooked, take them off the stove and drain the water, so you can prepare the puree while they are still hot.
3
Mash them using a fork until there are no large chunks and the texture is homogeneous. Let the resulting puree rest at room temperature.
4
Then, we will prepare the other ingredients: cube the onions and chop the garlic cloves.
5
Now, we will prepare the stuffing. In a frying pan add the 2 tablespoons of oil and warm it up on medium heat.
6
When the oil is hot, add the onion and the garlic, and sauté for 1 to 2 minutes, until the onion becomes transparent.
7
Next, add the ground beef, the parsley, the paprika, pepper and salt as desired. Mix everything well.
8
After 1 minute, add the tomato puree and reduce the heat. Cook on low heat for 5 minutes, until there is no more sauce. Take it off and let it cool at room temperature.
9
In the meantime, prepare the eggs: put them in a bowl and beat them, in another bowl pour the flour and in a third one, the breadcrumbs.
10
Now it's time to make the potato balls. With your hands, which must be very clean, take a portion of the potato puree and make half of a ball, make a hole in the middle and add a spoon of stuffing, seal it adding another portion of the potato puree and shape it in the form of a ball.
11
Continue doing the previous step until you have used all of the puree. When you have all the balls made, pass them one by one through the flour, the beaten eggs and the breadcrumbs.
12
Drain them before passing them to the next bowl, so you can get rid of the extra flour or egg or breadcrumbs. Then, put them in a plate to do the last step.
13
In a frying pan with enough hot oil and on medium-high heat, fry the stuffed potatoes balls until they become brown (turn them over so they can fry on both sides). The oil must be hot so we can prevent the balls from breaking; this way we get the form we want.
14
Take them off and remove the extra fat by putting them on cooking paper. Serve the stuffed potatoes hot.
Video of How to Make STUFFED POTATOES with Ground Beef (DO NOT BREAK) ► Cuban Style
✅ Making Stuffed Potatoes is VERY Easy, but making them GOOD is Another Thing. 👉In this STUFFED POTATOES Recipe I give you ALL the Tricks to make them PERFECT !! How I told you to prepare the potatoes ...
Optional:
In order to get a delicious and softer puree, you can add 40 grams of butter to it. This also will strengthen the flavor of the final result, making it irresistible.
In the same way, you can add a piece of cheese to the stuffing, the result will be a fabulous and divine stuffed potatoes.
Nutrition Facts

5 servings per container

Serving Size

100g

Amount per serving

Calories

261

% Daily Value*

*Percent Daily Values are based on a 2,000 calorie diet. Your daily values may be higher or lower depending on your calorie needs.