Today we will teach you how to prepare the best baked turkey, a recipe that cannot be missed on Thanksgiving Day.
The result will be a juicy, delicious and mouthwatering dish.
Thanksgiving dinner is a worldwide culinary tradition celebrated in November in countries such as the United States, Canada, Brazil and some Caribbean islands including our own.
---
Te Avisamos GRATIS cuando Publiquemos NUEVOS Videos y Recetas. SUSCRIBETE GRATIS aquí Abajo.
---
It is a special occasion in which the family gets together, talks, dances and has a feast where the main course is the baked turkey.
On this festive day we also have potato purée, rice with vegetables and a delicious dessert to finish the night with a spectacular ending.
During this season it is very common among Cubans to have another very popular recipe: roast pork.
Before get into the preparation of baked turkey, we recommend reviewing these kitchen utensils that we leave below.
How to Cook Turkey in the Oven?
In Cuba we use very common ingredients we can have on hand in our kitchens and the resulting flavor is irresistible.
Its preparation is very simple, especially if you follow the tricks we will teach you today.
The first one is to marinate the turkey properly once it has been defrosted, to avoid leaving a portion of it without being marinated.
In this case, the best thing is prick it everywhere and put the seasoning evenly under the skin, giving priority to the breasts.
To defrost, the best thing we can do is take it out of the freezer and put it into  the fridge three days before, or if you do not have time, submerge it in water inside its original packet, changing the water every thirty minutes until it is completely defrosted; this way you avoid the decomposition process and the appearance of bacteria.
Another important factor is the right temperature, it must be cooked at a minimum of 325º F.
And about the baking time, it will depend on the size of the turkey, for example a 6-to-8 pound turkey will need 2 hours and half to 3 hours and 20 minutes to be ready.
But if it is a stuffed turkey, the cooking time will be longer.
We include below two tables so that you can work out the cooking time of the turkey you are going to prepare.
Non-stuffed turkey
Size              –               Time
8 a 12 pounds      2 3/4 a 3 hours
12 a 14 pounds    3 a 3 3/4 hours
14 a 18 pounds    3 3/4 a 4 1/4 hours
18 a 20 pounds    4 1/4 a 4 1/2 hours
20 a 24 pounds       4 1/2 a 5 hours
Stuffed turkey
Size              –               Time
8 a 12 pounds    3 a 3 1/2 hours
12 a 14 pounds   3 1/2 a 4 hours
14 a 18 pounds  4 a 4 1/4 hours
18 a 20 pounds   4 1/4 a 4 3/4 hours
20 a 24 pounds   4 3/4 a 5 1/4 hours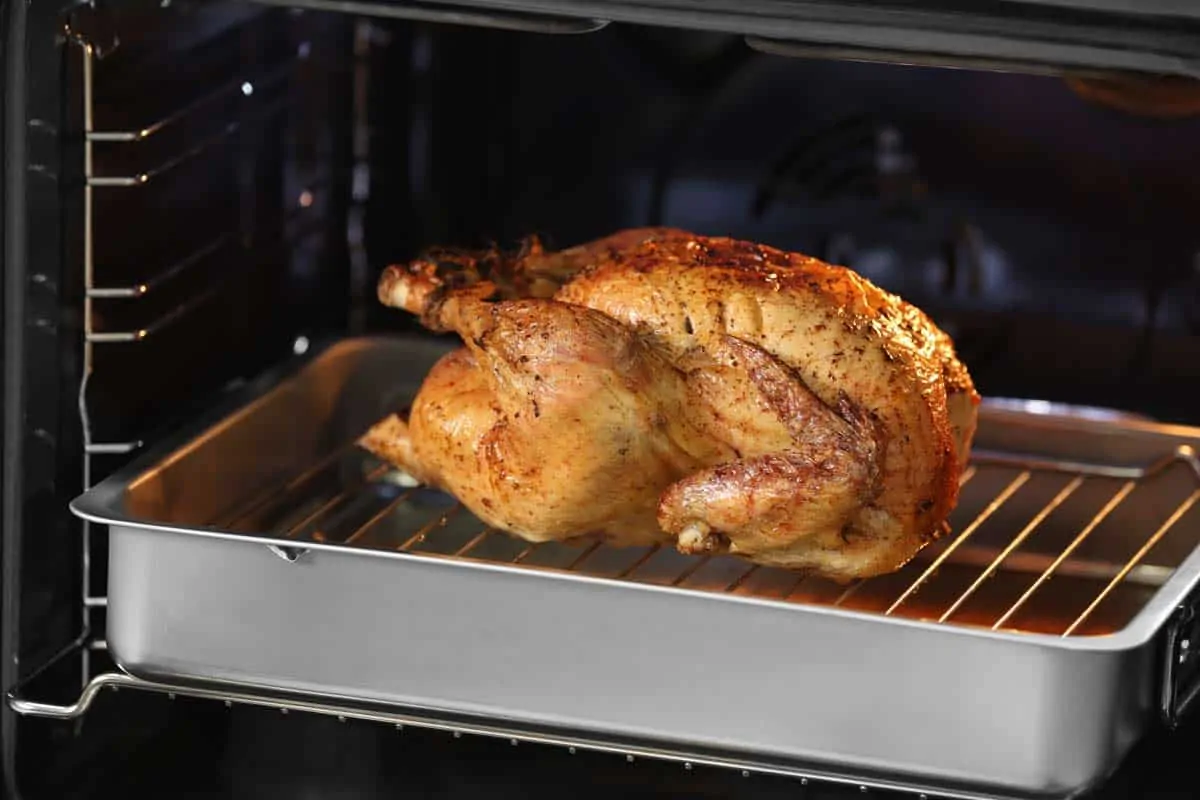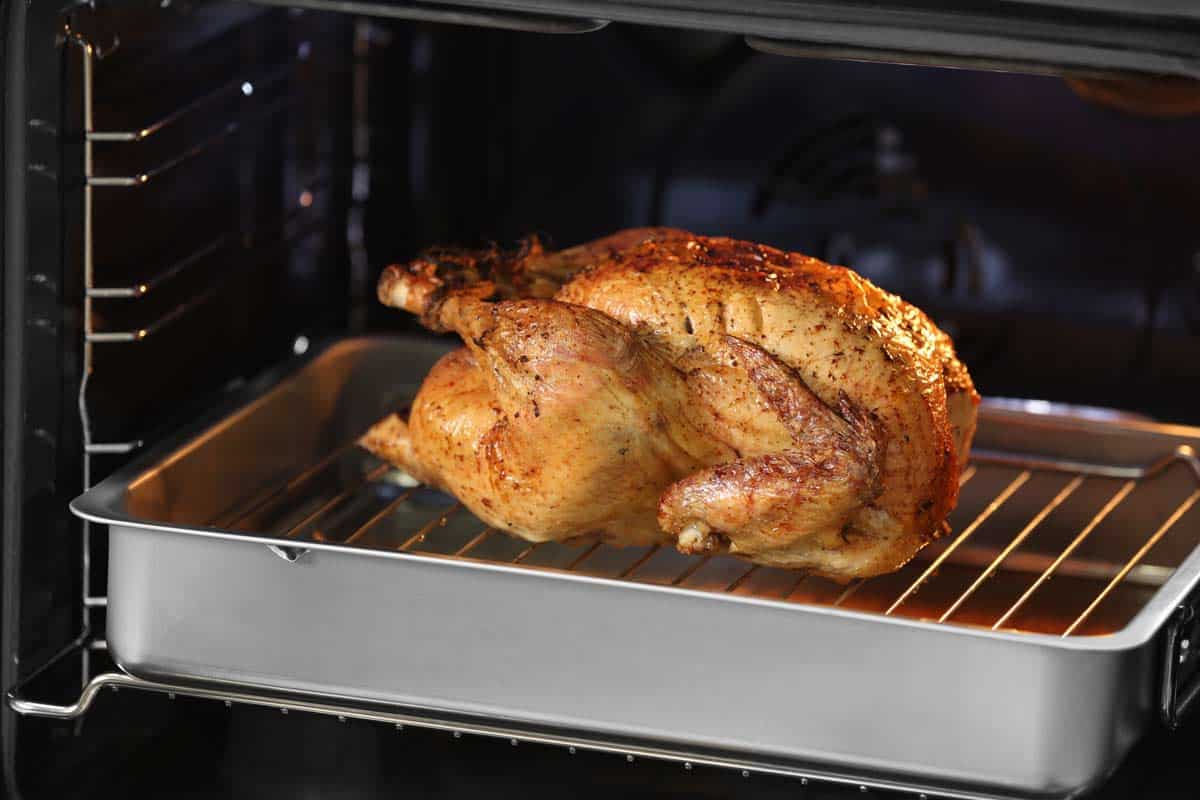 Another piece of advice is to marinate it the day before, and if you are going to add stuffing, do it when you are about to put it in the oven, because if you do it hours before bacteria may develop.
When you are placing it on the tray, do it first on its stomach or inside a plastic bag, so it does not get too dry or burn too quickly, you also can cover it with aluminium foil.
When it is nearly ready, turn it on its side so the breasts can be baked and everything turns a perfect shade of brown.
When the cooking time you worked out is almost finished, prick it and if a pink-colored juice comes out,  it means it still needs more time, but if the juice is transparent, then it is ready.
If you have a cooking thermometer it will be very helpful, because you will be able to evaluate the temperature it should have.
Insert it into the breast where the temperature should be  165º F when it is ready and into the hip without getting to the bone, where the temperature should be between 175º F and 185º F when it is ready.
Lastly, let it rest for 10 or 15 minutes before serving it and enjoying it with your guests.
5 TRICKS to Make ROASTED TURKEY for Thanksgiving
✅ Do you want to Prepare the BEST Roast Turkey of your life? You will achieve it if you follow these simple Tricks to Prepare Oven ROASTED Turkey for Thanksgiving In the Video I will show you ALL the ...
Baked turkey Recipe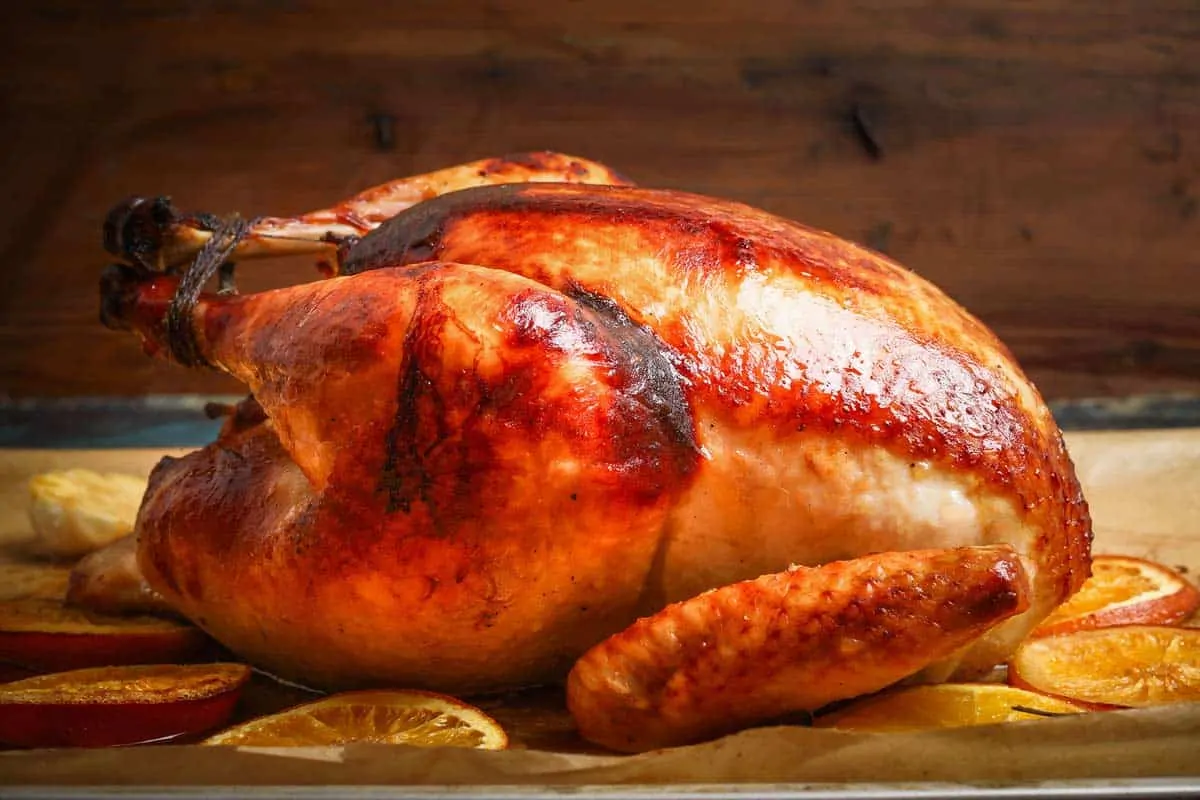 Homemade and easy recipe to prepare the perfect baked turkey on Thanksgiving Day, a special holiday to enjoy with the family.
Prep Time

10 min

Cook Time

5 hr

Total Time

5 hr 10 min

Yield

1 Turkey

Serving Size

100g

Energy

130 cal
Cuisine

Course

Cooking Method
Baked Turkey Ingredients
A 15.4 pound turkey
3 garlic cloves
2 cups of lemon juice
1 cup of white wine
3/4 cup of orange juice
1 tablespoon of pepper
1 tablespoon of cumin
1 tablespoon of dry oregano
Salt as desired
How to prepare baked turkey
1
Clean and crush the garlic cloves with a pinch of salt until you get a kind of paste.
2
In a container add the garlic with the rest of the ingredients: salt, lemon juice, orange juice, white wine, pepper, cumin and oregano. Mix them well.
3
Put the turkey in a plastic bag and marinate it evenly, pricking its surface with a knife and putting some seasoning under the skin.
4
Close the bag in a way that is not too tight and put it in the fridge for an entire night, turning it on its side so it gets well marinated.
5
The next day, preheat the oven to 165º C (325º F) and then put the turkey in for about 4 and a half hours until it gets a temperature in the hips of 80º C (180° F) checked with the cooking thermometer.
6
Take it out of the oven and make some holes in the back to release the vapor so we will not get burnt if we open it.
7
Use a spoon or a spatula to remove the turkey from the bag if it sticks to it.
8
Throw the bag out and put the turkey in the oven again for 3 to 5 minutes until it gets a little browner, and cover it with some of the juice it had released while it was baking.
9
Lastly, take it out of the oven and let it rest for 15 minutes before cutting it and serving it. And it's ready the baked turkey
Video How To Make Juicy OVEN TURKEY
Today I bring you an exquisite recipe, I will show you how to make super juicy and easy baked turkey perfect to celebrate with family and friends. This turkey recipe in addition to the oven is excellent to dis ...
Optional:
You can choose another way of baking the turkey which consists of putting it in the oven without a plastic bag or aluminum foil until the breast becomes brown, and then using aluminum foil to avoid burning the breast.
While you are cooking it, pour its own juice over it every 30 or 45 minutes until it is completely cooked.
Nutrition Facts

8 servings per container

Serving Size

100g

Amount per serving

Calories

130

% Daily Value*

*Percent Daily Values are based on a 2,000 calorie diet. Your daily values may be higher or lower depending on your calorie needs.
Check out this Video Turkey Sauce. [/ su_service]
😋 How To Make GRAVY SAUCE ► SAUCE recipe for TURKEY
Today I show you how to make gravy, a perfect accompaniment to any type of roast beef. This type of sauce has a very creamy and delicate texture with an intense flavor ideal for d ...