ORIGINAL RECIPE OF CUBAN SANDWICH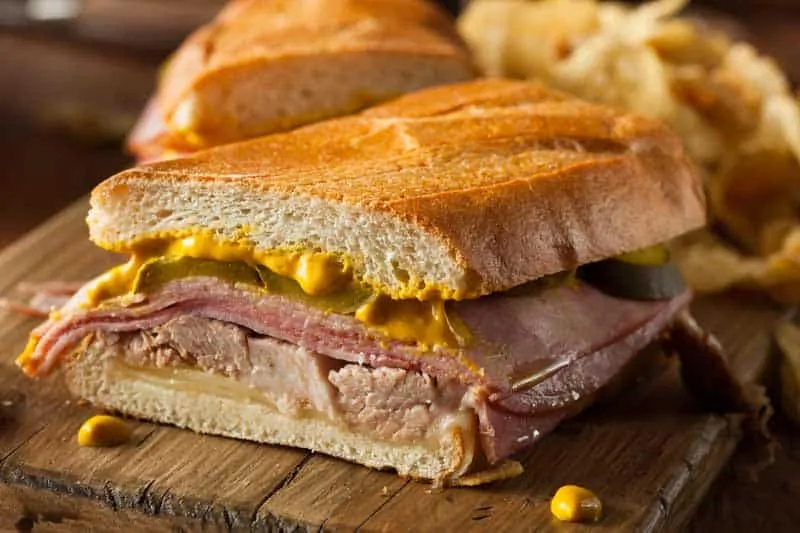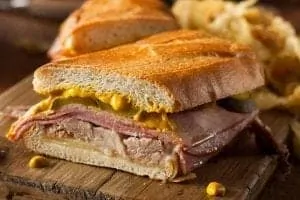 Exquisite and crunchy Cuban sandwich, the recipe for excellence for a full fast meal. Cuban culinary tradition known worldwide and tasted by all.
Prep Time

5 min

Cook Time

3 min

Total Time

8 min

Yield

1

Energy

30 cal
Ingredients
A fresh loaf of bread on French loaf type.
4 slices of roast pork (preferably with charcoal)
2 slices of ham
2 slices of Swiss cheese
Gherkin in vinegar
Butter
Mustard to taste
Optional:
The typical Cuban sandwich is made with these ingredients, mainly ham leg and pork roasted in charcoal, but if you do not have them exactly on hand, do not worry, you can use variants.
It is true that the taste will change a little, but it does not stop being spectacular, you can also heat up in a frying pan or iron the ham before placing it in the sandwich.
Another variant that you may like to use is to use the pork meat marinated with garlic and oil- based sauce, salt, sour orange or lime and then cook it in the oven or in a pan, in the same way add an ingredient to your taste, as the Spaniards do, they accompany it with a fried egg.
Nutrition Facts

1 servings per container

Amount per serving

Calories

30

% Daily Value*

*Percent Daily Values are based on a 2,000 calorie diet. Your daily values may be higher or lower depending on your calorie needs.
Hola, soy Dailis, Chef Profesional y creadora de varios proyectos de cocina Internacional. Te doy la Bienvenida a Receta Cubana