This Cuban chicken soup recipe is quite creole, delicious and very easy-to-make; this is the reason we like making it as much as possible.
So we can frequently enjoy the delicious flavor resulting from the mixture of all its ingredientes.
There are two popular proverbs that say: "con un buen caldo de pollo se quita todo mal" (with a good chicken soup all badness  is removed") and "el caldo de pollo levanta hasta los muerto" ("chicken soup raises the dead"), and it is indeed as good as these proverbs claim, after having a very hot chicken soup, you will set aside everything that makes you feel badly.
It is highly recommended when you have the flu, even by doctors, due to its high content of vitamins, carbohydrates, minerals and proteins.
For this reason, today is the perfect occasion for you to learn how to prepare the recipe we are bringing you.
Not only to reduce physical discomfort, but also for any occasion you would like, because it is perfect for any day you choose.
Chicken is a nutritious, easy-to-soften and lean meat , that is why it is perfect for this preparation.
Chiken Soup Recipe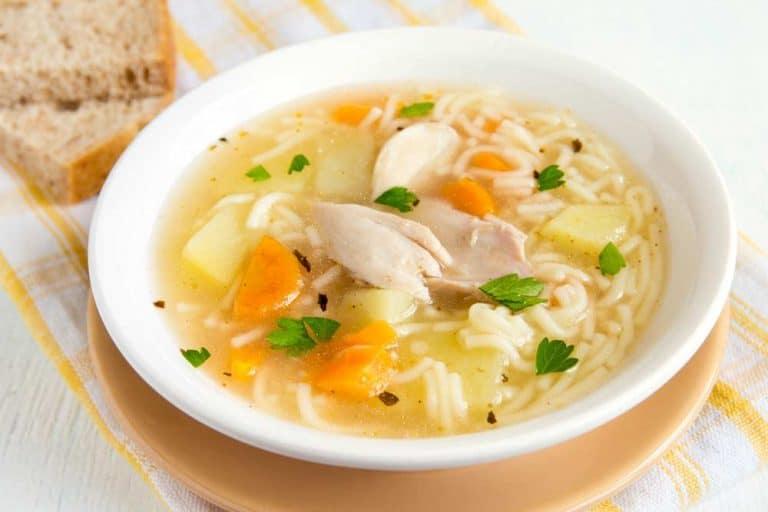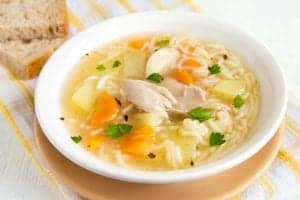 An easy and nutritious recipe for Cuban chicken soup, a very creole preparation we can all make at home in just a few steps.
Prep Time

10 min

Cook Time

20 min

Total Time

30 min

Yield

1 Recipient

Serving Size

100g

Energy

174 cal
Cocina

Tipo

Método de Cocción
Chicken Soup Ingredients
2 portions of skinless chicken
2 medium-size malangas
1 onion
3 garlic cloves
Parsley
1 little bag of chicken flavoring
A pinch of saffron or Goya seasoning
1 liter of water
1/2 cup of noodles
Salt as desired
How to Prepare Cuban Chicken Soup
1
Cut the chicken in medium-size portions and sauté them a bit, add garlic and salt. This can be done in the same container where the soup is going to be cooked or in a frying pan.
2
In the meantime, peel the malangas, cut them in pieces and put them in the pot along with the well-chopped onions.
3
Pour all the water, the little bag of chicken flavoring, the parsley and the pinch of saffron or Goya seasoning.
4
Let it boil on medium heat until the chicken and the malangas soften.
5
Lastly, add the half a cup of noodles and cook for 2 more minutes. Check if it needs any salt. Take it off of the heat.
Optional:
when the soup is served you can add some drops of lemon juice or a pinch of pepper. It depends on your preferences. And also, if you'd like, you can add carrot pieces.
Nutrition Facts

5 servings per container

Serving Size

100g

Amount per serving

Calories

174

% Daily Value*

*Percent Daily Values are based on a 2,000 calorie diet. Your daily values may be higher or lower depending on your calorie needs.
Hola, soy Dailis, Chef Profesional y creadora de varios proyectos de cocina Internacional. Te doy la Bienvenida a Receta Cubana