Cubans love having yuca with mojo, especially on special days such as the holidays at the end of the year.
It is the essential and perfect accompaniment to any dish with a Caribbean style and spirit.
Yuca is very common on the Island, that is why it is not a problem to get it and enjoy it at home.
It's nice and white-colored appearance along with the soft texture it gets when it is boiled, makes it irresistible.
Especially, when it is served with a delicious seasoning such a garlic mojo, some onions and chopped parsley.
Without thinking twice, you must taste this delicacy, the experience is unique and surely you will want to prepare this recipe many times.
Yuca with mojo is a dish always present at a traditional Cuban dinner, which includes rice and black beans, roast pork, salad and chatinos or fried plantain.
It is a simple, economical and extremely delicious recipe, that is why we promote it.
Enjoy this Cuban-style dish with friends and family at any occasion.
Similarly, later on we will explain the step-by-step instructions of other recipes based on yuca such as fritters, cassava bread and the delicious fried yuca.
We hope you are excited about preparing these recipes and that you enjoy them as much as we do because they are mouthwatering.
We recommend that you take a look at these pieces of advice which we are sure will help you prepare this and other recipes.
Yuca with Mojo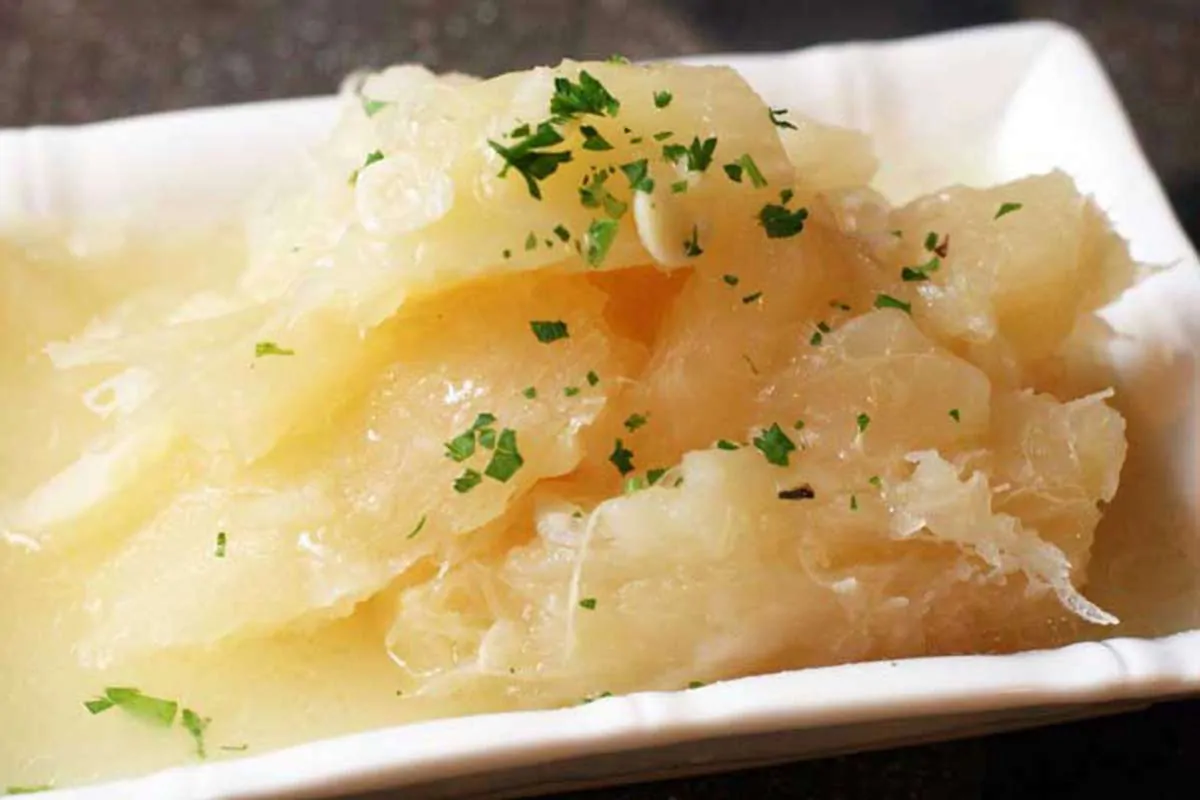 Delicious yuca with mojo based on garlic, an essential recipe in Cuban celebrations, especially with rice, black beans and roast pork.
Prep Time

10 min

Cook Time

20 min

Total Time

30 min

Yield

1 Recipient

Serving Size

100g

Energy

159 cal
Cocina

Tipo

Método de Cocción
Yuca with Mojo Ingredients
1 kg of yuca
5 lemons
1/4 of cup of vegetable oil or another oil with a light flavor.
8 garlic cloves
Salt and pepper as desired
How to make Yuca with Mojo
1
First, we must prepare the yuca. Peel it well, then wash it and cut it in pieces. Set it aside.
2
In a pot with enough boiling water and a pinch of salt, add all the yuca and let it cook on high for about 15 to 20 minutes until the yuca gets soft. This depends on the quality of the yuca and how fresh it is.
3
Afterwards, take it off of the fire and drain it.
4
Meanwhile, prepare the mojo. First, crush the garlic cloves.
5
In a container mix the crushed garlic with lemon juice, oil, a pinch of salt and pepper as desired.
6
Let the mojo rest for 10 minutes to allow the flavors to mix well.
7
Serve the yuca on a platter and add the mojo, covering all the yuca. Now, it is ready to be enjoyed.
Optional:
We love adding refined chopped white onion and parsley to this recipe; of course, this step is only optional, but what we can say is that this makes a delicious combination.
There are also variations of this mojo based on garlic or creole mojo, if you do not have lemons, you can use bitter orange juice or vinegar.
Also, if you would like, you can also sauté the garlic before adding it to the mixture, it all depends on your preferences.
Later on, we will show more variations of recipes to prepare delicious creole mojo so you can choose your favorite.
Nutrition Facts

6 servings per container

Serving Size

100g

Amount per serving

Calories

159

% Daily Value*

*Percent Daily Values are based on a 2,000 calorie diet. Your daily values may be higher or lower depending on your calorie needs.
Hola, soy Dailis, Chef Profesional y creadora de varios proyectos de cocina Internacional. Te doy la Bienvenida a Receta Cubana