Have you prepared casabe previously? Would you like to know how to make it? What do you think of us teaching you today how to prepare traditional casabe made of yucca?
The casabe of yucca is a millenarian food which has been consumed since the time of the indigenous.
Its ancient popularity belongs to other Latin American countries such as the Dominican Republic, Venezuela, Brazil, Peru, Haiti and others.
---
Te Avisamos GRATIS cuando Publiquemos NUEVOS Videos y Recetas. SUSCRIBETE GRATIS aquí Abajo.
---
For years, casabe has been used as an alternative to the high consumption of bread, so if you've ever heard the phrase "a falta de pan, casabe" (when there is no bread, casabe) now you know where it comes from.
What's casabe?
Casabe (or cazabe) is a kind of thin, round-shaped and very crunchy bread. It's also an unleavened bread.
It's made of yucca, a tuber known in some places as cassava and often used in international and Cuban cuisine.
It can be preserved for long periods of time; as long as it doesn't get wet, this yucca bread can last for months.
What's the history of casabe?
The origin of casabe comes from the time of our indigenous people. It used to be manually produced by the Taino, the Arawak, the caribes, and the American natives.
Casabe was one of the principal foods they use to have with almost anything, and it lasted in perfect conditions for several days. Additionally, for many indigenous people, casabe was part of their daily diet.
In those days it used to be called "pan de Indias" (Indian bread) once it was discovered by the Spaniards when they arrived in America.
The conquerors used to pack them in great amounts for their long voyages from one continent to the other. This was due to its advantages over European bread, which despite being dry and hard, lasted a longer time.
Nowadays, it's still consumed frequently. In Cuba and more specifically in Camagüey, for instance, during June it's celebrated annually in the traditional and popular festival of Saint John Camagüeyano, where casabe is the hero of the festivities.
Its demand increases as a substitution for wheat flour bread, with greater numbers of production in Las Tunas province.
How to make casabe?
To make traditional casabe a variety of bitter yucca used to be used which had to be treated in the right way so the poison (cyanide) the yucca had wasn't consumed.
The indigenous used to scrape the skin of the yucca using pieces of rocks, wood, long thorns and sharp bones until obtaining a kind of pulp that that was later hung in a funnel called sabucán to squeeze all its poisonous liquid out before sifting it and cooking it.
Many indigenous communities nowadays keep using this method and they use a griddle to cook it called budare which is placed over a wooden or charcoal oven.
Nonetheless, aside from these people we frequently use a variety of yucca that is sweet so it's less risky and easier to make.
To make casaba, the yucca must be peeled, then ground or grated in order to be compressed and sifted before cooking it in its characteristic round shape.
Although its elaboration is particularly industrial, we can make it at home in a simple way, you just need to follow the steps we'll explain to you later.
What to have the casabe of yucca with?
Although it can be enjoyed throughout the year, casabe is frequently had during Christmas festivities making a good use of the roast pork leftovers.
Another way to have the casabe of yucca is with a beef fajita or stewed meat in tomato sauce, and you can also add some grounds and mojo.
Some people serve the casabe with avocado, fried eggs or simply use it to accompany stews and soups.
Casabe Recipe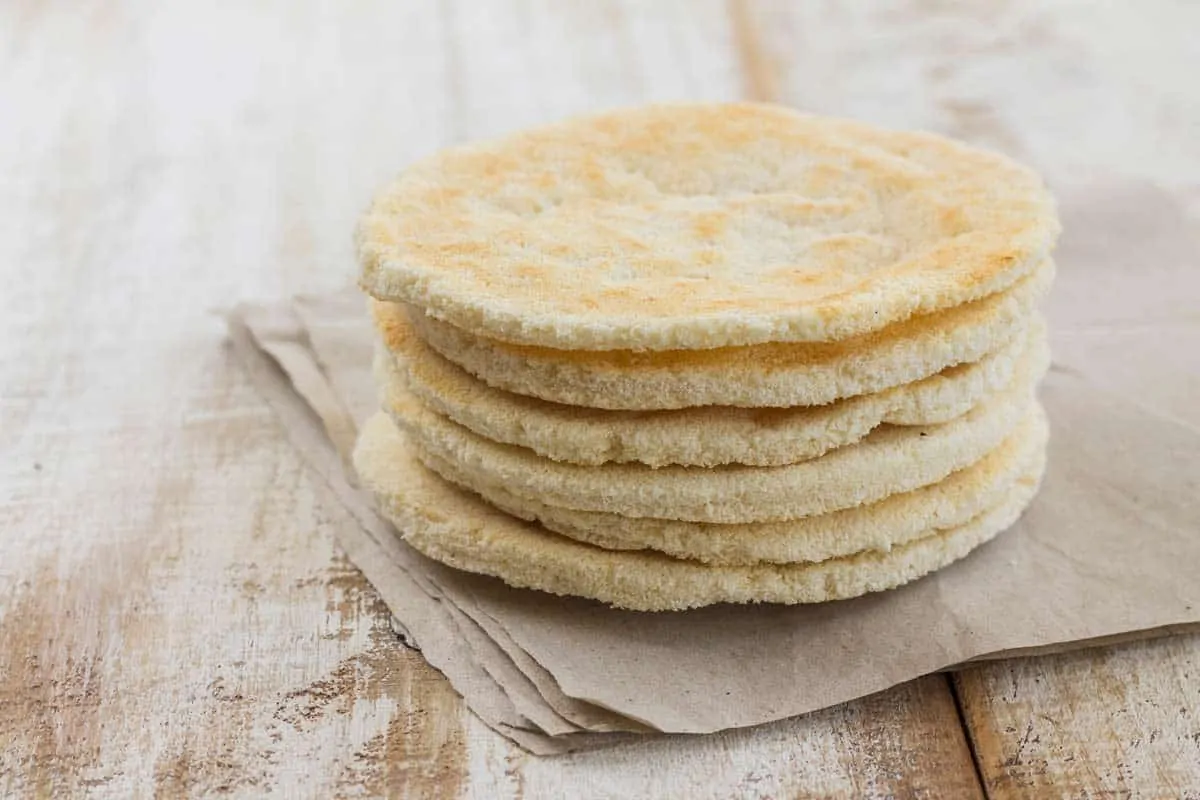 Discover how to make casabe in the easiest and fastest way, we'll tell you all about this dish which is extremely traditional dish in all of America.
Prep Time

20 min

Cook Time

4 min

Total Time

24 min

Yield

1 Recipient

Serving Size

50g

Energy

299 cal
Ingredients
A kilogram of yucca
1/4 teaspoon of salt
A teaspoon of light flavored oil
Prepare homemade traditional Casabe
1
Peel and wash the yucca well. Cut it in half and take out its center.
2
Grate it using a grater on its thinnest side.
3
Once it's grated, add the salt and place it over a cotton cloth (which must be clean), wrap it and squeeze it to eliminate all the liquid.
4
Next, spread the dough obtained over a flat tray and take it to the fridge for 4 hours. Stir it each hour to break it down and get it as thin as possible.
5
After these 4 hours it must be slightly humid, now it's time to cook it and to get the casabe.
6
Put a frying pan on medium-high heat and add the oil spreading it over the whole surface of the pan. This is to prevent the yucca from sticking to the pan.
7
Add 2 or 3 tablespoon of yucca to the pan. Make it flat by using a spoon so you can get a thinner casabe.
8
Cook for a minute each side or until it's golden brown; the humidity that it still had left over evaporates and the dough breaks easily. Remember, the casabe must have a crunchy texture, if you still feel that it's flexible it requires more cooking.
9
As easy as how we just told you is how to prepare homemade casabe. Now you can enjoy it anytime you want. Keep it safe in a dry place so it maintains its crunchy texture.
Nutrition Facts

6 servings per container

Serving Size

50g

Amount per serving

Calories

299

% Daily Value*

*Percent Daily Values are based on a 2,000 calorie diet. Your daily values may be higher or lower depending on your calorie needs.