Prepare this delicious and simple okra rice recipe, a different way to enjoy both of these ingredients.
It has a great aroma and its flavor won't let you down, so if you love this vegetable you can't miss today's recipe.
It's ideal to have it either at lunch or dinner, accompanied by a fresh salad, some fried viands, and egg, chicken or any other kind of meat.
---
Te Avisamos GRATIS cuando Publiquemos NUEVOS Videos y Recetas. SUSCRIBETE GRATIS aquí Abajo.
---
The advantage of okra rice is that it's a very versatile recipe, so we can prepare it with few ingredients or add some others.
How to make okra rice?
Its elaboration is quite simple so this is perfect if you don't have too much time left, so in a few minutes you'll get this dish ready.
The spices we're going to add it give it a marvelous aroma, making this an extremely appetizing experience.
This time we're going to cook it steamed, but you can prepare it perfectly using a rice cooker or a multipurpose pot.
There are those who prepare it without adding any artificial colors, so you'll get the rice white with the okra and the rest of the ingredients.
In the recipe we propose you today we add a bit of bijol or Sazon Goya, but you can do without these ingredients if you'd like.
Following the step-by-step instructions we'll explain next, you will enjoy along with your relatives and friends this typical Cuban recipe in very little time.
When we talk about cups we're referring to measurements, use what you have at hand, but bear in mind that, in order to get it perfect, for each measure of rice you have to add 2 measures of water, and since the recipe has more ingredients, we'll add just a bit more water so they cook well.
Okra rice recipe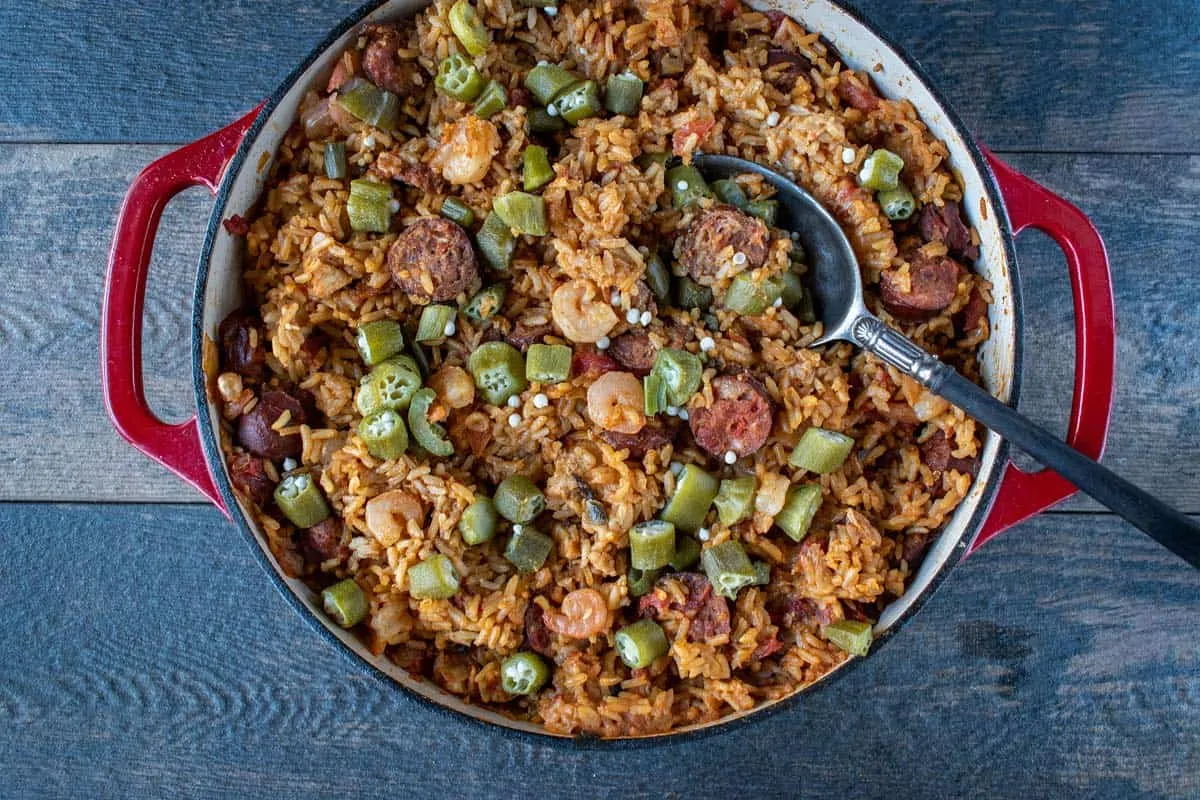 An authentic and easy Cuban recipe for okra rice, a dish all Cubans enjoy both on and off the Island.
Prep Time

5 min

Cook Time

15 min

Total Time

20 min

Yield

1 Recipient

Serving Size

100g

Energy

178 cal
Cuisine

Course

Cooking Method

Suitable for Diet
Ingredients
A pound of okra (they must be fresh and cut into slices)
A lemon
2 cups of large-grain rice
4 ½ cups of water
An onion
3 garlic cloves
½ a pepper
A teaspoon of parsley
A teaspoon of Sazon Goya or bijol
½ a pound of ham hock or chorizo
2 tablespoons of light-flavored oil (vegetable or olive oil)
A pinch of salt
How to prepare cuban okra rice
1
Boil on medium heat for 10 minutes all the okra in a pot with one or two cups of water (the water must cover the okra), add the juice of one lemon to eliminate its slimy texture.
2
After this time turn off the heat, pour out the water and put the okra into a bowl and set it aside.
3
Then, add the oil in the same pot and when it's hot sauté the crushed garlic, the onion cut into cubes, the finely-cut pepper, the ham hock or the chorizo and the parsley for a minute.
4
Meanwhile, wash and drain the rice well to add it to the sauté, along with the Sazon Goya or bijol, sauté for one or two more minutes.
5
Lastly, add the okra, the water and the salt as desired. When it starts boiling, cover the pot, reduce the heat and cook on low heat for 12 or 15 minutes until it's well cooked. Do not stir.
6
After this time, turn off the heat and let the rice rest for 10 or 15 minutes before have it so that the flavor is stronger.
Optional:
When boiling the okra you can add a dash of vinegar instead of the lemon juice, this will eliminate its slimy texture and in the same way it will give it a better consistency and flavor.
Similarly, you can sauté it well, this is another effective way to eliminate the slimy texture. You can add other ingredients to the rice if you'd like, some kind of meat, and other spices like cumin, among others.
Nutrition Facts

4 servings per container

Serving Size

100g

Amount per serving

Calories

178

% Daily Value*

*Percent Daily Values are based on a 2,000 calorie diet. Your daily values may be higher or lower depending on your calorie needs.