If you live in Cuba or if you have visited it, with certainty you've heard about the legendary Uruguayan steak, present in almost every Cuban restaurant's menus.
Its popularity is known throughout the Island, this is why today we explain you how to prepare this recipe at home, without needing to go outside to enjoy it.
Its elaboration is quite similar to breaded chicken or Gordon blue and it's perfect to enjoy on any occasion.
---
Te Avisamos GRATIS cuando Publiquemos NUEVOS Videos y Recetas. SUSCRIBETE GRATIS aquí Abajo.
---
The texture and flavor of the Uruguayan steak match perfectly with almost everything like white rice, rice and black beans, fried viands and more.
How to make Uruguayan steak?
The Uruguayan steak has no complication in its preparation, contrary to what its name might suggest.
It's a very simple recipe that anybody could prepare at home, getting a mouthwatering dish to share at home with the family.
Basically, you need a few ingredients, including some spices to season, jam and cheese for the stuffing of course, and also flour, eggs and breadcrumbs to give it the final touch.
Then, we fry them in abundant oil and in just a matter of minutes we'll get some delicious Uruguayan steaks ready to enjoy.
The ideal is to use large-sized steaks so the stuffing doesn't spill out, in case you can't get them, use two instead of one, so you can put the stuffing between the two.
Let's see now what ingredients we need and the steps to follow in order to prepare them.
Uruguayan steak recipe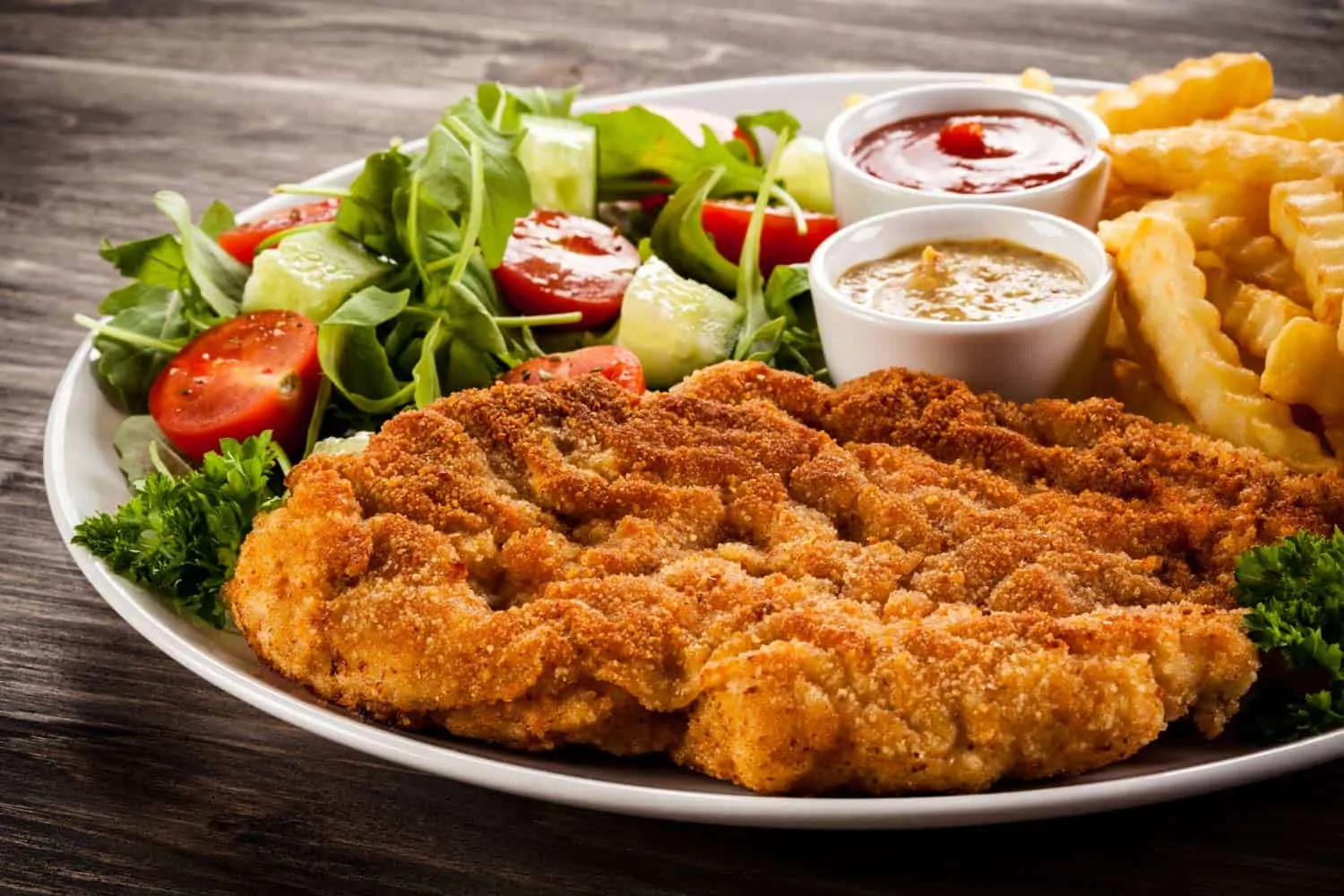 A homemade recipe of Uruguayan steak, a very easy-to-make dish with a marvelous flavor, perfect to enjoy at any occasion.
Prep Time

10 min

Cook Time

45 min

Total Time

55 min

Yield

1 Recipient

Serving Size

100g

Energy

310 cal
Cuisine

Course

Cooking Method
Ingredients
4 beef steaks (you can use pork)
8 fine slices of jam
4 fine slices of cheese
4 garlic cloves
Juice of a bitter orange
Salt and pepper as desired
2 eggs
2 cups of common flour
2 cups of breadcrumbs
Oil to fry
How to prepare Cuban-styled Uruguayan steak
1
First, tenderize the beef steaks by beating them smoothly in order to break up the lumps so they are tender to cook them (this step depends on the quality of the meat) and also because in this way they would be thinner and easier to cook.
2
Then, place them in a container to marinade them, adding crushed garlics and the bitter orange juice. Let it rest for 20 minutes.
3
After this time add salt and pepper as desired. Next, place the steaks on a flat surface to prepare them.
4
Trace an imaginary line on the first steak, on one half of it place a slice of ham, cheese and another slice of ham.
5
In this same way, keep doing with the rest of the steaks.
6
Now get three bowls and pour into them: the eggs in one, the flour in another and the breadcrumbs in the third one.
7
Pass the steaks through each one of them, first through the flour and then eliminate the excess, then through the beaten egg and lastly through the breadcrumbs. Then, set them aside on a plate.
8
Put a frying pan on medium heat with abundant oil and when it's hot fry the breaded beef steaks one by one, until they are brown on both sides, approximately 10 or 15 minutes later.
9
Drain the steaks on kitchen paper to eliminate the excess of grease and then they'll be ready to be enjoyed.
Optional:
To marinade them you can use garlic powder instead of raw garlic, as well as vinegar instead of bitter orange juice and add other spices you'd like such as cumin, oregano and others.
In the same way, a quite effective trick to intensify the flavor is to add well crushed dry parsley and garlic powder to the breadcrumbs. The flavor multiplies by 10, becoming delicious.
Nutrition Facts

4 servings per container

Serving Size

100g

Amount per serving

Calories

310

% Daily Value*

*Percent Daily Values are based on a 2,000 calorie diet. Your daily values may be higher or lower depending on your calorie needs.