The steak casserole is a very popular Cuban dish that most of us love to prepare and enjoy.
Its preparation is incredibly simple, and from it you get a delicious dish filled with flavor and with a tender texture that is easy to cut through without a knife.
It's because of this that the steak casserole is perfect for children and adults of all ages; it's not a coincidence that this is many people's favorite food.
---
Te Avisamos GRATIS cuando Publiquemos NUEVOS Videos y Recetas. SUSCRIBETE GRATIS aquí Abajo.
---
How to make steak casserole?
In order to make the steak casserole we first need to choose the type of meat that we are going to use; in this case it isn't necessary that it is the highest quality because after softening it will be just as tender.
But of course when we are able to we always choose the best meat possible to make steak, so the result will be excellent.
Using a beef steak is the most popular way to prepare it on the Island and in the rest of the world where Cubans live, but with confidence you can prepare it with whatever type of meat you choose.
All of the ingredients of this recipe are very popular on the Island and the most are specialties that we use in almost every Cuban dish.
Since we are using beef the best thing to do is to marinate it with a sour orange to give it a juicier and more tender texture, but if you don't have a sour orange you can substitute it with a sweet orange mixed with a lemon.
Also, the traditional way to prepare this recipe is to cook the steak on a pan that is placed directly on the fire, but with modern technology you can make it better in a pressure cooker.
Nevertheless, the recipe that we will explain to you today is a continuation of the traditional one, so if you're going to cook yours in a pressure cooker keep in mind that the cooking time you will need is between 10 and 15 minutes.
For the preparation always follow the same steps no matter where you're going to cook the steaks.
Steak Casserole Recipe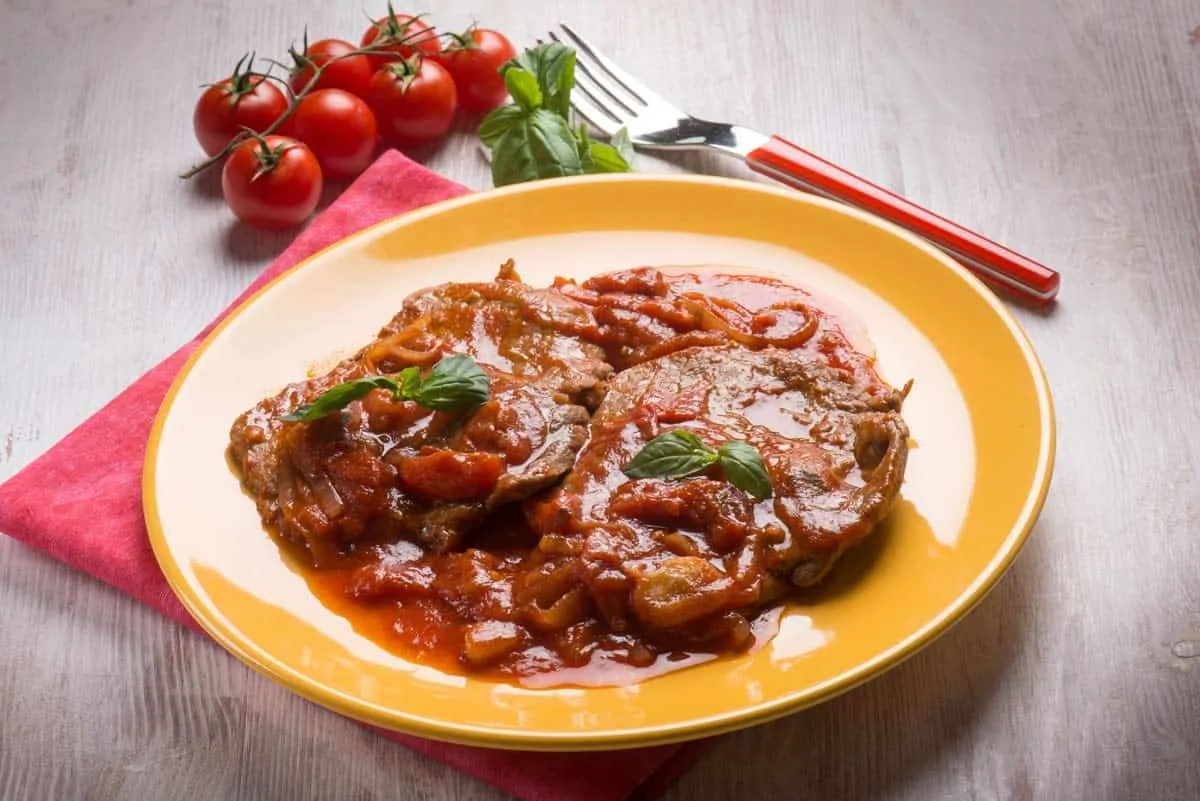 A delicious recipe, a typical Cuban dish that fascinates us, very easy to make and perfect for all ages.
Prep Time

10 min

Cook Time

35 min

Total Time

45 min

Yield

1 Recipient

Serving Size

100g

Energy

230 cal
Cuisine

Course

Cooking Method
Ingredients
2 pounds of beef
2 onions
5 garlic cloves
1 pepper
1 bitter orange
1 table spoon of vinegar
½ a teaspoon of oregano
1 tablespoon of full Sazón seasoning
1 teaspoon of Goya seasoning
1 teaspoon of cumin
1 laurel leaf
1 tomato
1 tablespoon of tomato paste
½ a teaspoon of sugar
2 tablespoons of oil
Salt and pepper as desired
How to Prepare Cuban Steak Casserole
1
First cut one onion and half of the pepper into the shape of a half moon, put them in a dish with vinegar. Save for later.
2
Next, cut the beef into thin steak-like pieces, dice the other onion and the remaining half of the pepper into very tiny cubes, grind all of the garlic and add these three ingredients to the steaks.
3
Add the bitter orange juice, the cumin, the oregano, the Goya seasoning and the full Sazón seasoning along with some salt and pepper. Mix it very well and let it rest between 20 minutes to 2 hours so that the flavors become stronger and the meat becomes very tender.
4
Afterwards, put some oil in the pan on medium heat, add the teaspoon of sugar until it caramelizes and turns a brown color. Be careful not to burn yourself.
5
At this time add the marinated steaks and sauté them; at the end add the tomato that was cut up into little cubes. Continue cooking for another minute or two.
6
Add the tomato paste, all of the leftover juice and the laurel leaf. Cook it on medium low heat for 20 to 30 minutes. If you want more sauce, just add a dash of water.
7
After this time, incorporate the onion and the half of the pepper that we had reserved and mix it will for about one minute, lower the heat and let it rest for 10 or 15 minutes before serving it. Pair this dish with white rice, salad, croutons, chatinos, fries or another side dish that you would prefer.
Nutrition Facts

6 servings per container

Serving Size

100g

Amount per serving

Calories

230

% Daily Value*

*Percent Daily Values are based on a 2,000 calorie diet. Your daily values may be higher or lower depending on your calorie needs.