One of the traditional dessert recipe that make crazy to Cuban, is the Guava Pie.
The combination of a crunchy pastry with the sweet taste of the guava marmalade is perfect and there is no comparison.
Since we were child we have been trying this delicious in Cuba, that is why, we bring you this homemade recipe of Cuban Guava Pie today to taste it whatever you want and whenever you want.
---
Te Avisamos GRATIS cuando Publiquemos NUEVOS Videos y Recetas. SUSCRIBETE GRATIS aquí Abajo.
---
How to make Homemade Guava Pie?
It is easy to make it although it has many steps, once you prepare it you will want to repeat the experience one right after the other.
Because it is a dessert to taste it in all occasion and it is to have something up one's sleeve that won't disappoint you when you'll have guests.
Guava Pie Recipe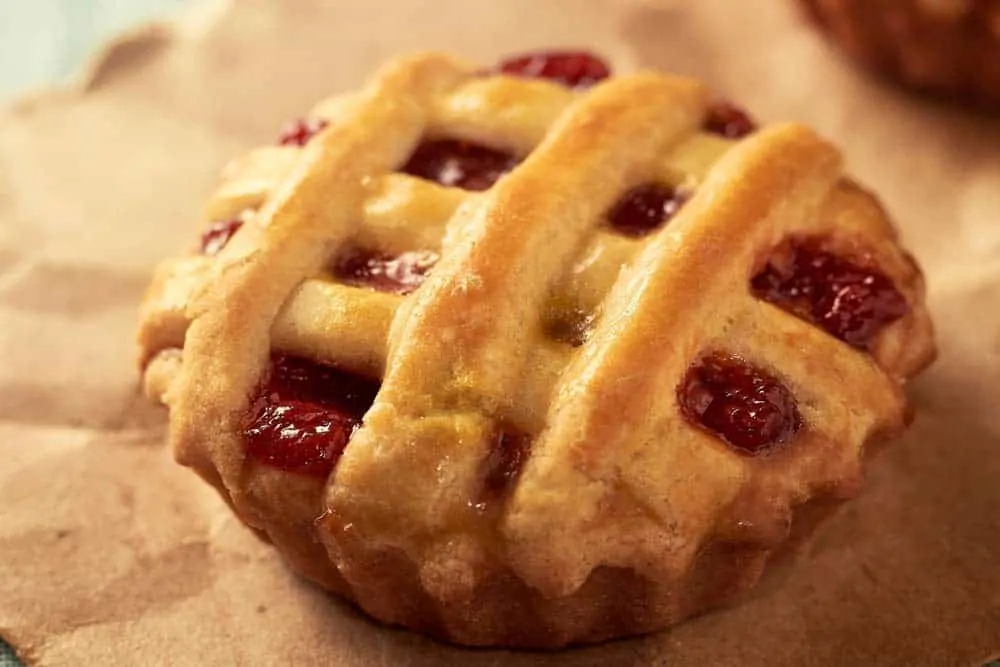 The favorite recipe for many Cuban, is a great rich guava pie, crunchy and perfect sweet to taste it in any ocassion.
Prep Time

20 min

Cook Time

15 min

Total Time

35 min

Yield

1 Pie

Serving Size

100g

Energy

260 cal
Pie Ingredients
500 g of flour
250 g of unsalted butter
3 eggs
4 tablespoons of white sugar
½ teaspoon of salt
½ cup of water
2 bars or guava preserves
How to Prepare cuban guava pie
1
In a clean surface area we put the flour in a volcano way.
2
In the center, we add the cut butter to a room temperature, two eggs, salt and the 4 spoons of sugar.
3
With the hands, we incorporate all the ingredients untill make a gully pastry.
4
We divide it into 4 equal parts and knead it a little just untill it be standard (do not handle to much the pastry)
5
We make two balls and cover it with a film paper separated to refrigerate it during 30 minutes.
6
Meanwhile, we cut the guava bars and put it into a pot with ½ cup of water and mix it well untill it dissolves it and forms  a thick jam. We keep it.
7
Then, we grease a mold for pie with a little butter and we keep it.
8
When the pastry has settled, we put 1 of the balls on the table or a smooth floured surface.
9
With the help of the same rolling pin we wrap it to avoid it gets broken at the time of moving and we put it in the mold.
10
We spear with a fork the entire surface and then we add the guava jam.
11
With the ball of the other pastry, in the same way we stretch it with a rolling pin and cut it into large strips to put it in the mold on the filling.
12
We press the edges with the fingers to mix both parts and give form to the pie.
13
We spread with a paintbrush a beaten egg in the surface to get a brown appearance.
14
We take it to the preheat oven and bake it to 350 F or 180 C untill the pie gets brown. The time depends on the type of oven.
Video of Making Cuban GUAYABA PAY. CUBAN DESSERTS recipes
Do you want to know the Best Guava Pay Recipe? The dough of this pie is super crunchy, you can prepare it at home with very few ingredients. And the Guava filling I won't even tell you. Today you ...
Optional:
If you use the butter with salt, do not add ½ teaspoon of salt that comes with the ingredients of the recipe because it changes the taste.
On the other hand, the pastry in the shape of rack placed it above, it is optional, you can put it entire it, but in this case, it is necessary to make some slots with a knife to give off the steam.
Finally, if you want prepare a light syrup to paint the surface after baking it with 2 spoons of sugar and 2 of water.
Nutrition Facts

5 servings per container

Serving Size

100g

Amount per serving

Calories

260

% Daily Value*

*Percent Daily Values are based on a 2,000 calorie diet. Your daily values may be higher or lower depending on your calorie needs.