Today we are going to teach you how to make coconut flan, a very easy recipe from which we get a snack that is a delicacy.
Its texture is super creamy and it has an intense coconut flavor, two reasons that make it irresistible to prepare.
The truth is that this coconut flan recipe is basically the usual crème caramel we already know, but this time we add grated coconut. This recipe also has the special feature that we can add other ingredients, thereby creating a more delicious dish.
What are the variants of coconut flan?
There are so many varieties of this well-known dessert; for this reason, down below we have included some so that you can prepare them too.
We will explain how to make coconut flan with condensed milk and cheese, two of the most popular and delicious variants of this dessert that are perfect for any occasion. Likewise, in this and all other versions, you may add milk and coconut cream and the result will be much more fantastic.
Our recommendation is that if you can get Goya coconut cream or Goya coconut milk, use them in your recipes, because this is one of the best brands on the market. The flavor and the texture will be better- delicious, creamy, and it will melt in your mouth when you taste it.
Now we are going to prepare the traditional recipe, coconut flan without condensed milk. You will see that it is very easy and quick to make.
How to make traditional coconut flan?
The traditional preparation of this dessert is made in a bain-marie with a slow cooking time, to avoid it breaking apart on the inside.
It is also cooked in a mold with caramel to give it a more mouthwatering look and a unique contrast of flavor
It is important to not let the caramel burn because that will give the flan a bitter flavor and we do not want that.
When the bubbles on the surface start disappearing and the flan gets a golden tan color, we will know it is ready.
You may notice that you can cook the recipes we have explained to you today in the oven, in a pot or in the microwave. The important thing is to use two containers, one bigger than the other, so you can pour the hot water in one of them and the mixture in the other.
Coconut Flan Recipe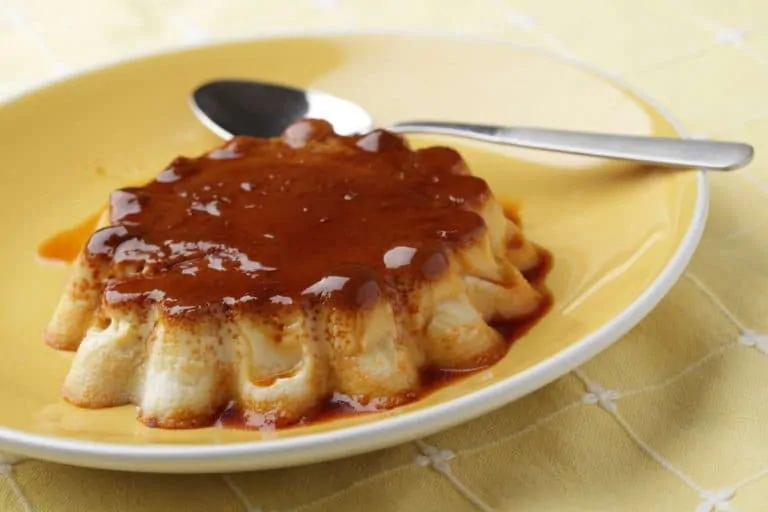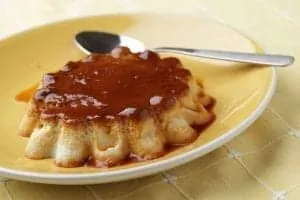 An irresistible coconut flan recipe, a super delicious dessert that you can´t help but try. Learn how to make it, in addition to its many variants with condensed milk and cheese.
Prep Time

15 min

Cook Time

45 min

Total Time

1 hr

Yield

1 Recipient

Serving Size

50g

Energy

167 cal
Ingredients for coconut flan without condensed milk
4 eggs
500 mL of milk (2 ½ cups)
100 g of white sugar (1/2 a cup or 5 spoons)
½ a cup of grated coconut
1 teaspoon of coconut or vanilla essence
A pinch of salt
200 g of sugar
A teaspoon of water
How to prepare homemade coconut flan
1
Start with the caramel. Put the sugar and the water in a container on medium heat until the sugar dissolves completely and becomes golden tan in color.
2
Pour the hot caramel in the mold, spreading it evenly across the surface and on the walls. Then, set it aside at room temperature while preparing the pastry.
3
To make the pastry, add the eggs and beat them with a hand beater or a mixer, then, add the milk, the sugar, the vanilla and the salt. Keep beating for one more minute.
4
Now, drain the pastry to avoid bubbles and to get a more strong and uniform consistency.
5
Add the grated coconut and stir everything with a spoon or a fork to get it all well mixed.
6
Pour the pastry in the mold and cover it with aluminum foil. Then, carefully so we do not burn ourselves, put the mold in a bigger container full of enough water so that the mold is half submerged. (this is the bain-marie).
7
Bake it in the oven at 180 degrees Celsius for 45 to 50 minutes with the heat in the upper part of the oven and no ventilation at the bottom.
8
After this, take the container off of the oven and check if the flan is ready. Prick the flan with a knife in the center and if it comes out clean, then it is ready.
9
Lastly, put the flan in the fridge for the whole night and, in the morning, remove it from the mold onto a plate or a flat tray using a knife.
Optional:
Like we said before, there are many variants you can use in this recipe. Even in this one we just taught you, you may add a can of coconut cream and it will be just as delicious as well.
Nevertheless, now we will tell you what ingredients to use for the variants with condensed milk and cheese.
The preparation of the flan and the caramel is the same in both cases, the ingredients are the only thing that changes.
Nutrition Facts

6 servings per container

Serving Size

50g

Amount per serving

Calories

167

% Daily Value*

*Percent Daily Values are based on a 2,000 calorie diet. Your daily values may be higher or lower depending on your calorie needs.
How to prepare Coconut Flan with condensed milk?
For the recipe of Coconut Flan with condensed milk we will use 300 g of condensed milk, 600 mL of full-cream milk, 3 eggs, 1 teaspoon of coconut extract and 1 cup of grated coconut.
Prepare the caramel in the same way we already explained, mix all the ingredients and bake them.
Put the flan in a freezer at least during 8 hours before removing it from the mold onto a plate. In this way it will be tastier.
Coconut Flan and cheese recipe
To prepare Coconut Flan and cheese we need 1 bar of cream cheese, 1 cup of water, 5 eggs, 1 cup of condensed milk, 1 cup of sugar, 1 cup of coconut milk, 1 cup of evaporated milk, 1 teaspoon of salt and 1 teaspoon of vanilla essence.
Follow the steps we already explained you for preparing the caramel and mixing the ingredients.
Cover the mold with a aluminum paper, bake at 180ºC during 50 minutes, take it off of the oven and when it has cooled, put it in the fridge for 8 hours or more before enjoying it.
Hola, soy Dailis, Chef Profesional y creadora de varios proyectos de cocina Internacional. Te doy la Bienvenida a Receta Cubana