Shrimp soup is one of the best options if you want to enjoy something hot, light and, at the same time, full of nutrients.
Its preparation is very simple, but its taste is marvelous for our palate.
In Cuba, shrimp soup had its peak since colonial times when the Spanish and aborigines enjoyed this dish.
---
Te Avisamos GRATIS cuando Publiquemos NUEVOS Videos y Recetas. SUSCRIBETE GRATIS aquí Abajo.
---
Due to its being a delicious dish, without any doubt, you cannot miss the recipe we teach you today.
You will learn how to make it at home in the fastest and simplest way so you can surprise everyone.
What are the variations of shrimp soup?
Around the world, there are many known variations of this mouthwatering dish; it generally depends on the region.
For example, in Spain where it is very popular, it is prepared with clear white soup and clear red soup.
The difference lies precisely in the color. This first one is prepared with a simple cooking technique using shrimp, onion, garlic and salt.
And to make the red one, add any other ingredient to give it color and flavor, such as paprika, chili, tomato or other blended vegetables.
Other variations very popular around the world use some pieces of hake, crab and octopus.
In Mexico it is usual to add corn flour to make it thick and also they use spicy chilies to give that flavor that is so characteristic of this region.
The preparation of this clear soup is made with fresh or dry shrimp.
What can I have this dish with?
Since this is a hot and substantial dish, it goes perfectly with white wine.
While you enjoy it, you can also have little tortillas, bread, or crackers.
You can also serve it as a hot starter, and then enjoy main courses with flavors similar to seafood and fish and serve them with white rice.
Shrimp Soup REcipe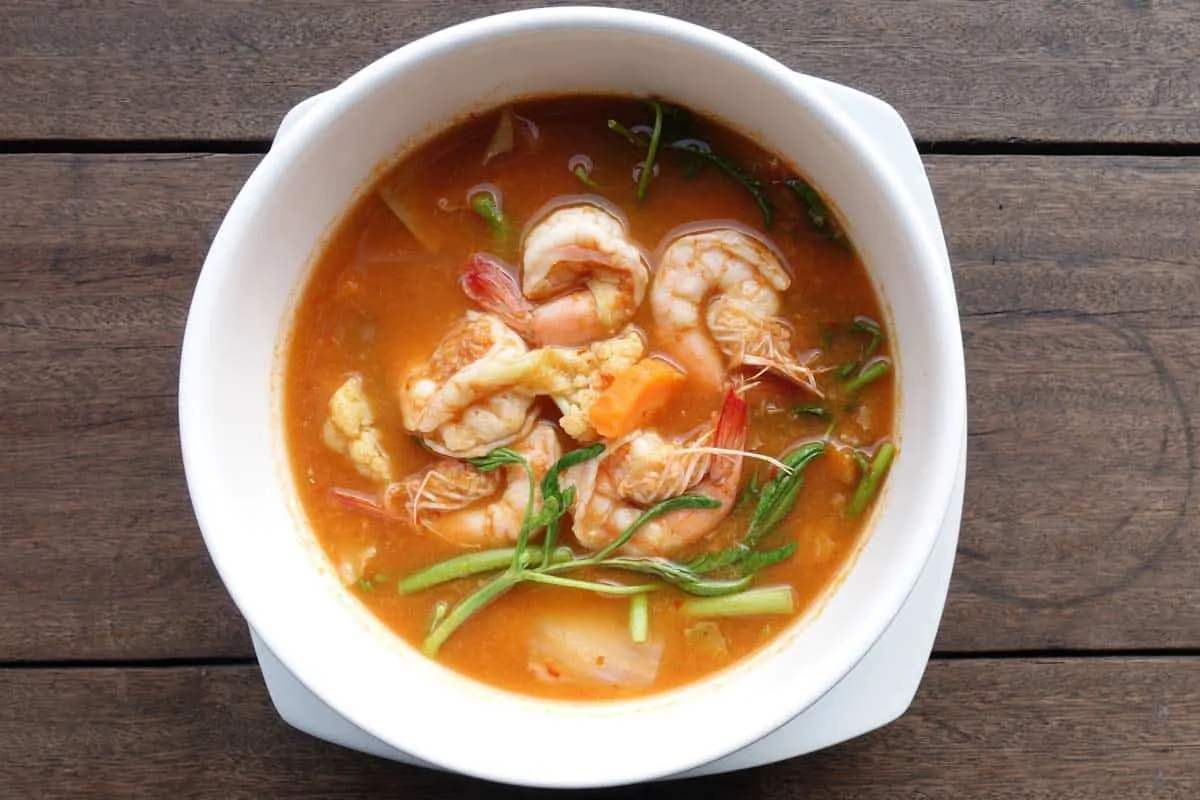 A genuine shrimp soup recipe. A dish that is served hot. Very delicious and easy-to-make. Learn the step-by-step instructions of how to prepare it at home
Prep Time

20 min

Cook Time

30 min

Total Time

50 min

Yield

Pot

Serving Size

50g

Energy

68 cal
Cuisine

Course

Cooking Method
Ingredients
500 grams of uncleaned shrimp
1 large potato
1 carrot
4 garlic cloves
3 ripe tomatoes
1 red pepper
2 fresh bay leaves
Coriander as desired
1 teaspoon of paprika
3 liters of water
A pinch of crushed black pepper
Salt as desired
Steps to prepare shrimp soup
1
Clean the shrimp and use the heads and the shell to cook a clear soup. Pour 3 liters of water in a pot and put it on the stove. When it starts boiling, add the shrimp shell and heads, half an onion, a pinch of salt and 4 garlic cloves. Cover the pot and let it cook on medium low heat for 20 minutes.
2
In the meantime, prepare the other ingredients. Peel the tomato, the potato and the carrot and cut them in little cubes. Chop the onion in even smaller cubes. Peel and chop the garlic cloves. Chop the coriander.
3
In another pot on medium heat, add a bit of oil and wait until it is hot. Then, add the tomatoes, the chopped garlic cloves, the onion and the black pepper.
4
When the tomato has fallen apart a little and begins to release its juice, add the red pepper and let it cook for one more minute.
5
Take it off the stove and let it cool for a while before blending this mixture with a cup of the shrimp soup we prepared earlier.
6
Sauté the potato and the carrot in the same pot we are using and add the mixture we blended and the rest of the shrimp soup, the paprika, the coriander and the bay leaves. Cook for 10 to 15 minutes on medium heat.
7
When the potato and the carrot cubes soften, add the cleaned shrimp and keep cooking for 5 or 10 more minutes.
8
Take it off of the stove and serve hot.
🦐 How To Make Fresh SHRIMP BROTH ► DELICIOUS SHRIMP RECIPE !!
Do not miss a single detail so that from today you know how to make homemade shrimp broth and taste it as many times as you want. Go ahead and prepare this very easy fresh shrimp broth, r ...
Optional:
if you do not have ripe tomatoes you can use 2 spoons of tomato paste to give a similar color and flavor.
Nutrition Facts

10 servings per container

Serving Size

50g

Amount per serving

Calories

68

% Daily Value*

*Percent Daily Values are based on a 2,000 calorie diet. Your daily values may be higher or lower depending on your calorie needs.